Welcome to the Finals of the Messiest House on the Internet Competition!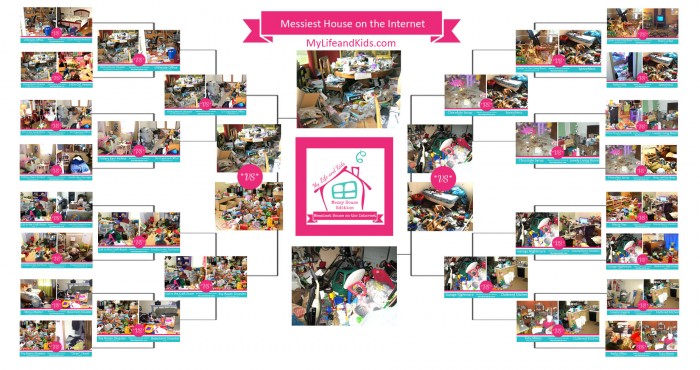 If you'd like a quick recap, we started with 32 messy houses on Monday, and we're now down to just TWO! You can click here for all of the details from the past week.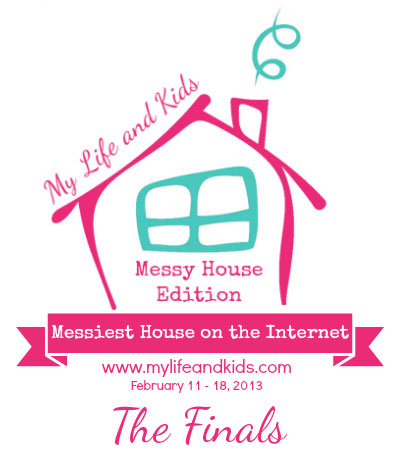 The winner of this round will receive the title of the Messiest House on the Internet(!) take home an Oreck Magesium RS vacuum cleaner – valued at nearly $500! (Click here to read my review of this awesome vacuum.)

Meet the Finalists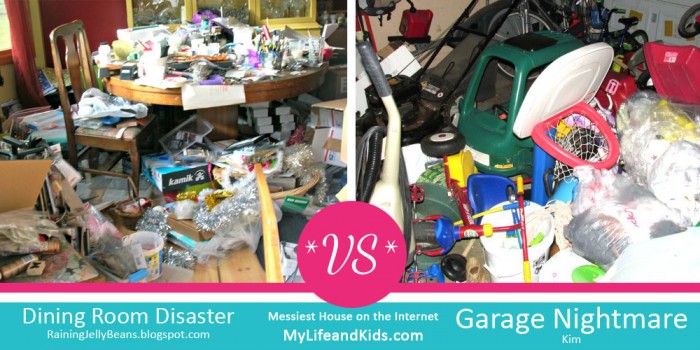 Dining Room Disaster
Danee at It's Raining Jelly Beans has this to say about her Dining Room Disaster: Imagine… It is Christmas 2010…there is a beautiful Christmas Tree sparkling with dainty lights in my living room; the trees outside my Michigan home are heavy with new fallen snow, fragrant mulled apple cider simmers on the stove and my gorgeous dining room looks like this…
Yes, this was my dining room table after a major pre-Christmas craft explosion that just got WAYYYYYY out of hand.
Garage Nightmare
Kim has this to say about her Garage Nightmare: This mess has been a work in progress for several years. Don't think you're going to accomplish this level of messy overnight. It takes years of having better things to do than clean out the garage.
We actually got it (relatively) cleaned up a few years ago, but then filled it right back up with clutter. Also, as you can see, the garage has become a dumping ground for stuff the kids have outgrown/no longer play with.
One of these days, I'm going to clean it out, maybe in time for the church garage sale . . . that is the church garage sale of 2028.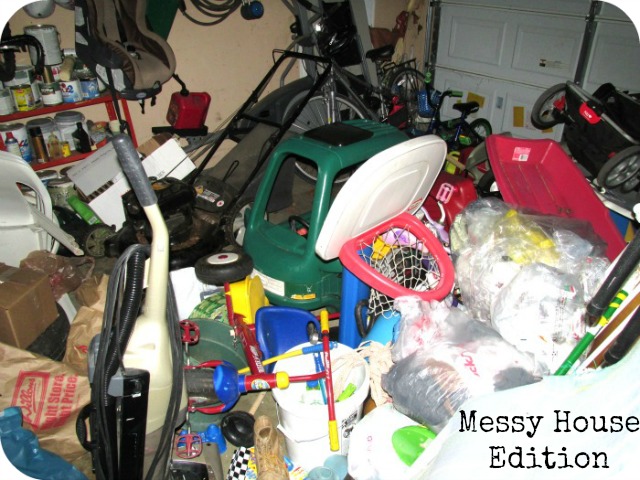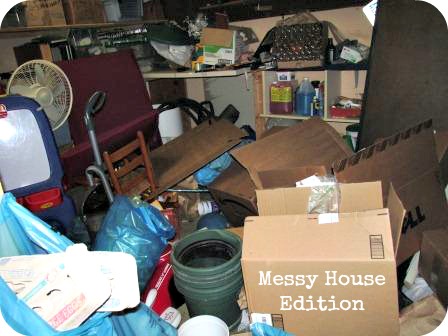 Vote Now
This one is for the vacuum cleaner! Voting will be open until 10 pm ET on Friday, February 15. The original plan was to keep the voting open through the weekend, but I'm just as excited as you are to see who wins. I couldn't possibly wait until Monday!
Be Sure to Enter the Giveaway
My great friends at Oreck and Clean Mama are giving away some great prizes. There are a few new ways to enter today, so be sure to toss your name in the hat a few more times if you haven't already.
Click here to read about the competition rules and prizes – and to grab some great discounts from Method and Clean Mama.
Disclosure: I was provided the Magnesium RS and Ultimate Handheld vacuum cleaners from Oreck. The opinions in this post are my own. Oreck Corporation provided the prize for the Messiest House on the Internet Competition but is not the sponsor of the competition or the sweepstakes.