When I first saw this Swiffer commercial, featuring Morty and Lee Kaufman – a married couple in their 90's – I cried.
And then I called my mom. And she cried too.
And then I just knew I had to know more about this couple. Were they actors? Were they really married? Could they really be in their 90's? How did they wind up in a Swiffer commercial?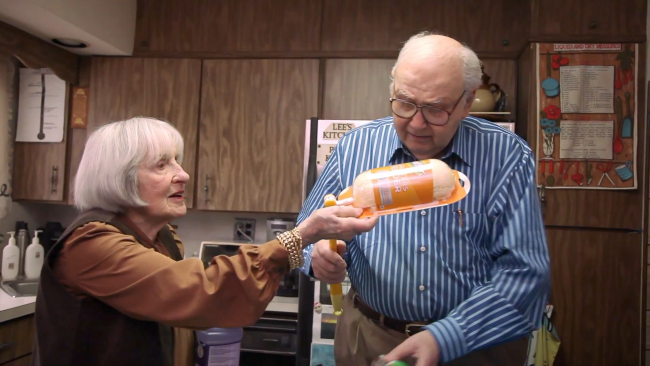 It turns out that Swiffer Commercial stars, Morty and Lee Kaufman, are exactly as they seem.
They're in their 90's.
They're not actors.
Morty really does sleep a lot.
And Lee really does do all of the cleaning.
And they are shocked at the response they've received from being in the Swiffer commercials.
Their videos on YouTube have millions of hits. They've been featured at news outlets throughout the nation – including the Today Show and Huffington Post. They now have a PR person handling their media requests.
And they're a true testament to my great-grandmother's motto: You're never too old for your next big adventure!
I contacted Morty and Lee's PR rep to see if they would be open to an interview – and Morty emailed some answers to my questions.
Yes – 90-something-year-old Morty EMAILED me his answers.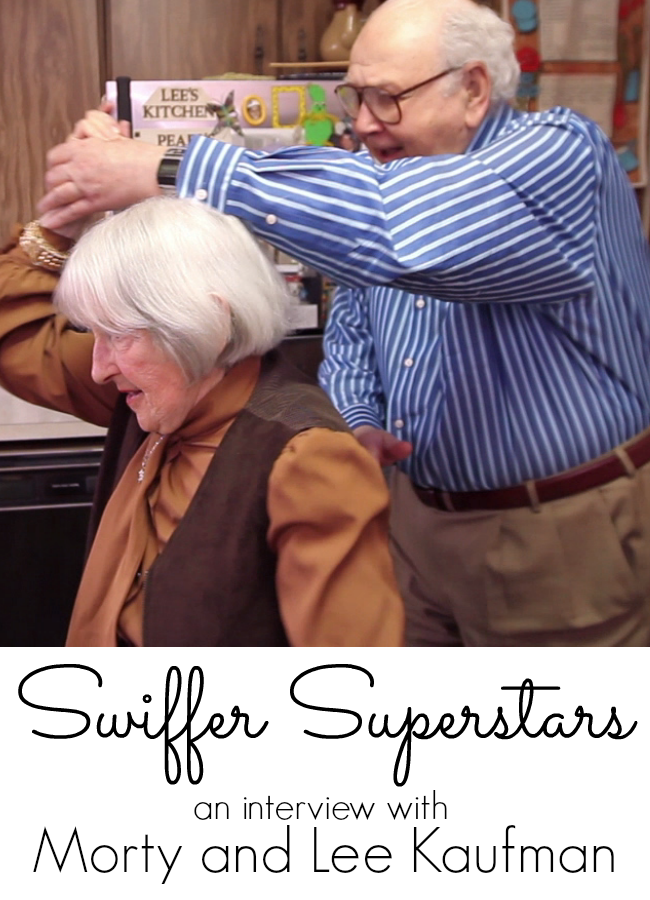 How did you find yourselves in a Swiffer commercial?
Our daughter, Myra, has a friend who is a casting director. She asked Myra for a 70+ couple and Myra suggested her parents. We were evaluated and screened and then selected for the commercial.
What was the filming process like? Did anything surprise you?
A crew of eight people came into our home, lights, sound, etc. It was not intimidating at all and there was no script, and nothing unusual. The process was very friendly and relaxed, and we were amazed at the simplicity of it all!
The crew was at our home for two days and there was no additional filming.
Were you surprised at how popular your commercials became?
We are realizing how popular they are and are absolutely amazed! It's mind boggling and difficult to believe.
How has this experience changed your life?
The recognition has been reminding us of the many great experiences from our past. It's exciting that many people recognize us and express such glowingly happy comments about the Swiffer commercials. And, Swiffer has really transformed the way we clean our home.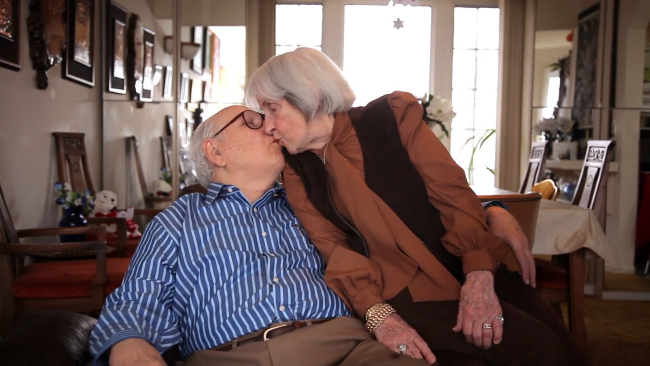 Any secrets to share for a long, happy marriage?
Holding hands often, telling each other that you love one another, making time to be together and NEVER going to sleep without saying "I love you!"
And any secrets to share on aging gracefully? You two look AMAZING!
Take care of yourselves (medically) and hope that nature is kind to you. Try to be moderate and avoid excesses.
What do you think the next few years hold for you? Any more commercials in the works?
We have no idea what the future holds but we're optimistic! No one has approached us for any other commercials yet.
What has been your favorite part about being "discovered?"
The very positive public response to us!
Is there anything else you'd like to add?
Enough said.
Aren't they adorable?