A gasp was heard 'round the blogosphere when Becca from Blue Cricket Design posted a short goodbye to the blogging world and decided to shut down Blue Cricket Design for good.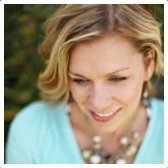 Luckily, we were able to talk her into leaving her blog live, and we still hear from her from time to time. But she went from blogging every single day to pretty much never.
Becca was sweet enough to share her thoughts on why she needed to step away from blogging, what she's up to these days – and how to know if you might need to walk away from your blog too!

I've been blogging since 2005 and started my creative blog "Blue Cricket Design" in 2008 before the huge craze of creative blogs hit the web.I loved the idea of having a space to share my creative ideas. It started off as a simple site that gave me a holding space for my projects. Soon it grew to a small business and eventually a full-time job. I loved the doors that it opened up for me. Working with companies, meeting people and using my unknown business skills were thrilling. The income also became a huge blessing for me and my family, and the feeling of contribution was one I had missed after becoming a stay-at-home-mom! All in all, I cultivated a hobby into a business, and I was really living a dream!
What led to your decision to stop blogging altogether?
Before I became a professional blogger I really had my ideal life! I was a wife and mother and was blessed with the ability to be at home with my kids.
Blogging just fell in my lap and, all of a sudden, it became something I had never prepared for. It evolved into a full-time career that I was actually really good at. I loved it!
I loved being a mom and a wife, but I struggled doing it all. For the past year I'd had a nagging impression that I needed to scale back. In order to be at the level I was at, I had a lot of demands on my time.
I had deadlines, contracts, events, promotions, giveaways, emailing and so many other obligations. Add on top of that my duties as a mom and wife and friend and it was enough to send me into a panic attack at times!
All of a sudden my hobby was no longer a hobby but a must do item on my ever-growing "To Do" List! I tried on many occasions to try new ways to simplify and get it back to a place I could enjoy. I became more of a feature site but felt like my voice got lost. I hired contributors to help fill posting dates but by then the commitments with companies were taking all my time so I again had little presence on my own site!
And all while this was happening I was struggling behind the scenes with personal struggles. Multiple miscarriages and a health scare lead to depression and overwhelming anxiety.
On one hand my blog was the one thing I could control, but on the other hand, looking back now, I think had I listened to the voice that told me to step back a long time ago, I might have focused my energy on fixing ME and getting better sooner!
Finally, one day, May 2nd, I finally had the courage to listen to that voice and step away.
I had to pull it off like a band-aid or else I'm afraid I would have chickened out. No wonder it was so difficult for me.
I just wasn't in the right place to be able to do it all.
How hard was your decision?
Stepping away from my blog was a huge and scary decision. I tried to make it for an entire year and couldn't. I put it off and pushed it away for as long as I could until I knew I couldn't avoided it any longer.
Blogging was such a huge part of your life – what was it like to quit cold turkey?
I cried for three straight days after I announced I was quitting. I wasn't prepared for the reality of walking away from something that was so much a part of my every day!
It felt like a death in the family.
But, to be honest, I knew deep down that that was the way I needed to end it. I couldn't ease out of it or take a week or two off to decide if this was really what I wanted, so I did feel at peace with how it all unfolded.
Not on the surface but deep, DEEP down I knew I would be OK.
What was the response from the blogging community?
I've always said the creative blogging community is the best one out there. Some of my closest friends are friends I've met blogging. I was overwhelmed with comments and personal emails of well wishes and "We'll miss you!"
My blogging besties really rallied around me because they knew of my past year's struggles and knew what I was walking away from and working towards.
My house looked like a floral shop! I had huge bouquets of beautiful flowers arriving with the most encouraging messages attached from my friends. I had gift baskets and phone calls that really meant a lot to me especially those first few days! The community was everything I needed it to be and more!
How has your life and your family's life changed since you walked away?
My life is totally different now.
I need to clarify something really quickly… My husband was always very supportive of me doing something I loved! He supported me cultivating my creativity and growing my business, but the demands of my business did take a toll on my family.
My home responsibilities had taken a backseat at times, and I'm the first to admit that it wasn't ideal for any of us. So, when you take away a stumbling block in any situation and fix it, life can only get better.
I am happy to report that I feel more in control of my life as a whole! I have the time I need to clear my head, gain perspective and enjoy my kids.
The guilt of not being 100% there for them is gone. I have time for them, for us, for me!
I am creating for me again, not for my blog and that feels amazing. I needed this life pivot to get myself back, and I'm happy to report that it's working!
How much time do you think you spent online when you were blogging vs now?
When "Blue Cricket Design" was going full steam ahead, I was dedicating probably 30 hours a week to it. Online time was probably 20ish hours but let's be honest… if we're online doing one thing, it always lead to other online distractions.
But when you add up all the time it took for writing, editing, shopping, creating, promoting, answering 100 emails a day, negotiating deals, planning events, networking and planning it really did feel like I was working ALL THE TIME!
Now I get online because I want to relax, see what others are up to and to connect with friends! It's night and day.
What has surprised you the most about walking away?
I'm surprised the most with the fact that my site is still generating traffic and income for me.
Oddly, I didn't see a huge drop in page numbers so in some ways, I'm enjoying my "pension". I still get income from my site, and I hope that's a testament to the content.
After I left I spent almost 20 hours cataloging all my past projects so they are easy to find! I know I have to thank Pinterest for the maintained traffic and to all those who help keep it alive by pinning! A million thanks!
Do you miss it?
Everyday I miss it! Enough to feel OK to jump back on here and there to say hello and share something fun!
I had to convince myself that it was OK to pop in. After you say you're done, it feels pretty final. But I did come to the conclusion that my site was mine. I created it, so I could do whatever the heck I wanted to do with it.
It took me three years to make it what it was, and it was a reflection of me. So, yes, I've retired from it for now but who knows where I'll be down the road. I haven't been in the right frame of mind for a little while but that's not to say that I won't be again. I like knowing that it's there for me when I need it!
What are some signs that it might be a good idea for a blogger to stop blogging?
Only you can decide if it's a good time to stop.
I needed to.
I felt it everyday for a long while and avoided it. I don't recommend ignoring promptings like that.
We have all been blessed with an inner compass that we need to listen to. Take advantage of it and find more ways to tune into it!
It might surprise you. It might be telling you to slow down or to drive forward! Listen!
What will we see when we visit Blue Cricket Design now?
Blue Cricket Design is still a place of inspiration and fun! I've made a great page that catalogs all my projects into categories for easy searchability! From here on out you might see me on there once in a while but not like before!
If we're going through Becca withdrawal, where can we find you online? Anywhere?
I'm around and you can find me mainly on Facebook!
Is there anything else you'd like to add?
I know I was meant to be blogger for a reason.
The relationships I have developed have meant more to me then I ever knew possible. If that alone was the lesson I was supposed to learn through all of this, then I feel like I am coming out on top.
I know I still have a voice to share in the online community, but my time right now is best spent with my family.
I may in fact have another strong impression down the road to get back into this amazing roll, but until I feel those strong pushes in that direction, I'll sit still and enjoy the quiet and the love that continues to surround me right now!
Thanks Becca!
Be sure to check out the rest of the Bloggy Break series:
Part 2: An interview with Diana @ The Girl Creative