Well – it's official – my mom won the internet this week.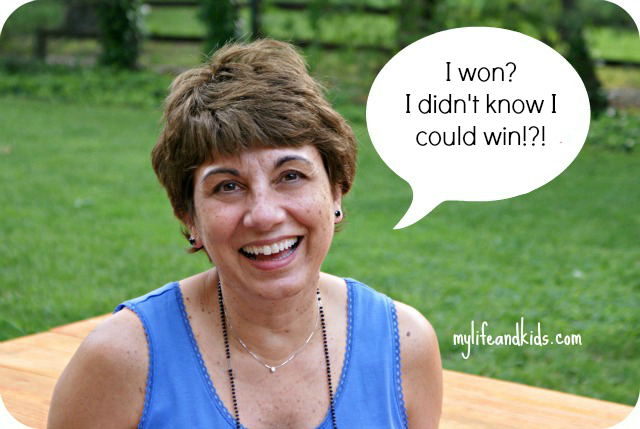 After all of her grumbling of me not living up to her blogging expectations, I surprised her by giving her my blog for a week. I announced this change via a public blog post, and one of my greatest regrets in life is that I didn't record our morning conversation.
I had the rare pleasure of getting to listen in on the phone while she read the blog post.
And when she got to the end – and saw that she was going to be taking over for the week – I've never heard so much screeching and sputtering and oh my goshing in my life.
It was a moment that I will probably never forget – and I still can't believe I didn't have the foresight to record it. Oh well – maybe next time.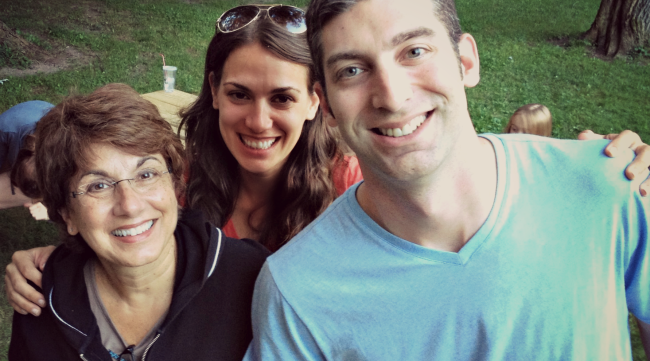 She kicked the week off with a bang by writing a blog post that pretty much solidifies her favortism of my brother. More than 12,000 people stopped by to read her first post, and she did not disappoint.
I think my favorite part was when she got a little snippy with someone in the comments – because it said "ANNA" and she assumed that was me – rather than the Anna that had actually left the comment. That really made my day.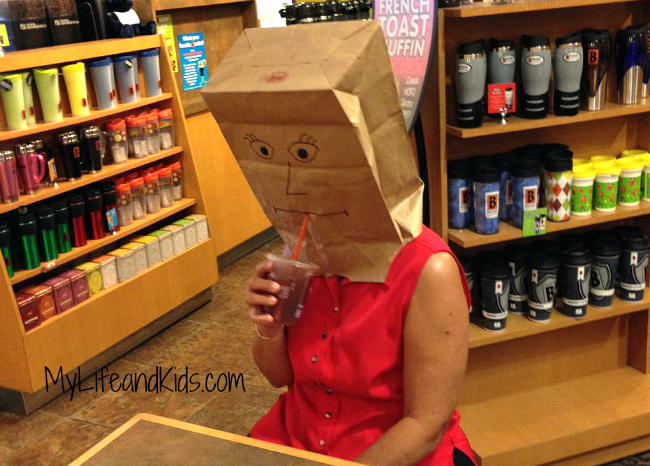 Along with giving her my blog, I also gave her admin rights to my Facebook page and told her to post whatever she wanted.
On a related note, I lost hours of my life trying to teach her how to post a link from my blog onto Facebook.

She took advantage of my page to post a terrible picture of my infamous high school haircut – and to try to get everyone to share their favorite garage sale / thrifting locations with her.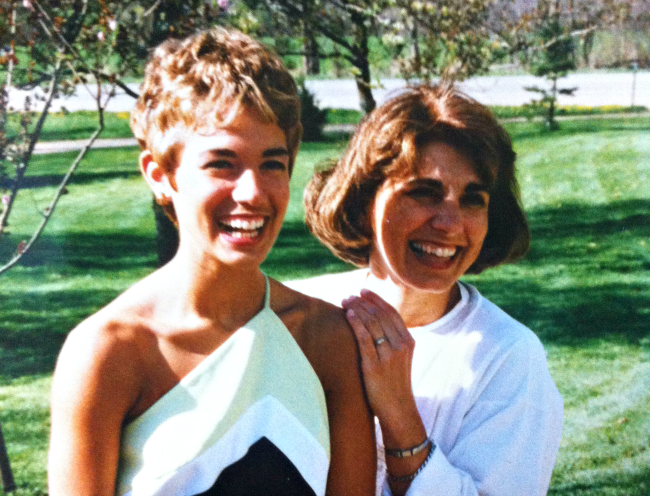 On Tuesday, she shared 10 ways to tell if you're a garage sale addict. And I just have to say that #2 is 100% true.
The sheer volume of her "treasures" terrifies me – and while it'd be nice for her to be healthy enough to hang out with me for the next 50 years – there is definitely part of me that really just wants her to get rid of everything before she passes.
She had her first heckler in the comments of that post (which kindof means she's "made it" as a blogger), and she even received a comment from someone that sort of met her once. (Just read the comments to see what I mean – but very cool.)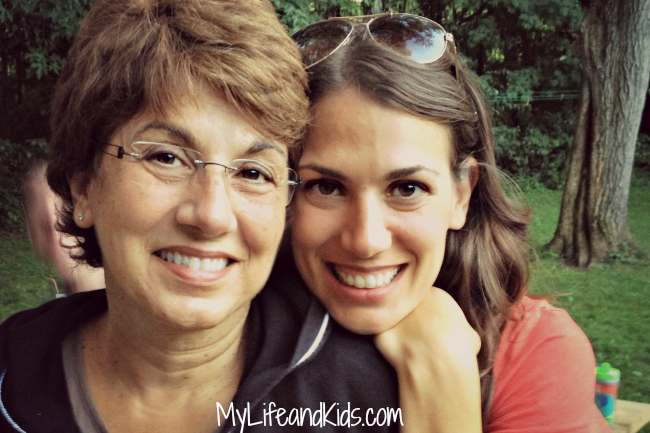 And on Wednesday, she shared a zillion hilarious stories from her working days – and it appears that every single person that ever worked with her for those 30 years stopped by to read it.
And on Thursday, I don't know what she did, but she managed to completely break my blog – leaving it down for about 4 hours right around lunchtime.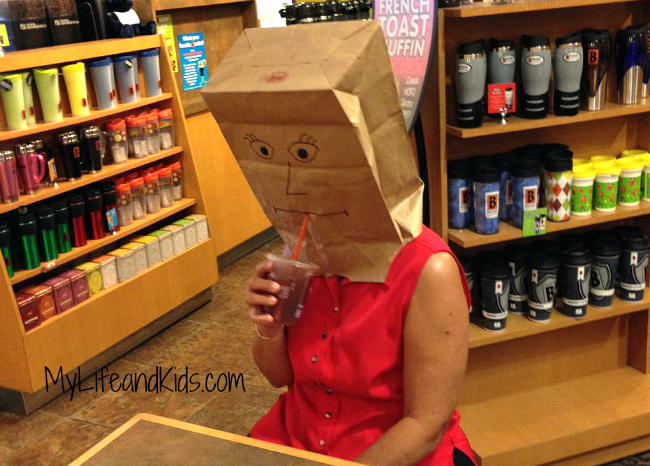 Between the comments, an eavesdropper, a heckler, and breaking the blog – I'd say my mom experienced it all.
All in all – she had right around 42,000 people check in to see what she wrote. And she had over 1300 shares on Facebook. In her first three days as a blogger, she pretty much killed it. Oh yeah – and we gained over 600 new followers on Facebook this week – and nearly that same amount on Pinterest.
And – she even remembered to thank her readers (which is SO important). She tried to post this on Thursday (when she broke my blog), so I'll post it here for you now:
Well, my obligation has been fulfilled. My punishment is over. Anna might even let me see the grandkids again.
Writing a blog is a fun, nerve-wracking experience and although it's much harder than I gave Anna credit for, I enjoyed it very much – thanks to a very kind, supportive audience.
I'm turning the reins back over to Anna now but she has asked me to guest post now and then so to my close friends – be afraid – be so afraid!
I'm also asking her to change the password on her FB page – that is way too tempting!!
Next time I'll have more pictures and dirt on Anna – after all, that's what people are really after. My version of the truth!
Thanks for a fun three days. Now to concentrate on my houseguest. (Her brother Nick – the Dr. – is here for a visit, in case you missed it.)
- Anna's Mom
When I asked her how she found the inspiration to become a writer and blogger, do you know what she said?
Silk Vanilla Almondmilk helped me focus – and become a writer.
Silk Vanilla Almondmilk made me feel more creative and helped me find my funny.
Silk Vanilla Almondmilk helped me win the internet.
Did you really think I was going to let her get out of her week of blogging without a sponsored post? Not a chance.
It's no secret that I'm a huge lover of Silk products (you may recall me writing about them here and here.) Ever since I went dairy and gluten free, I've been loving the Silk products – especially Silk Unsweetened Coconutmilk!
So now, my mom has officially done it all.
She drove lots of great traffic. Figured out how to use Facebook. Broke my blog. Dealt with hecklers. And now she's been part of a sponsored post.
I think maybe she should try her hand at a viral video next…
Whether you're looking for a great (and delicious dairy-free option) or you just want to win the internet (like my mom) – sign up to receive a Silk coupon! All new registrants will receive $0.75 off any Silk half gallon.
What was your favorite part about my mom's internet domination?
This is a sponsored conversation written by me on behalf of Silk. The opinions and text are all mine.
5 Mar
I mentioned yesterday that I was a school counselor for over 30 years. What I didn't tell you was that the majority of those years were spent working with elementary kids.
Being the elementary school counselor in a public school system can be both rewarding and depressing for a variety of reasons. At the very least it's exhausting.
But I quickly decided that the best situation was to laugh with my co-workers whenever possible. Some of our laughs were intentionally planned and others were totally spontaneous.
My philosophy was this – if you can't find something to laugh at or someone to laugh with in an elementary building then you are in the wrong field!
It worked for me and for most of our staff.
And, today, I've decided to borrow Anna's blog to share some of our laughs with you.
Clowning Around
I found a big box of foam rubber clown noses at one of my estate sale hunts. I bought them all just in case. During one staff meeting we all had them hidden in our laps, and when our Principal turned to write something on the board we quickly put on our noses. He turned around to face a room full of attentive clowns.
Worked like a charm.
It's possible I ruined this child's life…
One day I called a student to the office. His name was Jimmy Underwood. I accidently used the PA system and requested that Jimmy Underwear please come to the office.
He was a new student.
In fact, it was his first day.
I'm still a little mortified by this. But luckily he forgave me. Note from Anna: There's no way this kid forgave you! If anyone knows Jimmy Underwood, can you please find him and report back on how my mom basically ruined his life when he was in 4th grade? Thanks!
I love me some Robert Redford
I was in charge of the morning announcements and every now and then I would call Robert Redford to the Counseling Office.
The older teachers loved it.
The younger teachers didn't know who he was.
I also have a Robert Redford scrapbook (because every counselor should!) and if a teacher was having a bad day, I would send it down to her to cheer her up. (That one was just for the ladies, didn't work so well with the male teachers.)
Every now and then, they put me in charge.
When the principal was out of the building I was in charge.
One day there was a small fight on the playground. When I was in the office with the two culprits trying to sort things out, one boy said with both hands in the air:
"I didn't do anything but play with my monkey."
It seems he had brought his stuffed monkey to school in his backpack. What were you thinking?
Sometimes it's best to just walk away
One day I had two boys in my office talking about getting along with others.
I had a bright blue magic marker in my hand for some reason – and since I talk with my hands – it's no surprise that I got too close to my face and swiped the marker across my mouth and nose making a bright blue line.
I was making an important point at the time, and as I talked I saw both boys' eyes get really wide.
"I have marker all over my face don't I?" They both nodded. "Talk amongst yourselves," I said as I left the room.
The secretary caught me in the hall bathroom trying to wipe the permanent marker off my face. She left in hysterics and came back with friends to watch me.
I never did go back in to those boys.
Sometimes it's better to just be late
It's very hard for me to get anywhere on time. And while I hate that about myself – I wasn't the only one at school that had a tardiness problem.
One day there was a meeting scheduled before school, so two of us decided to meet early and put on our long bathrobes and slippers and walk in as the meeting was starting.
JB and I walked in alright – not knowing that there was a guest speaker making a presentation.
The Principal just looked at us and shook his head.
Again, I was mortified. But the rest of the staff got a good laugh – after the meeting was over.
Hide your keys
One principal could never remember where he left his car keys.
One gorgeous day, one of the staff members (NOT me. For real even I have my limits.) drove his car out by the road and put a For Sale sign on it. He was quite surprised when he started getting calls.
And he was much more careful with his keys after that.
There are years more of course…
Like the time the playground aid found a condom in a 1st grader's graders purse and sent her to me. Unfortunately I couldn't find anything in the rule book about not bringing condoms to elementary school.
Or the time I had to call a Dad because his little girl had started her period for the first time and needed clothes. I couldn't reach the Mom because she had just hit a deer with her car and was waiting for her husband to pick her up.
The Dad started moaning and groaning on the phone and said "It can't be, it just can't be… My little girl? Oh my God! Oh my God! I'm more upset about this than my car being totaled by a G D deer!!!"
I loved my job and I miss it some days. But when I start thinking about being able to go to garage sales seven days a week or visiting Nick anytime of the year– then I know I did the right thing when I retired.
When Anna told me to take over her blog, she suggested that I write a post about her growing up, a post about myself and then something about whatever I wanted.
Instead of writing about her, I wrote about her brother. And I totally messed it up by forgetting to tell you that he's also a PhD! So I wanted to make sure you knew that before we moved on. You can see that post here.
And back to today, where I've decided to tell you a little bit more about myself.
First of all, in case you didn't notice, I am not a writer.
I always wanted to be, and I thought I might be one day – but the truth is; I am a junker.
As in thrift shops, Flea Markets, Goodwills, Garage and Estate Sales, curbs on trash day – the neighbor's dumpster… it's all fair game as far as I'm concerned.
My love of second-hand things began in college – because it was all we could afford. And now it's just what I love.
I also worked as a school counselor for more than 30 years, so it's always in my nature to try to help people. And today I'd like to help you take a look at yourself – and determine if you are ALSO addicted to garage sales (and dumpsters).
We addicts need to stick together, right?
10 Signs of a Garage Sale Addict
1. It's all you want to do
I can't explain what happens when I have an opportunity to attend a sale. It's out of my control really.
But let's just say that I can be in bed feeling like I've been run over by a truck and someone can call, or my husband will tell me about a sale, and I'm instantly energetic and getting in the car.
It makes me smile. It makes me happy. It's possible that I'd rather hit a garage sale than do pretty much anything else.
2. You miss out on important life events because of sales
Okay – I never actually missed anything important. But I was almost late for Anna's college graduation because I stopped at a garage sale on the way to the ceremony.
And I left my friend's wedding reception for about an hour to make a quick visit to a sale I had seen on the way in. I went back to the reception, but my car was full of treasures!
3. Your house is "overflowing"
My kids talk about all my "stuff" behind my back (and in front of me). They try to get me to eat healthy and to take care of myself, and they say it's because they want me around for the grandkids.
But I know the truth.
They are terrified that I will die, and they will be stuck with all my treasures.
My sister-in-law found a quote for me yesterday, and I am having it embroidered and framed. It reads:\
It's Not Hoarding if it's Organized.
4. You plan your day around them
Back when I was still working, I had a map of the neighborhoods surrounding the school where I worked. On Thursday nights, I would map out which sales I could attend on my lunch break on Fridays.
I packed my lunch and paced myself. I loved it! And every now and then I would find the perfect shirt to match a skirt I was wearing, and I'd do a quick wardrobe change before heading back to work.
Okay – sort of kidding there. Okay – it might be true. Okay – I've decided not to actually say one way or the other – but I certainly wouldn't judge anyone for this.
5. You're the best customer at your OWN garage sales
I don't host my own garage sales anymore, but back when I used to – it's possible that I would take the time to set everything out and then take half of it back inside as soon as someone expressed interest in buying it.
And – it's also possible that my husband would walk around for weeks afterwards with $0.25 stickers on his shirts.
Notice that I said I don't host my own garage sales anymore.
6. Garage sales comfort you like nothing else can
I cried all the way home – through the entire state of Ohio – when we dropped Anna off her freshman year of college. Until my husband found a massive antique sale next to a railroad depot.
I was instantly cured and even commented on what a good thing it was that we had gotten rid of Anna and all her things so we had room for the new, old stuff.
7. Your fondest memories of your children as babies – involve them at auctions
When Anna was around 2 years old, my grandmother and I took her to an auction.
She got caught up into the spirit of the auction (which is easy to do) and loudly yelled, "Raise that bid!"
The auctioneer actually took her bid, much to my embarrassment. And then he literally had to stop the auction when he realized that he had just accepted a bid from a toddler. We laughed and laughed.
And Anna wasn't allowed to attend anymore auctions. (But her brother was, of course.)
8. You're a weird guest at parties.
I'll admit it – I turn my host's dishes upside down to see their markings… and try to determine their value on eBay.
9. You know random details about TV shows and movies
Did you know that Aunt Bea in The Andy Griffith Show has Blue Ridge China in her white cupboard in the kitchen?
In some of the episodes it's Blue Willow.
That makes me happy.
10. You start making life decisions based on your addiction
I had been thinking about retirement for years, but I could never make a decision. One afternoon, a little girl came to my office to tell me that her Grandma had died.
And my first thought was, "Will there be an estate sale?"
That's when I knew it was probably time to retire.
So – is someone you love addicted to garage sales? Send them my way – maybe we can trade dumpster-diving secrets.