From amusing to annoying, there's more than one kind of List-Hole. And unfortunately, most of us fall into at least one of these categories.
Click here to load the slideshow.
I'm co-hosting a mega-huge giveaway today. But act quickly – because it's one-day only!
This giveaway is hosted by Best of Bloggers
A big thanks to our Co-Host Pandora's Deals!
We are cruising right along with our Gift Guide Giveaway. Today we are all about toys! Remember, one winner will win all of the gifts in this post!! That's worth almost $1300!!! Good luck – you only have 24 hours to enter!
Corolle Doll
Every little girl loves dolls! Corolle Dolls are machine washable, adorable and super fun for all ages! They make perfect first dolls…or tenth! They also make more traditional baby dolls and accessories – like that super cute stroller above! Corolle Dolls are so sweet, they are sure to become a favorite! One winner will win:
The Corolle Babipouce Doll
Corolle Elf Grenadine's Heart
Corolle Mon Premiere Baby Stroller
To learn more about the products that will be given away or to read our full review click here.
HIT Entertainment
HIT Entertainment knows a lot about fun! With fun characters like Thomas the Tank, Angelina Ballerina, Barney and more they are in the business to make kids smile!
One winner will win a:
Thomas the Train Castle Quest Set
Discovery Kids Tabletop Easle
Discovery Kids Sharkopedia Book
To learn more about the products being given away and to read our full review click here.
Learning Express is my favorite toy store ever! With locally owned shops that are so welcoming with the nicest employees, toys out for the kids to explore and only carrying high quality toys they are definitely my first stop when it comes to buying toys! You can find a store near you here.
Learning Express will be giving one winner a box of exclusive Learning Express Toys including:
Rhinestone Wrap Bracelets, Lots of Knots, Magical masterpiece, Get Wired, Trendy Hair Ties, Shoelace Jewelry, DIY Ornaments (in multiple styles!), Wordaround Holiday, Spot it Holiday, Stomp Rocket, and Sling Shot Kit. Yeah. That's a lot!! WHEW!!
To find out more about the items that are being given away and our full review click here.
To find a location near you and shop at Learning Express click here.
Lundby
Lundby is a European company (now available in the US!) that makes the most amazing doll houses. The Smaland House (above) has plenty of room, the windows all open and each room is prepped for electricity! Yep! The house is decorated perfectly and if for some reason you need more room you can add on another floor or a garden! The furnishings are just as cute!
One winner will win a Smaland Doll House, electricity kit, Doll family, and furniture!
To find out more about the products that will be given away and our full review click here.
To purchase Lundby products click here.
Plan Toys
Plan Toys are the place to go for sustainable play! Their toys encourage imaginative play, problem solving and creativity. Extremely well made and cute to boot these would make the perfect gift for any child!
Plan Toys will be giving one winner:
Fairy Tale Blocks Set
Gears and Puzzles Set
Curvy Click Clack
To find out more about the products being given away and to read our full review click here.
Red Wagon Toy Company
Red Wagon Toy Company has tons of great toys for kids! One of my favorites is Rody! Available in a wide variety of colors Rody is fun toy kids can bounce on. It is perfect for developing coordination and balance!
One winner will receive 2 Rody toys!
To purchase Rody click here.
If you have science fans you need to get some Science X Kits from Ravensburger!! There are tons of kits to choose from including the ones above!! Each kit is packed full of fun activities to do and things to explore. Kids have so much fun they don't even realize how much they are learning!
One winner will win:
Science X: Electronics and Circuitry Kit
Science X: CSI Crime Scene Investigation Kit
Science X: Nature Kit
To read our full review of Science X and find out more of the products that will be given away click here.
Style Me Up
Style Me Up is the perfect gift for tweens! Fun, fashionable, age appropriate and affordable Style Me Up has everything from sketchbooks to jewelry kits to nail polish kits!
One winner will win a $100 prize pack from Style Me Up!
To learn more about the products that will be given away as well as our full review click here.
To purchase Style Me Up products click here.
Thinkfun has been winning awards for their games since the beginning! Their games promote not only fun, but creativity, problem solving, literacy and more! Their games are designed for toddlers to adults so there is something for everyone.
One winner will win:
Rush Hour
Laser maze
Roll & Play
Word a Round
To find out more about each of the products being given away or to read our full review click here.
Winning-Moves
Winning Moves has game night covered! If your family loves playing games then this is THE best place to shop! They have classic games, new games and classic games with a twist. I love being able to share my favorite games I played as a child with my son!
One winner will win:
Pass the Pigs: Pig Party
Trouble
Totally Crazy Eights
Classic Yahtzee
Stop It!
5ive Straight
Super Big Boggle
To read our full review on Winning-Games or to get more information on the prizes being given away click here.
Don't miss any of our other Best of Blogger's Gift Guide Giveaways! We will be giving over $10,700 worth of prizes away! Click HERE to see the entire Gift Guide and enter for your chance to win!!
Now, WHO WANTS TO WIN!?!?!
One winner will win all of the items mentioned in our Top Toys! Almost a $1300 Retail Value!
a Rafflecopter giveaway

Christmas cards have always been hard for me.
Really hard.
I always envisioned having these perfect kids that would wear exactly what I wanted them to wear and pose exactly how I wanted them to pose and then I would send out the perfect Christmas picture every year – making the grandparents proud and causing everyone else to feel weak with envy.
Let me go ahead and show you how well that turned out.
This was the Christmas picture that we mailed to our family and friends in 2010…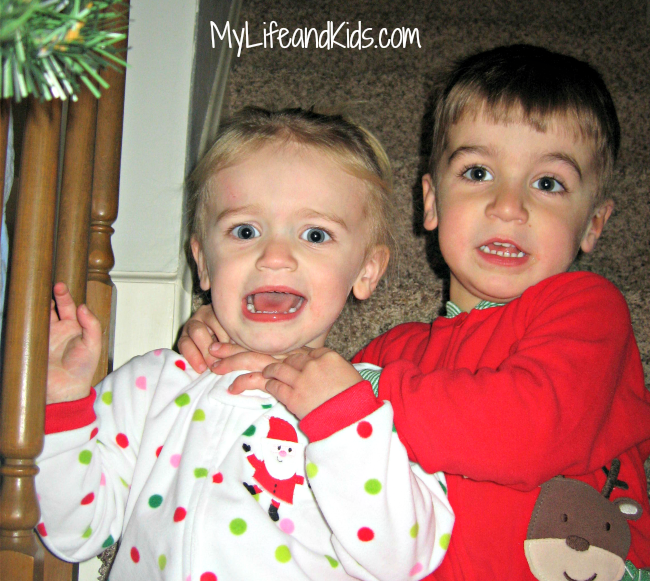 And – yes – that means that I took a bajillion pictures of the kids in their cute Christmas pajamas and this was the best one I got.
Let's move on to 2011, shall we?
Matching pajamas again – and another kid. Perfect picture?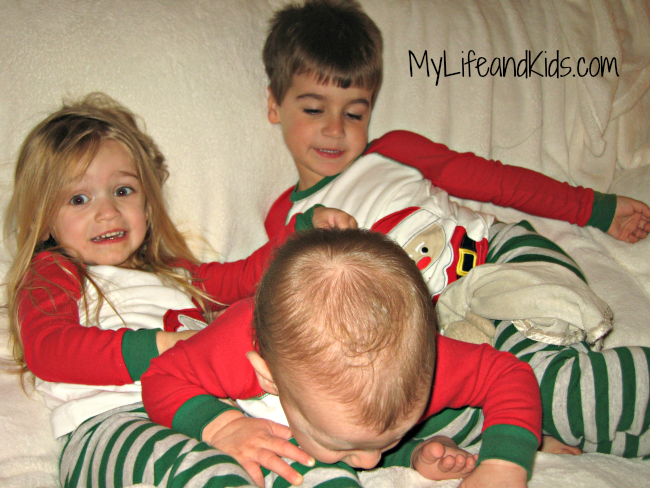 Yes – you could say that we totally nailed that one.
But last year was the best of them all…
THIS is what we sent to our friends and family last year. As you can see, we went with a picture of the whole family.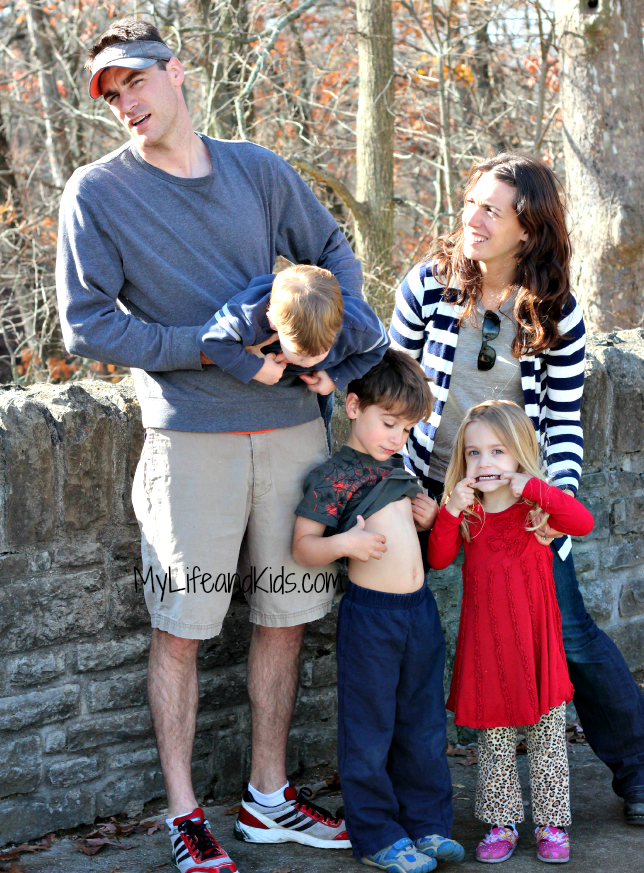 Yes – I'm not even kidding. We used that as our perfect Christmas card picture.
So this year…
I decided that it really was going to be the perfect picture. I gathered the kids. I set up a few poses. But then the phone rang, and while I was on the phone for all of 15 seconds, the baby tore off his pants and ate a marker.
Oh – and then he put on his Spiderman mask.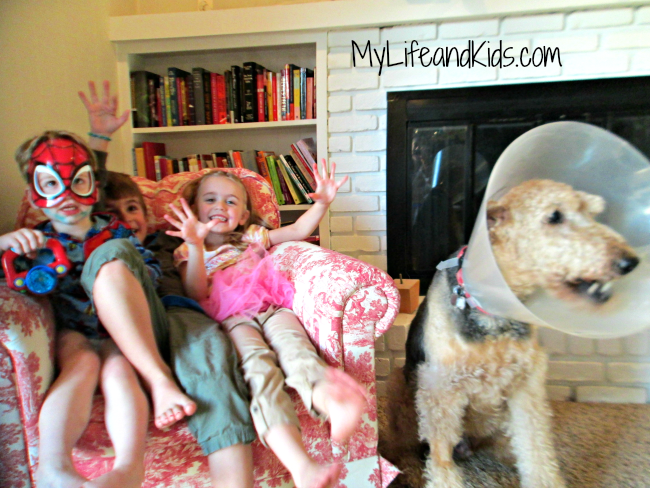 You try telling a 2-year-old to take off his Spiderman mask and put on some pants.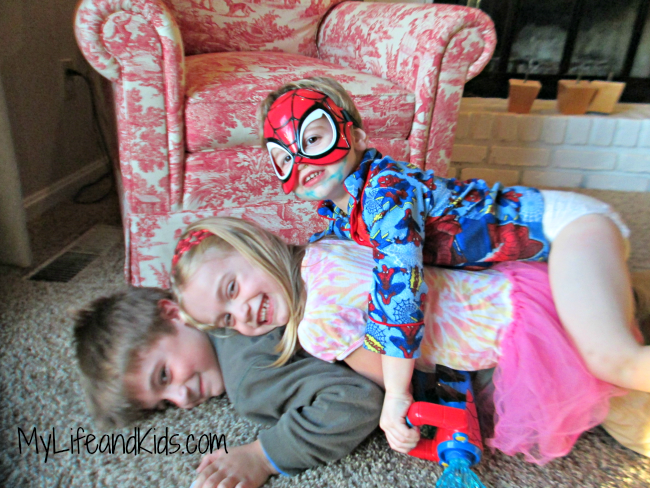 Without an obvious choice on the horizon, Even Steven and I decided to go old school. A beautiful, old-fashioned handwritten Christmas card – from our family to yours.
Perfect.
No pictures.
Just personal notes to our friends and family – getting back to the true spirit of Christmas.
But when I asked Even Steven if he would in fact help me WRITE those awesome, old fashioned Christmas cards – this is the face he made.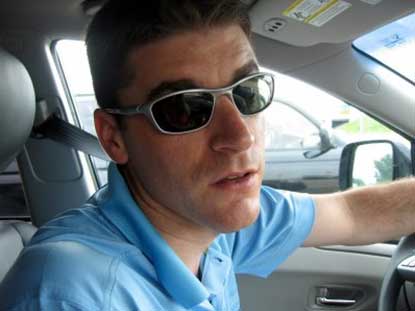 With no help in sight, I decided to skip out on Christmas cards altogether this year.
And then I came across Postable.
Postable is a really easy new way to send out lots of holiday cards. You just choose from their gorgeous designs, type in your message and they do the rest – from gathering your friends' mailing addresses to licking the stamps and putting them in the mail.
It really is that simple.
Yesterday I sat down at my computer, uploaded my address book, chose my card design, wrote my letter, chose my handwriting font and clicked a button to send my cards.
Here's what I didn't have to do:
I didn't have to try to coordinate outfits or find someone to take a picture of our family that would ultimately be terrible. I didn't have to spend a fortune on photo cards, have them mailed to my house, write a personal greeting on all of them, address the envelopes, stuff the envelopes, seal the envelopes, wait in line at the post office for stamps, put a stamp on every envelope and then mail them.
In fact, I was even able to individually edit each card – so I could congratulate my friend Jessica on being pregnant with Baby #4 and tell my cousin that he has an ugly dog.
And, I was able to send a very sweet card to most of our family and friends – and an R-rated card to a select group of friends. (I'll let you click here and see if you can find the R-rated card we're sending.)
Here's a quick video that pretty much sums everything up.
And here's a nice little bonus. Now that I have my address book loaded in Postable, anytime I need to send a card – like a thank you card, or congratulations or happy birthday. It takes about three minutes to choose a card, write my message and have Postable do the rest for me.
Simplify your life!
Click here to check out Postable and get your holiday cards sent in about 30 minutes or less.
You won't be disappointed!
This is a sponsored post. All opinions are my own.