Ever since Miles moved into a big-boy bed, we've struggled on and off with him getting out of bed too early in the morning or getting up too early from naps.
For a kid that can't tell time yet, it's tough for him to wait in his bed for us to come and get him after naps or in the morning. (Or at least for him not to get up until after 6 am in the morning.)
Enter one of our new favorite things:
Kid Sleep Alarm Clock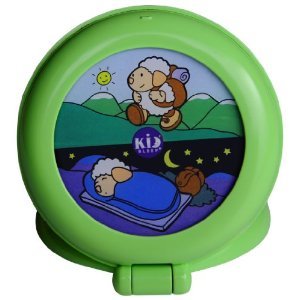 We set a timer on this "clock" and when the sheep is sleeping, then Miles knows that he's supposed to be in his bed. When the sheep has his backpack on, then Miles knows that he can get up.
It also has a nice glow to it, so it serves as a nightlight too. We set it for naps and for overnight. And – I can decide if I want to set it for a certain amount of time (3 hour naps anyone?) or for a specific time of day (like 7 am).
It works like a charm!
Click here to see more of my favorite things.
Every now and then I share a few of my favorite things. These posts contain affiliate links.