Messy House Owner: Ellen at Sisterhood of the Sensible Moms
The owner says: These pictures were taken on January 11th! I was finally going to clean up the mess when I realized what a diorama of New Year's cliche it all was, so naturally I'm interwebbing about it instead of cleaning.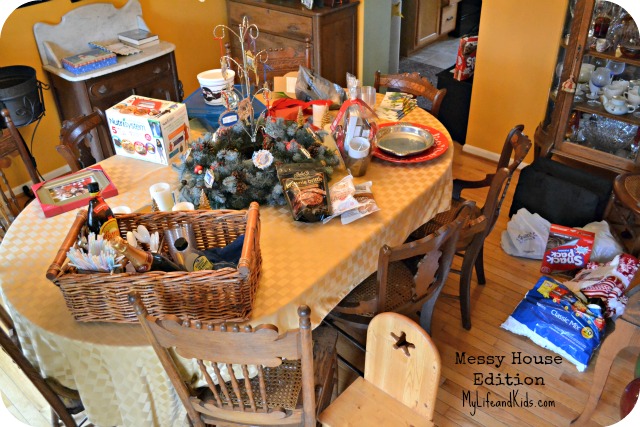 Notice the NutriSystem jump start nestling up to the brownie brittle? The bag of Kohl's 75% off crap that I did not need?
The blankets on the floor that were bought for the shelter and still not delivered?
And the piece de resistance – the basket of ingredients I used to make the nastiest NYE drink on record.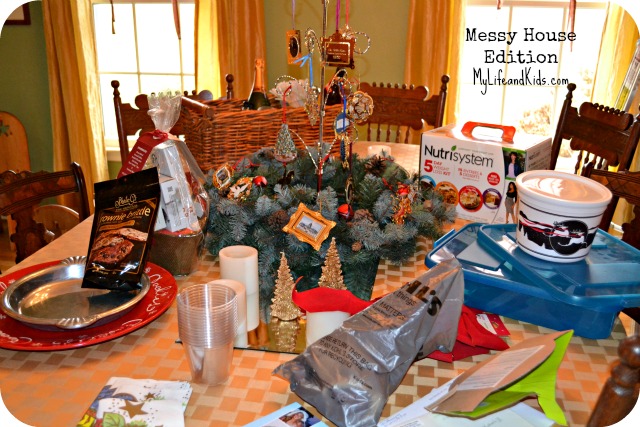 At least the Christmas decorations are there to make it all pretty. Right??
If you want more of Ellen and Sisterhood of the Sensible Moms, here are some of my favorite posts to get you started:
A Guide for Procrastinators on how to Complete a Pinterest-Worthy Project.
Pintershit: The New Year's Eve Edition – This post includes the nasty drink Ellen was trying to make with those ingredients…
Remember – Life isn't Pinterest-Perfect – and our houses don't need to be either!
Think your house is messier? Send me your pictures! (Garages and cars are welcome too!)