Welcome to the Elite 8 of the Messiest House on the Internet Competition!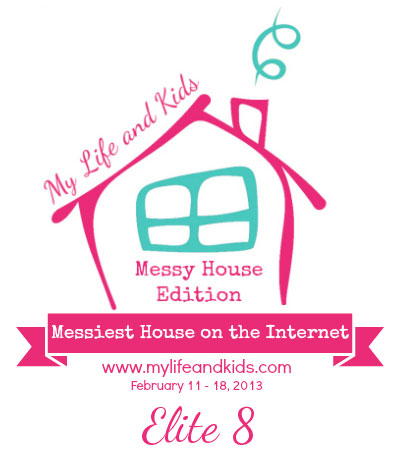 Yesterday we said goodbye to 8 houses that just didn't make the cut. (Click here to see Round 2 Results.)
Today, we're left with the 8 messiest houses on the internet. The four houses that move on today will each receive a copy of Clean Mama's eBook: Pulling Yourself Together: Implementing a Cleaning Solution that Sticks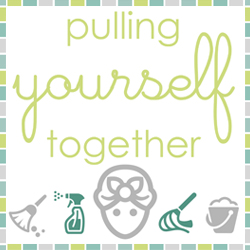 Elite 8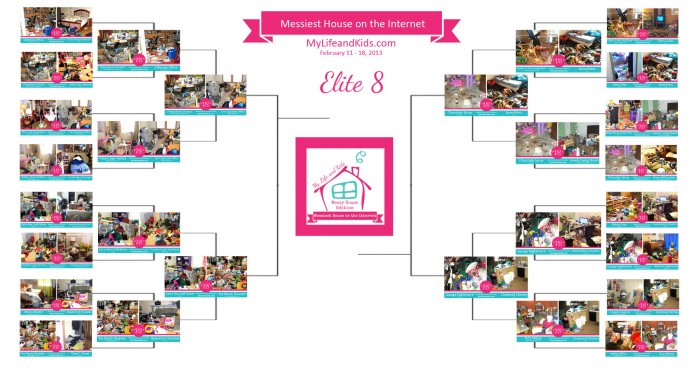 Click on each image for a larger view of the pictures.
Dining Room Disaster vs Un-Organized Office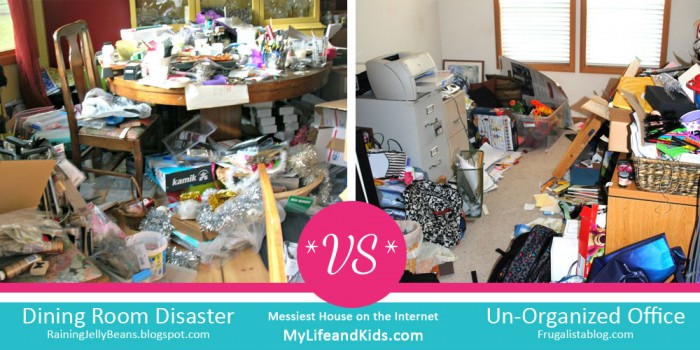 It's Raining Jelly Beans has an addiction to crafting. And Frugalista Blog has a lot going on in her office. Which room would drive you nuts?
Cat in the Craft Room vs Toy Room Disaster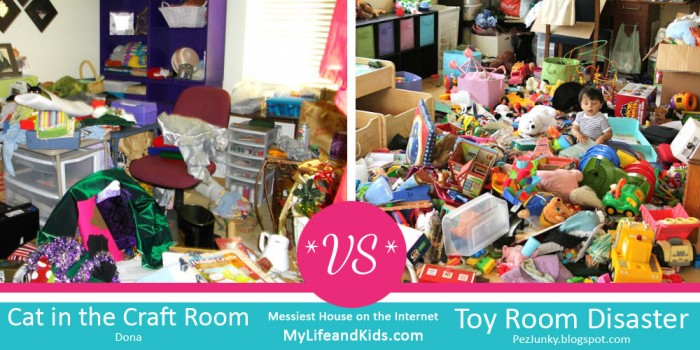 There really is a cat in Dona's craft room. Can you find it? And PezJunky's kids know how to tear up a toy room. Which mess is worse?
Chocolate Syrup vs Speechless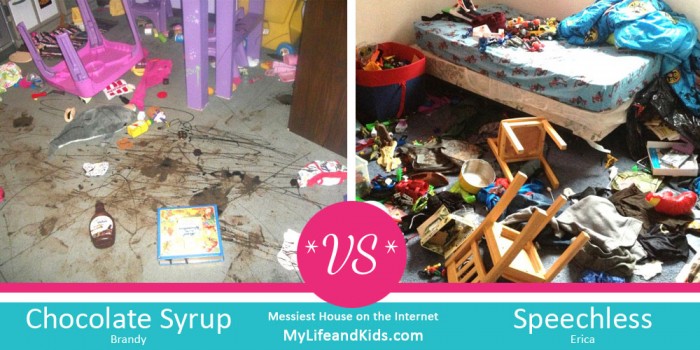 A year later, Brandy is still finding chocolate syrup from this incident. And Erica's son's room leaves me speechless.
Garage Nightmare vs Cluttered Kitchen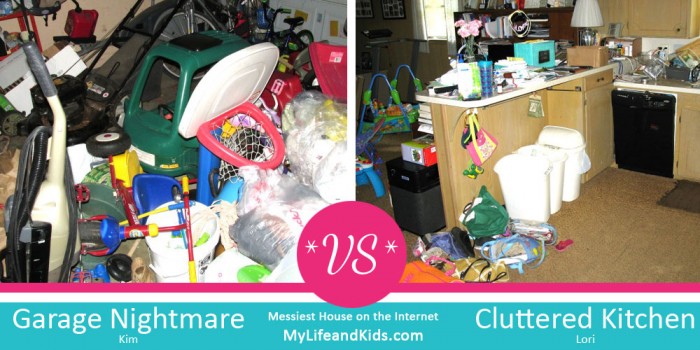 Kim's garage gives me nightmares. And Lori has a cluttered kitchen. Which do you think is messier?
Grab your Discounts
As a special thank you for voting, I have two great discounts for you!
From Method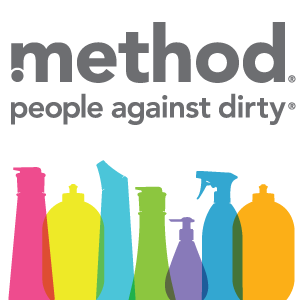 My friends at Method want to help you keep your house clean (without harsh chemicals.) And they're offering a special $1 off coupon code for you! When you purchase Method's all-purpose cleaner through Methodhome.com, use the coupon code APCBLOG at the checkout to receive $1.00 off your online order. Isn't that so nice of them?
From Clean Mama
Clean Mama Printables is going to help you get organized and keep your house clean! And she's giving you 20% off to do it!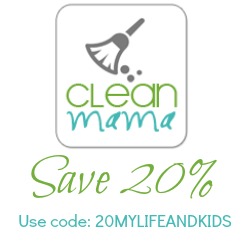 Visit her etsy shop and use code 20MYLIFEANDKIDS to receive 20% off your order. Isn't she amazing?
Be Sure to Enter the Giveaway!
All week long, I'm hosting a giveaway. Which means that YOU could win your own copy of Clean Mama's eBook (we're giving away three of them!) and one lucky person will win an Oreck Ultimate Handheld vacuum cleaner (valued at $150!)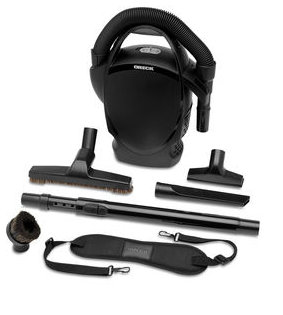 There are new ways to enter every single day, so be sure to stop back all week long.
The drawing will be open until Sunday, February 17th at 10 pm ET. Good luck!
Fill out the form below to enter!
I've added new ways to enter, so even if you entered yesterday – you can toss your name in the hat a few more times today!
Click here to read about the competition prizes and rules.
Click here to see more messy houses.
Click here to submit YOUR messy house!
Disclosure: I was provided the Magnesium RS and Ultimate Handheld vacuum cleaners from Oreck. The opinions in this post are my own. Oreck Corporation provided the prize for the Messiest House on the Internet Competition but is not the sponsor of the competition or the sweepstakes.