Can you believe it?
After nearly a year of thinking about it, blogging about it, asking your advice about it… I FINALLY painted the fireplace!
Before I show you the pictures, let's take a look back, shall we?
It all Started With a Vote
Way back in July, our fireplace looked like this:
Every single part of it was driving me crazy (the clutter! the cords! the books!), and I asked your opinion on whether or not we should paint the brick white. The answer was a nearly unanimous YES!
You can read the entire post here.
And you can read the follow up post here (where I photoshopped myself into Young House Love's living room).
And then I got really busy doing things like making farting noises with a straw in my armpit, and I never got around to painting.
So rather than paint the fireplace, I redecorated it and organized the books.
And it looked like this:
You can read the full redecorating post here.
That made a huge difference, but I was still wanting white brick.
So I finally painted it!
And then on a whim, I picked up a gallon of masonry primer this weekend and got to work. It only took me two naptimes and three coats of paint, and it made such a difference!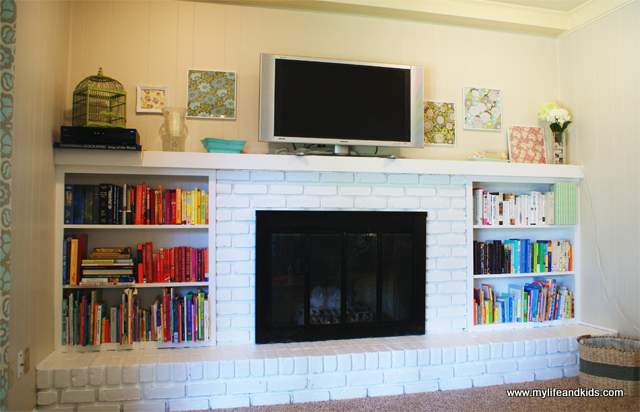 One more before and after…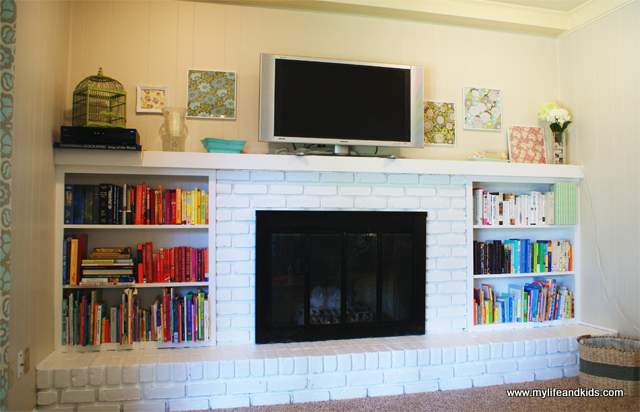 And, in case you wondered – this is how I look with my new fireplace. (At least, I'm pretty sure this is how I look…)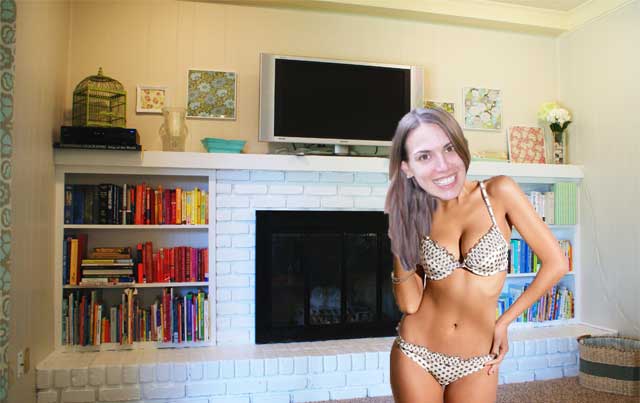 Thanks for sticking with me on yet another project that took me nearly a year to wrap up.
Did You Follow all That?