GIVEAWAY ALERT! After reading this post, be sure to scroll to the bottom for a chance to win a Coca-Cola #ThatsGold prize ($385 approximate retail value)!
In the world of busy schedules and kids and being an adult, friendship takes work.
True friendship takes even more work, but my friend Erin makes it feel easy (and fun!)
So when my friends at Coca-Cola asked me to share a #ThatsGold moment to illustrate that we don't have to be Olympic athletes to be worthy of a gold medal, I immediately thought of my friendship with Erin.
We have only known each other a few years, but it feels like a lot longer. And at this stage in our lives, maintaining a friendship can certainly feel like an Olympic endeavor!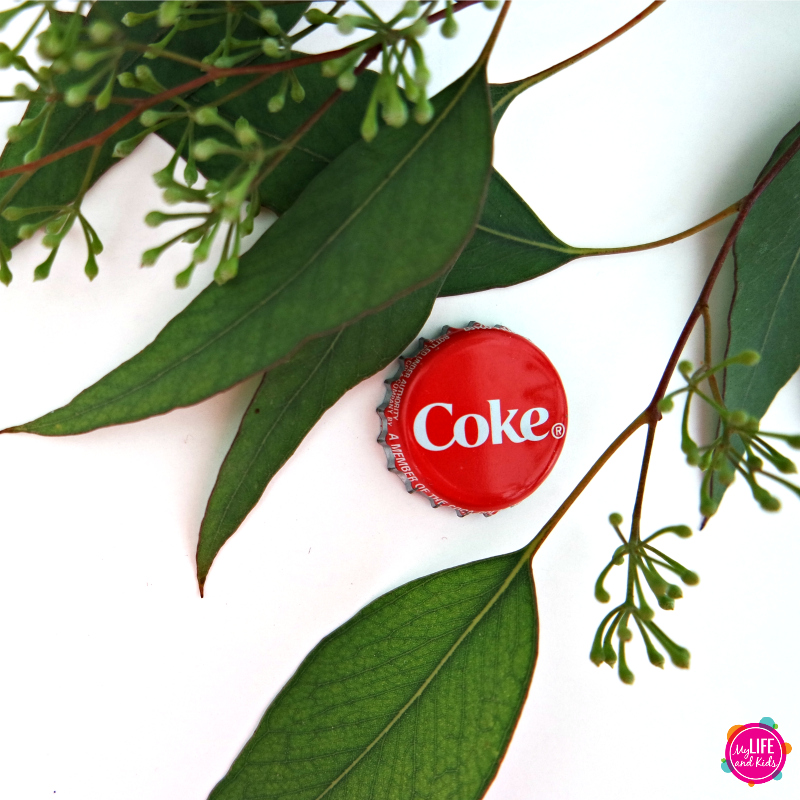 Through #ThatsGold, Coca-Cola encourages people everywhere to celebrate the gold moments that happen every day, whether small and mundane or splashy and exciting.
Something as simple as finding time during our busy lives to be a great friend can be considered a #ThatsGold moment.
So I decided to create a #ThatsGold DIY gift bouquet to give my friend a gold medal in friendship.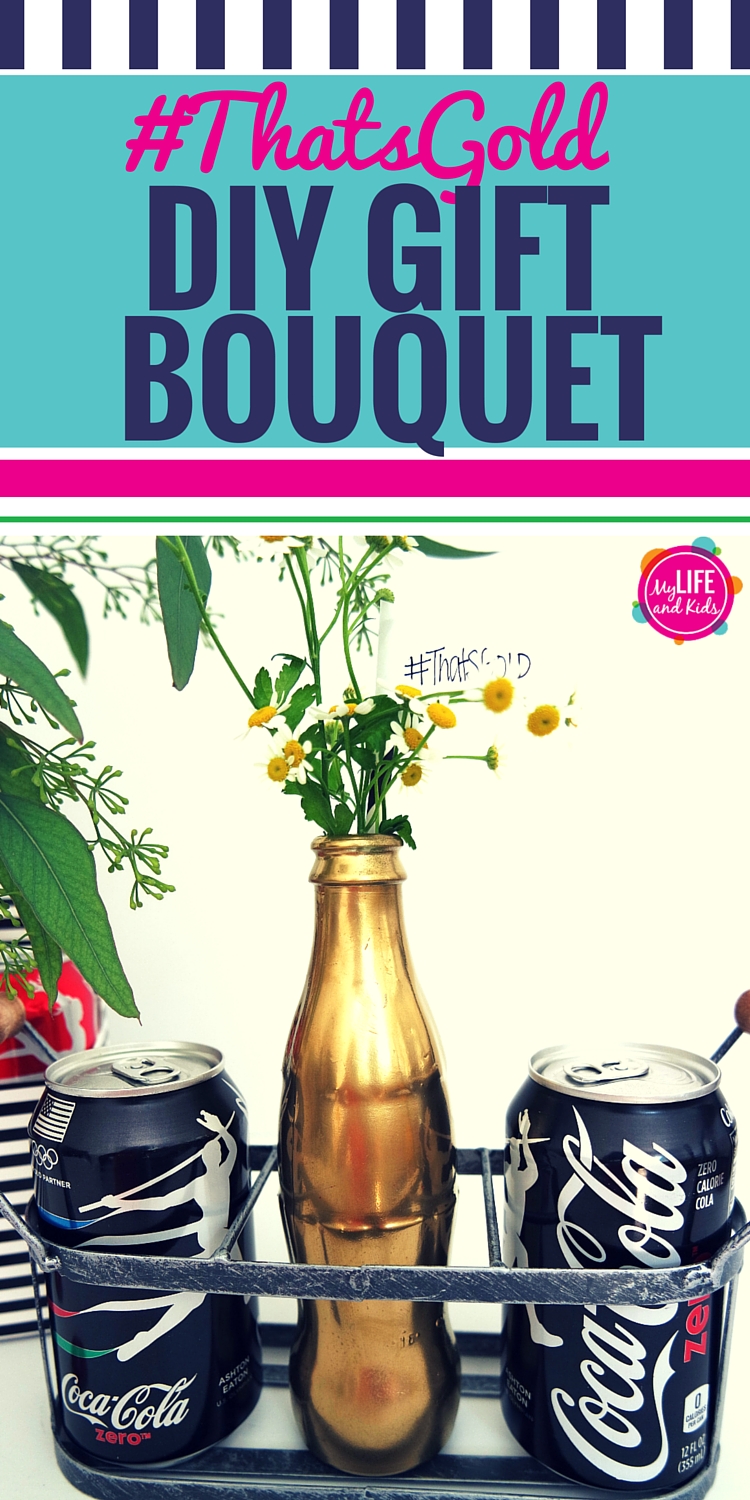 First, I painted empty Coca-Cola bottles with gold spray paint to use as vases. Then I added in some fresh daisies and eucalyptus.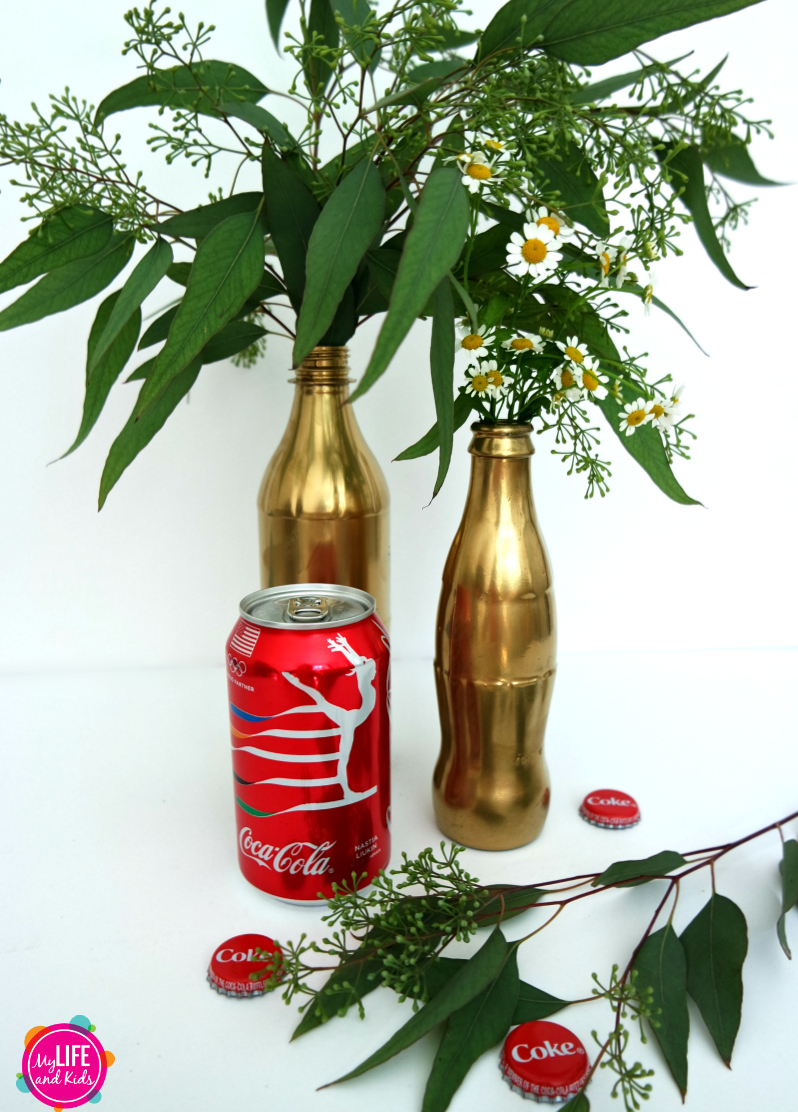 This, along with some cans of Coca-Cola was the perfect, simple touch to let my friend know how much she means to me.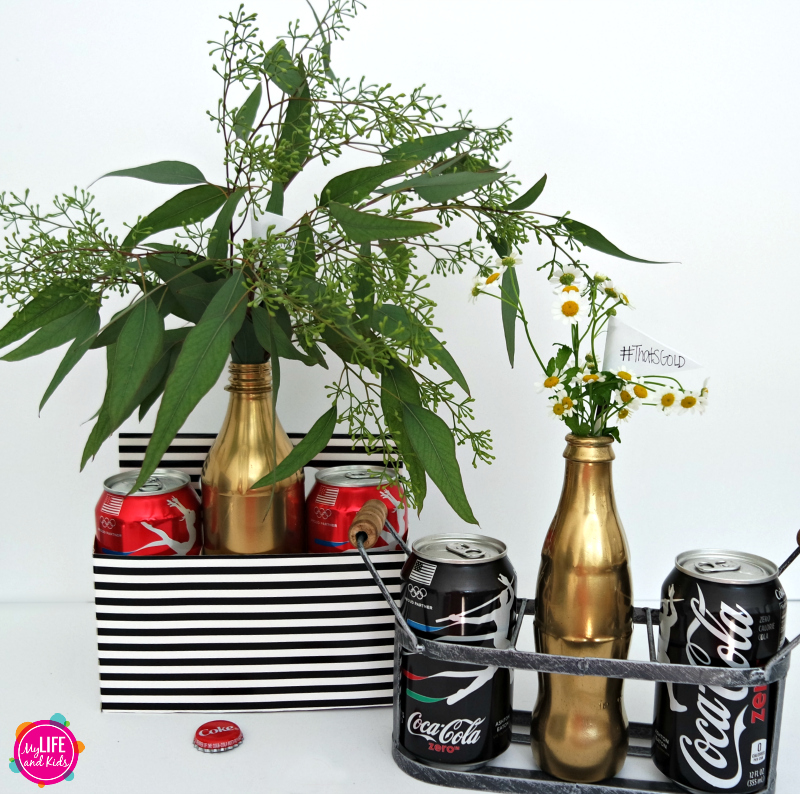 My daughter helped me sneak onto Erin's front porch and leave our #ThatsGold gift bouquet to surprise her.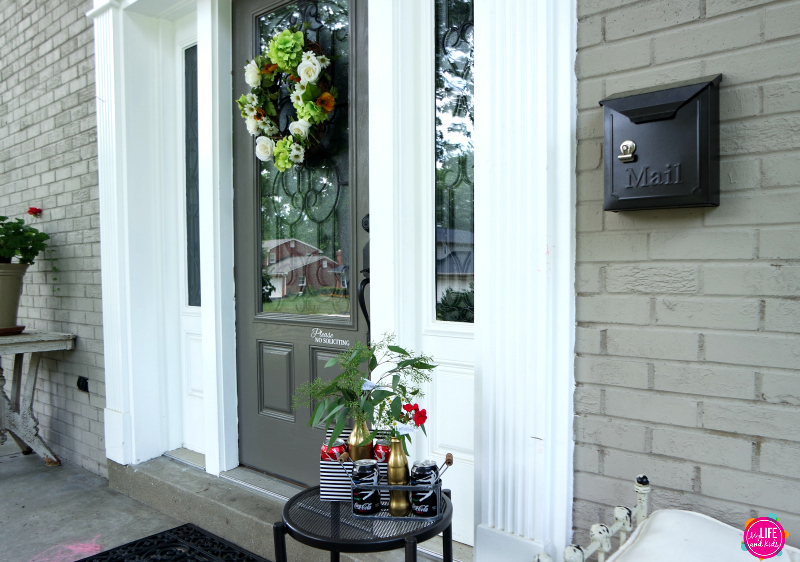 My daughter was super excited to be part of the surprise.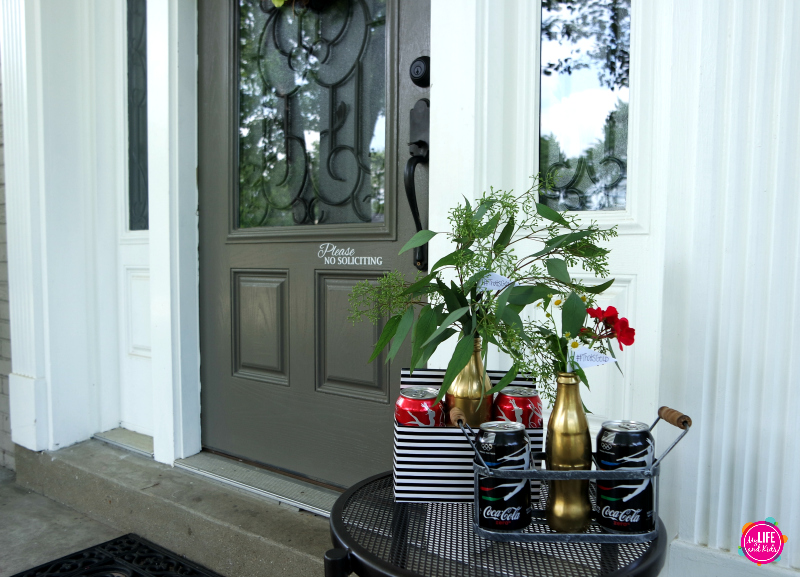 She even plucked a few of Erin's flowers to add to the vase.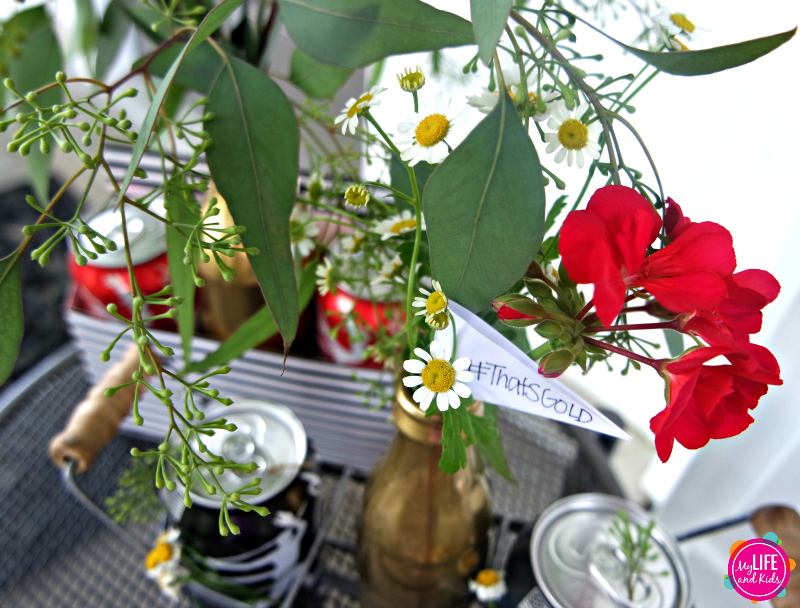 #ThatsGold with Coca-Cola
For 88 years, Coca-Cola and The Olympics have shared the same values of leaving a positive impact on the world by celebrating friendship, joy, hopes, and more as we applaud our amazing athletes.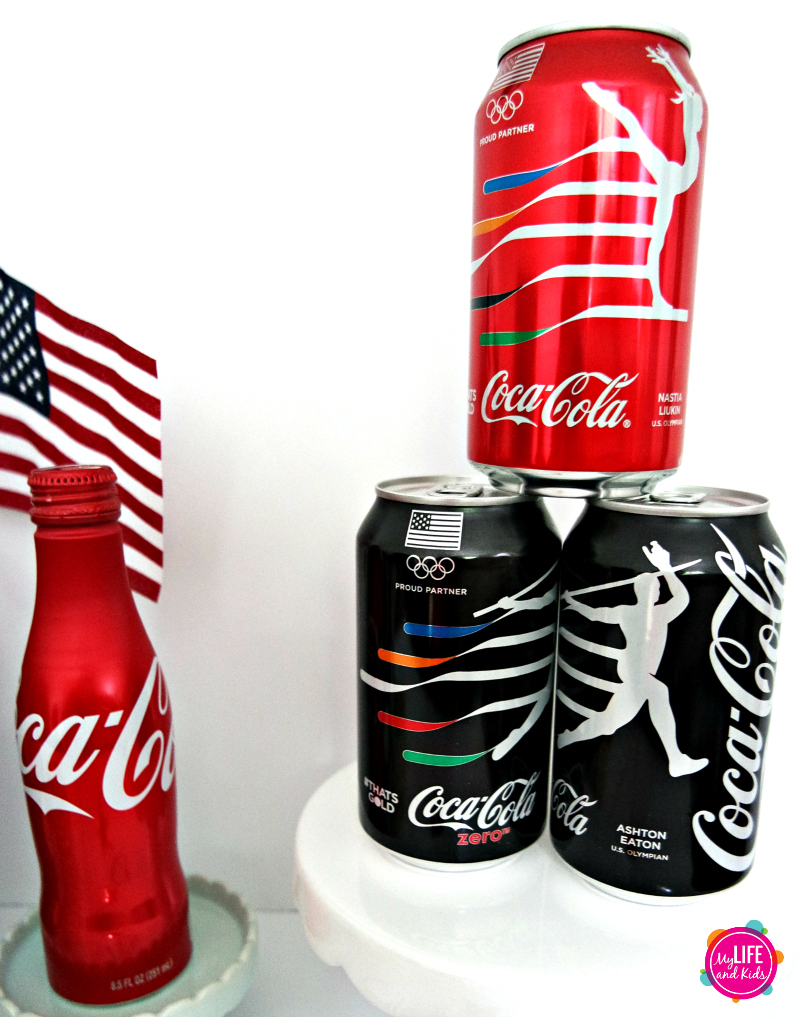 Coca-Cola is shining a light on the very thing the Olympic Games inspire by celebrating happy and humorous moments that go beyond the podium, because when you drink a Coke and do something positive, #ThatsGold!
Watch this video to see Nastia Liukin, an Olympic gold medalist in Gymnastics, share what #ThatsGold (and friendship) means to her.  See more and tune into the Rio 2016  Olympic Games starting August 5 through August 21 only on NBC!
Celebrate the spirit of The Olympics by sharing a video or photo of your #ThatsGold moments with friends, family and @CocaCola on Twitter and Instagram to inspire more everyday moments made gold and spread happiness during the Olympic Games! 
#ThatsGold Giveaway
With Coca-Cola, everyday moments of happiness, joy and togetherness are turned gold for moms and families around the country during the most celebrated sporting event in the world.
Complete the form below to enter to win a one-of-a-kind Coca-Cola #ThatsGold prize ($385 approximate retail value.)
Giveaway will run Tuesday, August 2 – Friday, August 12, 2016. Winner will be chosen randomly.
This prize was provided by The Coca-Cola Company. The Coca-Cola Company is not a sponsor, administrator or connected in any other way with this program.
This is a sponsored post. All opinions are my own.