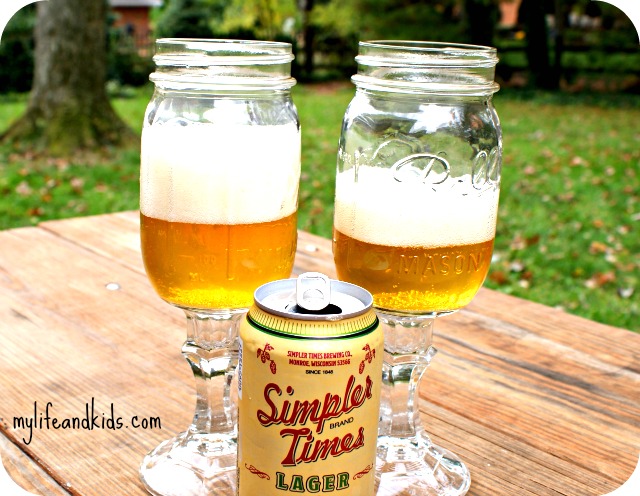 I recently had the opportunity to purchase craft supplies from a new website called Consumer Crafts. I was amazed at their selection, their prices, and their speedy shipping! And when I saw that they had everything I'd need to make these Redneck Wine Glasses, I couldn't resist!
Here's how you can make your own.
*16 oz. Mason Jars ($1.97 each at Consumer Crafts)
*Candlesticks ($1.77 each at Consumer Crafts)
*Aleene's Glass and Bead Glue ($3.27 at Consumer Crafts)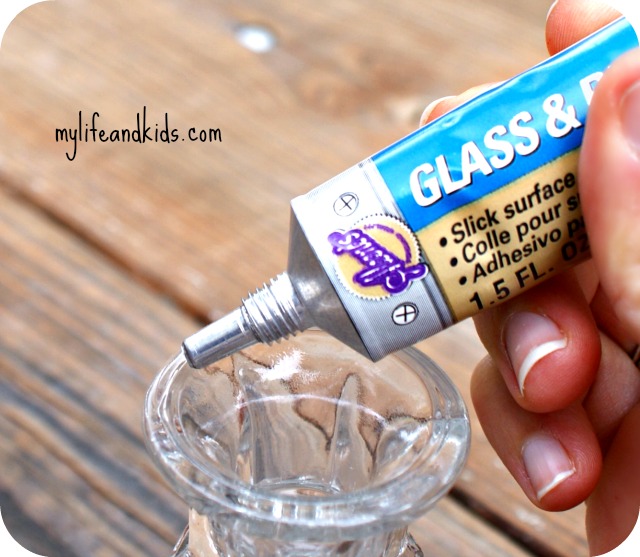 Step 1 – Add glue to the top of the candlestick.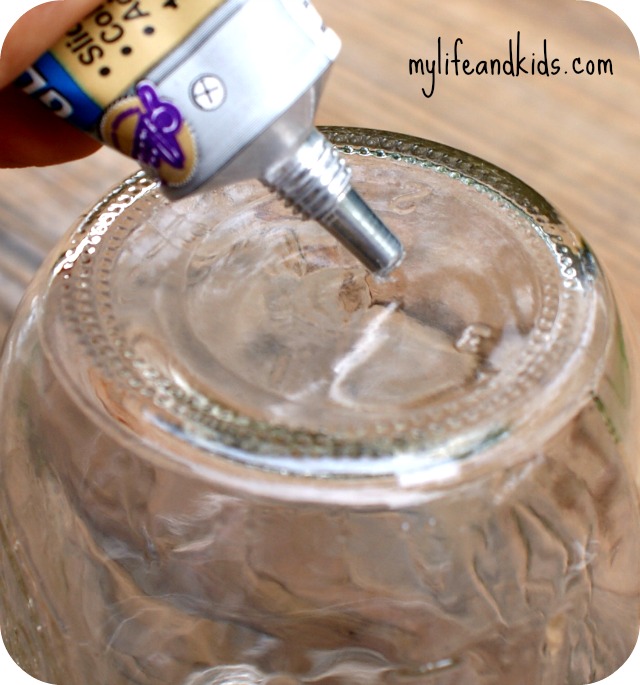 Step 2 – Add glue to the bottom of the mason jar. Wait two minutes.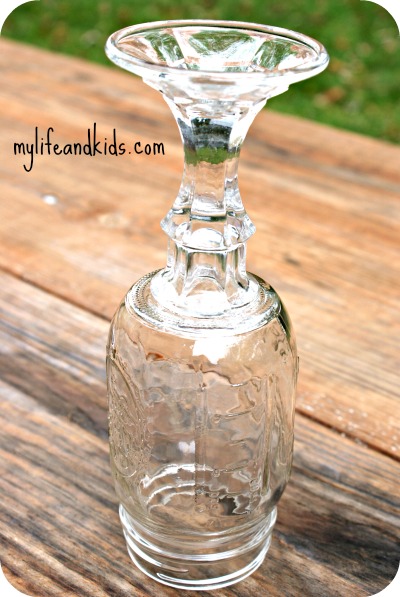 Step 3 – Attach the mason jar to the wine glass. Wait 24 hours.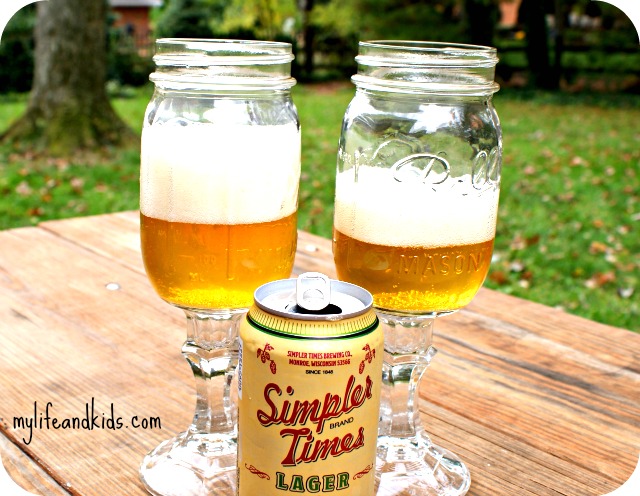 Enjoy your Redneck Wine Glasses!
You can follow Consumer Crafts. on Facebook, on their blog, on Twitter and on Pinterest.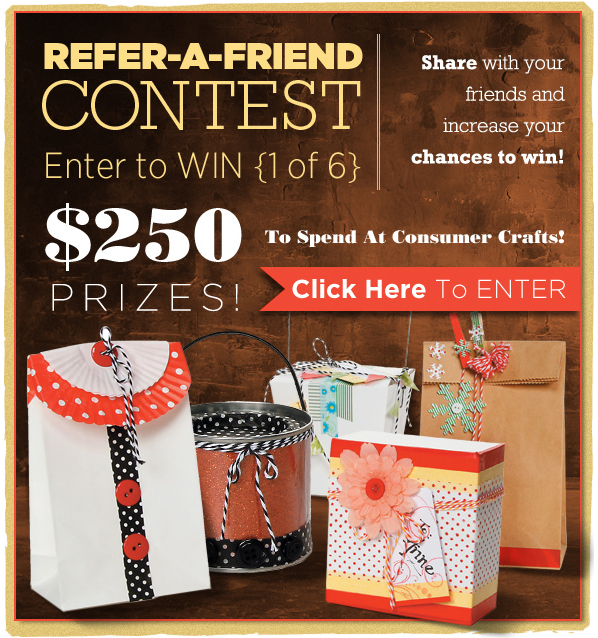 Consumer Crafts is also having a Refer A Friend contest going on now! You could win a $250 shopping spree. Click here for details. There are SIX different winners so make sure you enter!
I wrote this post as part of a paid campaign with Consumer Crafts and Blueprint Social. The opinions in this post are my own.
Last year, I created a Halloween door using poster board and tape. This year, I used Mod Podge, crafting plywood and scrapbook paper to create a Halloween Door that will last for several Halloweens to come!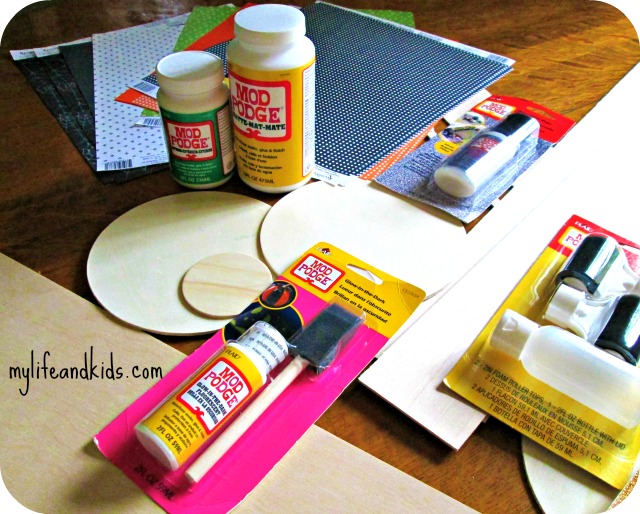 Supplies
Thin craft plywood – available at craft supply stores
3 large plywood circles (for eyes and spider)
2 small plywood circles (for pupils)
1 large plywood rectangle (for hair)
3 medium plywood rectangles (for mouth and teeth)
1 small plywood rectangle (for scar)
Mod Podge (matte or outside)
Scrapbook paper in the colors of your choice (8 sheets depending on the size of your door)
Magnets (if you have a steel door) or 3M strips for a wood or fiberglass door
Hot glue (to adhere the magnets to the plywood)
Scissors
Eight pipe cleaners (for spider legs)
Utility knife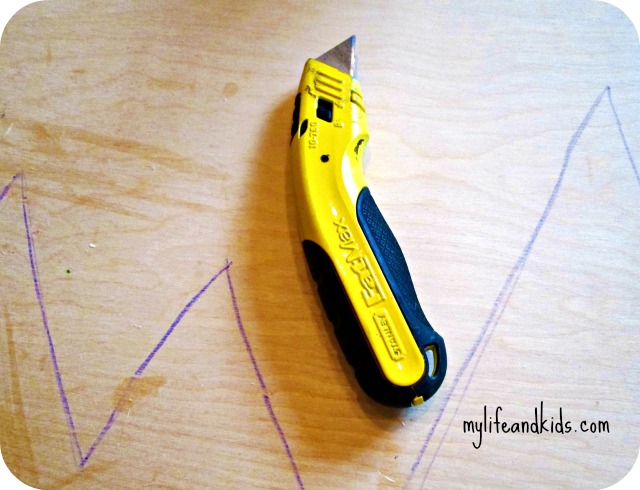 #1 – Cut your plywood.
Draw the shape of the hair. Determine the length of the teeth and mouth and scar. Use a utility knife to cut your plywood.
#2 Cut your scrapbook paper.
Trace your plywood shapes onto the appropriate pattern of scrapbook paper. Cut out your scrapbook paper.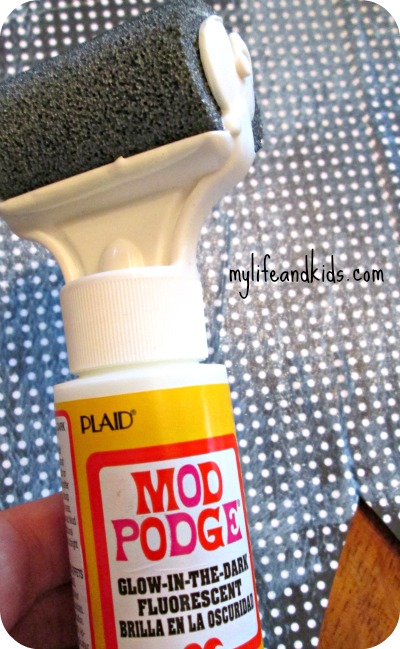 #3 – Mod Podge.
Apply a layer of Mod Podge to your plywood and to the back of your scrapbook paper. Place your scrapbook paper onto the plywood, and apply another coat of Mod Podge on top.
I used outdoor Mod Podge to provide a protective coating from the elements so that my face will last for years to come. And in a few spots, I used several coats of Mod Podge Glow-In-The-Dark to make it extra spooky. You can use the Mod Podge formula of your choice.
#4 – Put it all together.
Glue the pupils onto the eyes. Glue the pieces of the scar together. Glue eight pipe cleaners to the spider to create legs. Glue the teeth to the mouth.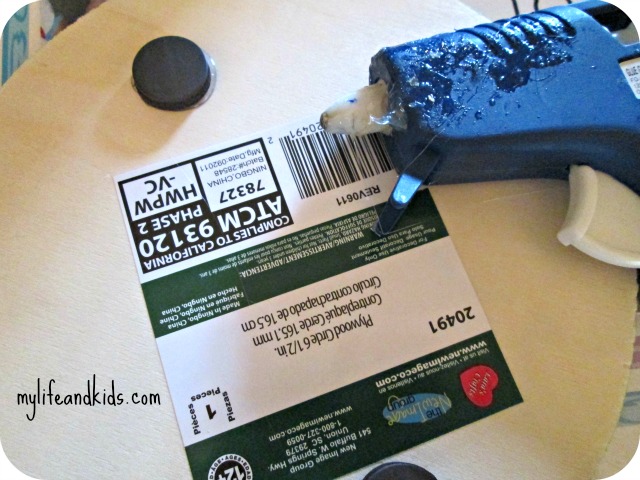 #5 – Add your magnets.
Use your hot glue gun to adhere magnets to the back of each piece of plywood (if you have a steel door). Use 3M strips if you have a fiberglass or plywood door.
I wrote this post as part of a paid campaign with Mod Podge and Blueprint Social. The opinions in this post are my own.
Find more great projects using Mod Podge here:
Facebook: http://www.facebook.com/InspiredByPlaid
Twitter: http://www.twitter.com/PlaidCrafts
Pinterest: http://www.pinterest.com/PlaidCrafts

;


We used to get Tee Peed a lot when I was in high school.
It's not because I was popular. Remember – I looked like this, and I was known to wear maxi pads on my back.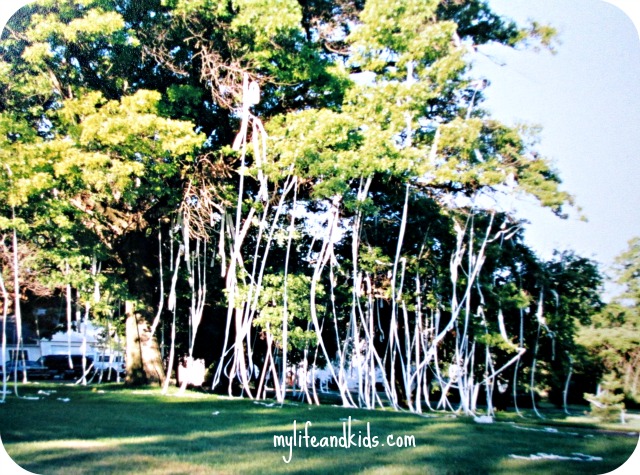 It was all about the sheer number of trees we had in our front yard and the total lack of street lights. We were a perfect target.
The first time we were tee peed, it took me nearly a week to get it all cleaned up.
The second time, it rained on day 2, and we looked tee peed for months.
The third time, I was fed up. Sick and tired of spending my entire weekend trying to pull toilet paper out of a tree. So I got smart (or really stupid).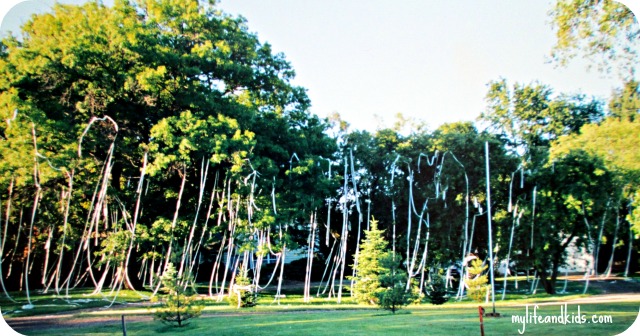 I took a box of matches, and lit the bottom of each piece of toilet paper. It was magic.
The flames shot up the toilet paper and died out before catching the tree on fire. And the ashes were very small, and didn't even need to be cleaned up.
From then on, I didn't mind being tee peed all the time, because it only took me an hour to set everything on fire.
So the next time you get tee peed, grab your matches, and set that toilet paper on fire. It works – for real.
That said, you do this at your own risk. I will not be held responsible if you set yourself, your house, your yard, your trees or anything else on fire. Seriously not my fault.