So… I went to a Pure Romance party last weekend.
For those of you that are not familiar with Pure Romance parties, it's just like a tupperware party – but with high-end sex toys and "stuff".
Yes, I said sex toys. And there's a lot more that I could say, but my mom reads this blog, and I really don't want to have to explain a bunch of stuff to her.
And my mother-in-law recently started reading, and let's just not even go there… (Hi, Bing!)
So – about this party – I think it's important to point out that it's not all about furry handcuffs or the "Shades of Grey" collection. They also have great bronzer, makeup, body sprays, lotions and all sorts of pampering products – that don't have anything to do with the bedroom. Unless you want them to…
Our "instructor" was named Sabrina – and let me tell you – that girl was amazing. She taught me things that I have never imagined – and I'm an avid reader of smutty romance novels. There are even a few things that I'm still struggling to comprehend.
And I pretty much can't share a single one of them with you because – you know – Hi, Mom!
I can't even post any of the pictures from the party here because they just wouldn't be appropriate. I mean – everyone is fully clothed and all – but I don't think my neighbor would appreciate having her picture on the world wide web holding a giant you-know-what. You know? (You're welcome, Mrs. Land O'Lakes.)
And – I'm really not sure why I'm even talking about this party because Even Steven has a strict "no S-E-X talk on the blog" rule, so I have to follow his wishes on this one.
(but it's possible that he looked like this over the weekend.)
Because I made him pancakes and bacon for breakfast on Sunday morning! Geesh – get your head out of the gutter people. PANCAKES. That's all!
Here's one tip from the party that is safe to share with you.
Actually two tips.
#1 – Shave down. I'm referring to legs here, by the way. Did you know this? I had no clue. Apparently if you don't want razor burn and want really smooth legs, you should shave DOWN.
If I ever shave my legs again, I'll be sure to remember that and give it a try.
#2 – Pure Romance parties are best when you've had a couple of drinks before the presentation begins. Trust me on this one. But also trust me when I tell you to know when to stop.
Otherwise, you might wake up in the morning and find that you've booked your own Pure Romance party.
To be held at your house.
In two weeks.
If you're super curious about everything I learned, you can hop on over to Sabrina's Pure Romance website here.
Have you ever been to a Pure Romance party? Did you buy the $200 trapeze? Did you and your neighbor drink too much and decide that it would be awesome to host your own party? Are you afraid that you're going to have to talk to your mom about sex toys later today? Give me the scoop in the comments…
If you have little kids – or if you're pregnant – pay attention. Because I'm about to solve most of the parenting problems you've ever had.
Well, I'm not personally going to solve them. In fact, I'm pretty sure you should never take my parenting advice, especially since my 4-year-old said to me this morning, "Mom – what's my name again?"
She was referring to her first name.
Luckily, you don't have to rely on me, or your friends who don't know the answers either, or your mom who only remembers the good parts about parenting and can't remember her children ever throwing a tantrum or not sleeping through the night. (Which sortof gives me hope that I'll be able to forget those things too.)
Guess what? You don't even have to read a really long, tedious parenting book to get the answers you need.
Because MomAssembly has them all for you!
They've tracked down the leading parenting experts in a variety of topics and created online courses to get you the information you need to know. The courses range in price from free to $30 (but most are around $15) and include several short videos each.
So you get the information you desperately need, delivered by experts who really know their stuff, in bite-sized chunks that you can quickly watch while you're doing something else. Like feeding your kid. Or making lunch. Or picking up toys. Or… you get the idea.
I'll never forget bringing my first baby home from the hospital and realizing very quickly that my husband and I had no clue what we were doing. (Pssst… there's a course for that.)
And then about three months later, sitting on the couch at 3 am feeding that baby, watching an infomercial, wondering if I would ever get to sleep again in my life – and not having the energy to read the 200-page sleep bible that was guaranteed to get us there.
If only MomAssembly had been around, I could have logged onto their Sleepeasy Solutions course and gotten more sleep immediately! (Seriously – it's their most popular course because it really, really works!)
Somehow I managed to survive the infant years before MomAssembly existed, but luckily I don't have to navigate the next few years without them. These days, my kids are 2, 4 and 6 – and pretty much every course MomAssembly offers for this age range sound good to me.
Finally get Simon potty trained? Yes, there's a class for that.
Get Miles and Alice to stop fighting? Yes, there's a class for that.
Figure out this whole discipline thing – without losing my mind? Bingo.
There are even courses focused all on the parents – like how to navigate your maternity leave, how to find a nanny that's a good fit for your family and even tips for coping with postpartum depression. You can see all of the courses that are offered right here.
So if you've ever wished that there was an instruction manual for your kids, or you've found yourself staring at a stack of parenting books that you know you'll never read, head on over to MomAssembly and enroll in a course to quickly get the answers you need. From experts that actually know what they're talking about.
I'm even thinking of buying the Sleepeasy Solutions course for my cousin who is pregnant with her first baby. What a great gift, right?
Discount Code for My Life and Kids Readers!
The founders at MomAssembly are extremely generous, and they're offering a discount code for My Life and Kids Readers!
Use code LIFEANDKIDS30 to save 30% off your first course!
Enter to Win
Want to win free courses? Have I got a great giveaway for you!
Five (yes, I said FIVE) winners will each receive a 3-course credit at MomAssembly. How awesome is that?
Complete the Rafflecopter form below to enter. Giveaway ends at midnight on 1/24/2014. Good luck!
This is a sponsored post. All opinions are my own.
Even Steven and I are a lot like most parents.
We're full of joy and love for our kids.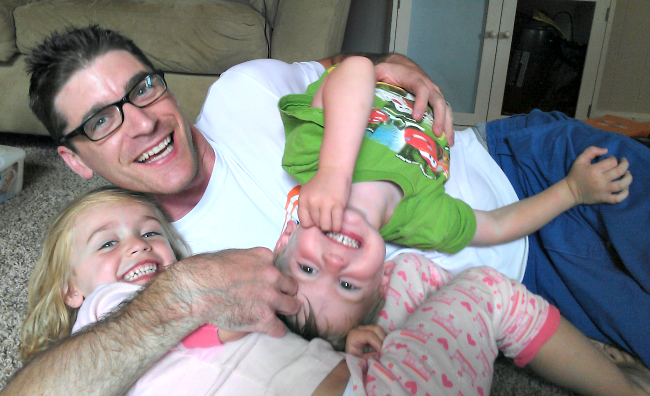 We laugh at things they say and take pride in small milestones (like when Alice finally learned to wipe herself and get the toilet paper into the toilet afterwards.)
We take our jobs as parents seriously – thinking about what they should eat, trying to incorporate healthy habits and trying desperately to teach Simon that he shouldn't start kicking his bedroom wall at 5 am each morning.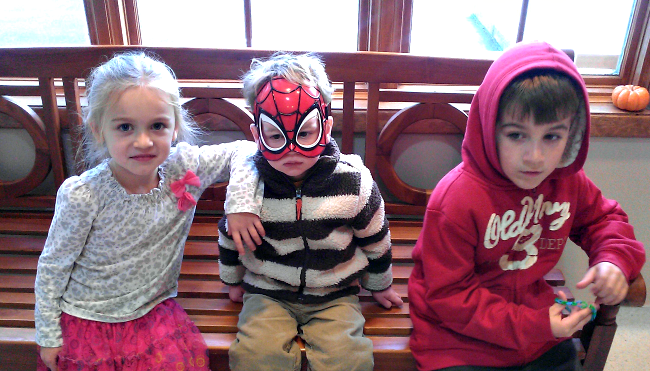 We are good parents.
And we're also like a lot of parents with little kids.
We're tired.
Not newborn-baby tired – that's in a league of it's own. But just a general, constant fatigue of one more snack, and bedtimes and bathtimes and did you brush your teeth, and someone needs to see a doctor, and who farted, and diaper changes, and I don't have any clean underwear in my drawers, and who wrote all over the minivan with an ink pen? (It was Miles.)
Not unhappy. Not regretful. Just full-on, parenting 24/7, tired.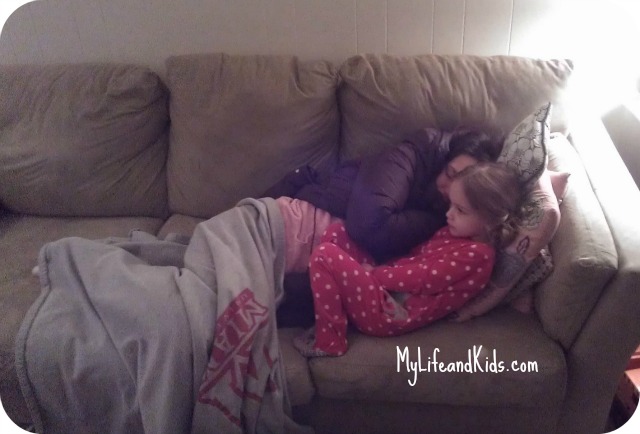 And then we went to Florida.
And that didn't exactly fix our fatigue. Because if you've ever traveled with kids, then you know that it's basically just TRAVELLING with kids. Not really a vacation…
In fact, I was sick for a lot of the trip, and the weather wasn't all that great (you can read more about that here.)
But something pretty major happened at Florida. And it left us both full of hope.
I already mentioned that we stayed in a trailer park while we were there. But it wasn't just any trailer park.
It was a trailer park sent straight from heaven.
Straight. From. Heaven.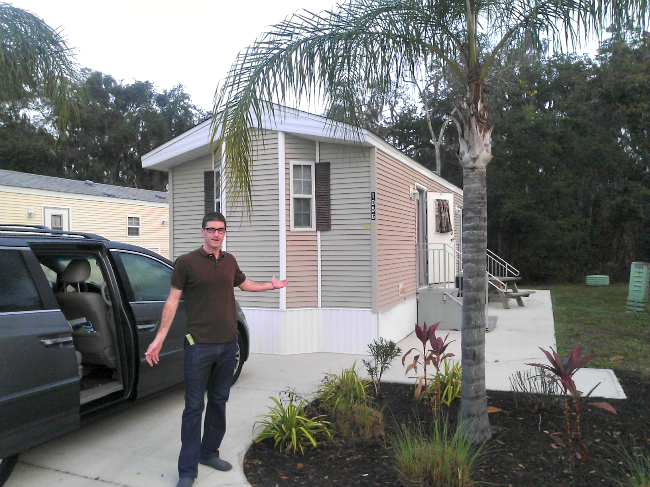 And it wasn't because of the giant wellness center or the biggest outdoor swimming pool and hot tub I've ever seen. It wasn't the tiki bar or the putt putt golf course. It wasn't even the giant bounce house or the cheap price tag.
What was so amazing and life-changing about this experience was that we could call Mort if we were interested in joining the poker league.
If we wanted to play shuffleboard, we had to talk to Ethel and be at the courts at 9 am sharp.
Roger could help us if we wanted to join in on the water aerobics class or perhaps we'd like to have a treadmill brought into the water for us?
Sandy was in charge of the stained-glass lessons, and Doris was coordinating a ladies day out at the outlet mall.
Yes – Even Steven and I stayed with our family at a senior citizens trailer park in Florida.
And it was amazing.
One morning at 10 am, we were sitting by the pool. Miles, Alice and Simon were splashing in the shallow end, while Even Steven and I sat with our toes in the water. The sun was shining. I was feeling better. We were thrilled to be there.
And in walks Hank. His jeans were pulled up to his armpits. His orthopedic shoes were white and shiny. And he was carrying two pitchers of beer and a deck of cards.
His friends were close behind him, and those 8 guys sat at a table at the pool for two hours drinking beer and playing cards. At 10 am.
Do you know why? Because they could.
Every morning, we watched the seniors take on their day in any way they wanted to. Stained glass lessons? Why not? Hop in the steam room for awhile? Why not? Learn woodworking or play horseshoes or just take a freaking nap? Let's do it!
And for each day that we stayed there – dodging the golf carts and motorized scooters – our outlook on life became more and more exciting.
I have seen our future – and it is bright!
It also happens to be in a trailer park in Florida.
Even Steven and I will come across hurdles over the next 30 years. We'll deal with illness. We'll worry as our kids become teenagers. We'll panic when they learn to drive. There will be great times – and sad times. Highs and lows. And challenges that we have no idea are coming.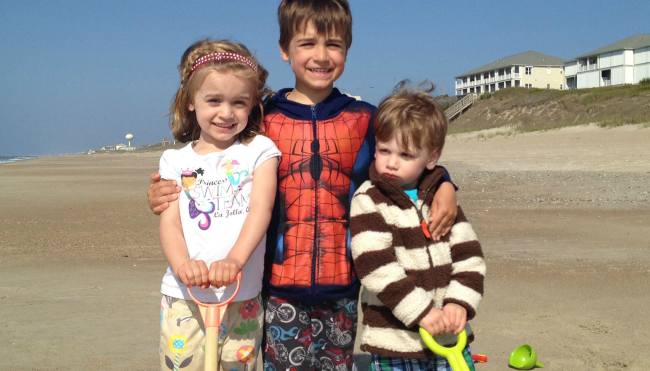 But it's all going to be okay.
Because one day, we will be living in a trailer park in Florida.
And I will be learning how to make stained glass, and Even Steven will be playing bocce ball. And then we'll drive our golf cart up to the pool and have a margarita in the hot tub at noon – because we can.
The annual trailer park "homecoming" party takes place every year on January 15th – when most residents have returned "home" from the holidays.
I've marked my calendar for January 15, 2044. Who's with me?