Category Archives:
My Life
I have heard this story told so many times, that I feel as though I was there. It happened at least 10 years ago, but every time I'm reminded of it, I laugh and laugh and laugh.
A friend of the family (let's call him Bill) was having dinner at his girlfriend's house. Her parents were there, her little brother was there, her grandparents were there.
Her family lived in the country and loved to hunt. (That part is important.)
Dinner was going well, when this little conversation happened.
Girlfriend's Dad: So – Bill – have you ever eaten beaver?
Let's just stop right there.
Let it soak in.
And then remember that he is a HUNTER. He lives in the COUNTRY.
Okay – back to the conversation.
Girlfriend's Dad: So – Bill – have you ever eaten beaver?
Bill: What kind do you mean?
Yup. You read that correctly. He said WHAT KIND DO YOU MEAN as though there is more than one kind of beaver that her dad might be referring to.
Let me tell you something – when your girlfriend's dad is talking about BEAVER – there is ONLY ONE KIND that he could possibly be referring to.
And it's probably not the kind you're thinking of.
Should you ever find yourself in a similar situation – trust me when I tell you that the answer to this question:
Have you ever eaten beaver?
Is ALWAYS no!
Mom – please don't google beaver to try to figure out what I'm talking about here. Call me later, and I'll explain over the phone.
15 May
Anna from Random Handprints is here sharing this hilarious "tail." Enjoy!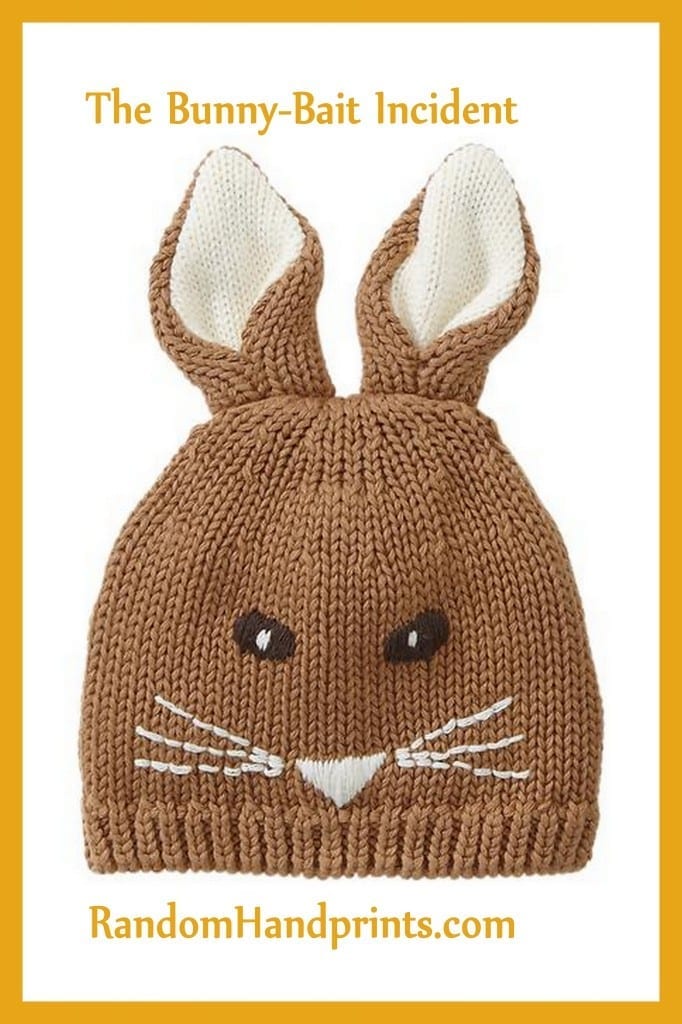 Before my son Ziggy was born, I told his sisters (Kay, age three and Magpie, age five) that they could pick-out something for their new baby brother to wear home from the hospital.
"Whatever you want!" I told them enthusiastically, as I imagined us looking through the color-coordinated racks of Gymboree deep in discussion over newborn onesies with playful duck motifs.
"You can pick the outfit and maybe a blanket, too. Ohhh, a matched set would be nice. But not too matchy."
I beamed at my girls, glad that I could involve them in welcoming their baby brother home in this special way.
Kay piped up at once, "Let's get him A BUNNY OUTFIT."
"Uh, a bunny outfit?" I asked, not quite sure if this is what I had imagined my son wearing as his first-day outfit.
Magpie picked-up right where her little sister dropped-off, "A BUNNY OUTFIT, Mom. Like a hat with big, long ears. And pants with a pouffy white tail. They should be brown pants. And the tail should be white. And round, like a cotton ball. Wait, what is it called?"
"A COTTON TAIL." Kay corrected.
"Oh right," Magpie concurred. "Yep, that's it Mom. A hat with bunny ears, they're long ears. Brown pants with a bunny tail, a cotton tail. And I guess the shirt should be brown, too."
I looked at her blankly. She mistook my total disbelief for misunderstanding and clarified, "The pants for the baby should have a cotton tail. But it will look like a cotton ball."
And then I got it. We had a wild bunny living in our yard, and the girls loved her. I let them leave carrots on the front porch, but despite these tasty overtures she rarely ventured close to the house.
However, even knowing the source of the sudden bunny love, I still didn't like it. I wanted to scream "NO! This is not a joke! This is your brother! Get him a nice outfit for his first day out in the world." I may or may not have wanted to all follow it up with an emphatic, "WHAT'S WRONG WITH YOU TWO?"
But I didn't. I couldn't. Because my two daughters, who usually argued over anything at anytime, were in such joyful and complete agreement about what their new baby brother should wear. And this made me happier than any tasteful striped ensemble from Ralph Lauren ever could.
I started searching online, scrolling for "newborn bunny outfit,"and that's when I overheard them say, "…and then we'll leave the baby on the porch, or maybe the yard if it isn't raining, and we'll make sure he's wearing the hat with the ears, and the pants with the tail, and that the tail is facing out where the bunny can see it really well, and then the bunny will follow the baby right inside the house!"
That's when I realized plans were being hatched for the poor little guy who wasn't even born yet to be used as bunny-bait. And while I never claim to be a perfect mother, I'm pretty sure that newborns shouldn't be used by their older sisters as bunny-bait. Needless to say, Ziggy came home in navy blue stripes.
This story is three years old now, and to this day all of them are still mad at me about the time I didn't let the baby lure wild rabbits into our home. And I tell them it's okay if they're mad. After all, I never claimed to be a perfect mother.
Anna Sandler is living happily ever after in the land of disco fries and jug handles with her Jersey-bred husband and three NYC-born children . In addition to writing about motherhood and mayhem on her blog RandomHandprints.com, Anna is also a Contributing Editor at New Jersey Family magazine and a writer for BaristaKids.com, a hyperlocal website. In her non-writing life, Anna is a partner at Sandler & Wald Social Media. And of course, all spare time not spent taking nature walks and making homemade granola bars is spent on Facebook, Twitter and the ultimate time-suck, Pinterest.
14 May
Last week, Even Steven was running late at work, so I took all three kids to Miles's soccer practice.
Things were going well for the first 20 minutes or so.
Miles was playing soccer. (And by playing, I mean that he was following the other kids around on the field and asking when they would be breaking for a snack.)
Alice was playing on the playground nearby. (And by playing, I mean that she had found four little girls that were a little younger than her so she could boss them around.)
And Simon was happy to stand at the sidelines and watch Miles. (And by happy, I mean that he was running into the parking lot every two minutes – when he wasn't pulling on my shirt and saying, "I want to go to the playground.")
I finally gave in to Simon's pleas and took him to the playground.
He ran around to the side to climb up the stairs, while I watched Alice bossing her friends around.
And then I saw three dads standing near the playground looking out onto an empty soccer field. They were wearing perfectly pressed khakis and button-down shirts with sunglasses tucked into their top buttons. They were staring at something and shaking their heads in disgust.
I looked over, and there was my Simon – happily jumping in the only mud puddle within a 2-mile radius. (And by happily jumping, I mean squealing with delight, covered in mud from his knees to his toes.)
I stood next to the dads for a few minutes and watched.
Oh my God, they said. Can you imagine?
Ugg – that's so disgusting. Another said.
Seriously. Someone needs to get their kid, I said.
They all nodded vigorously.
I'm going to pretend he's not mine for a little longer, I added.
WHAT? He's YOURS? OH MY GOD – and they all stared and judged me for a little longer.
You think that's bad? I said. You should see my giant vasshole.
Okay – maybe I added that last part.
I walked down to get Simon out of the mud puddle, only to find out that it wasn't just any puddle. It was thick, tarry mud that smelled worse than Big Hairy Dog. It was like he had bathed in a swamp.
I dragged him to the car, stripped him down to his diaper and strapped him into a stroller – where he proceeded to scream at the top of his lungs.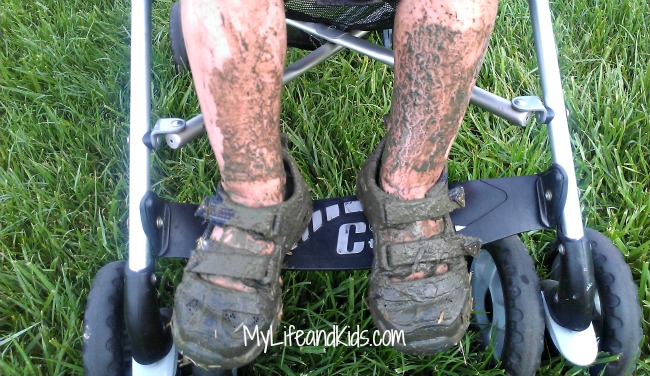 People were staring.
And all of a sudden, all I could see were perfectly put together people. It was like Perfect Patty times 10 – all around me. Perfect moms with their perfect kids who would never find a mud puddle. Some of the moms even had their sweaters tucked into their pants. I'm not kidding.
I decided it was time to go. Or at least go sit in the minivan until it was time to go.
So I pushed screaming Simon through the grass to the playground to get Alice.
And of course Alice climbed to the highest point on the playground and refused to come down. And when she did finally come down, I had to CHASE her to get her to come near me.
At which point, she hit me.
In public.
I kid you not – she HIT me.
It was as though time was standing still.
I calmly carried a screaming Alice while pushing a screaming Simon across three soccer fields to our minivan.
Their screams were only drowned out by what I knew the other moms were saying as we passed:
Oh my gosh – do you see that mom with the two screaming kids? Why doesn't that one have any clothes on? And did her daughter just HIT her?
No – that can't be the mom. She's acting like she doesn't even have kids. Must be the freakishly old babysitter.
Wait – is that an elephant hanging out of her pants? My word. What is happening here?

The rest of the practice was fairly uneventful. We watched movies in the minivan. We talked about appropriate behavior. Miles got his snack. We finally got to go home.
And I took it as a good reminder that just when I feel like motherhood is getting a little easier… it's not.
Please tell me that you've had amateur moments in parenting too?