Christmas cards have always been hard for me.
Really hard.
I always envisioned having these perfect kids that would wear exactly what I wanted them to wear and pose exactly how I wanted them to pose and then I would send out the perfect Christmas picture every year – making the grandparents proud and causing everyone else to feel weak with envy.
Let me go ahead and show you how well that turned out.
This was the Christmas picture that we mailed to our family and friends in 2010…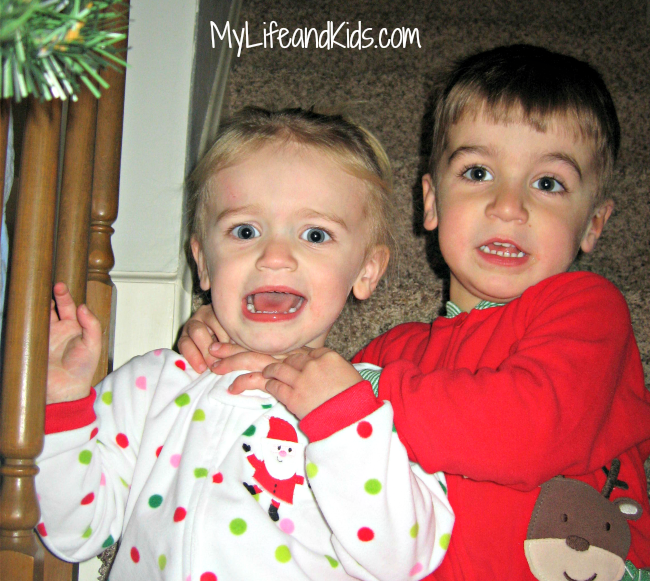 And – yes – that means that I took a bajillion pictures of the kids in their cute Christmas pajamas and this was the best one I got.
Let's move on to 2011, shall we?
Matching pajamas again – and another kid. Perfect picture?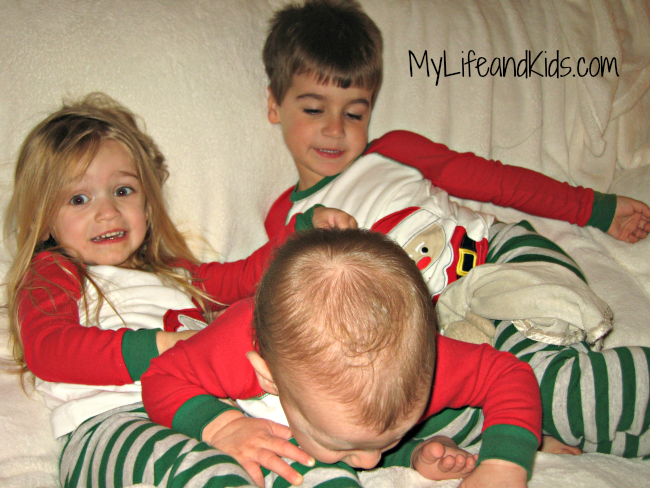 Yes – you could say that we totally nailed that one.
But last year was the best of them all…
THIS is what we sent to our friends and family last year. As you can see, we went with a picture of the whole family.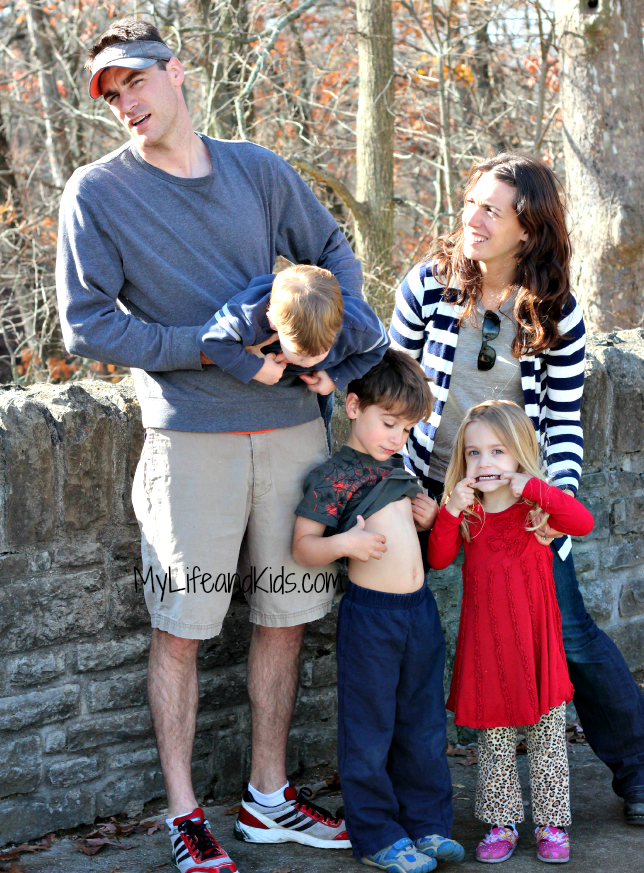 Yes – I'm not even kidding. We used that as our perfect Christmas card picture.
So this year…
I decided that it really was going to be the perfect picture. I gathered the kids. I set up a few poses. But then the phone rang, and while I was on the phone for all of 15 seconds, the baby tore off his pants and ate a marker.
Oh – and then he put on his Spiderman mask.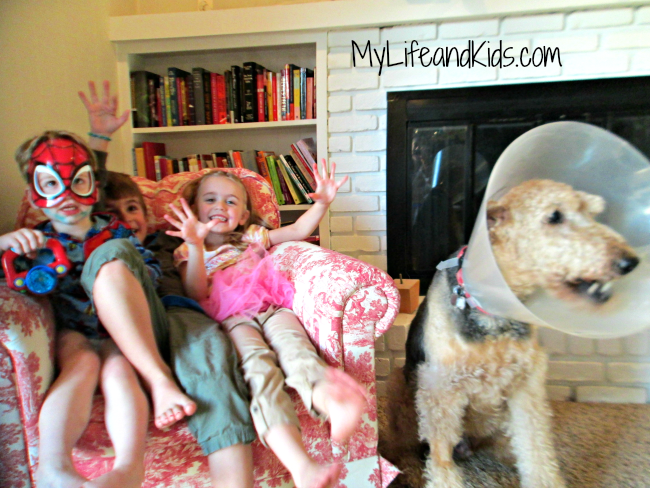 You try telling a 2-year-old to take off his Spiderman mask and put on some pants.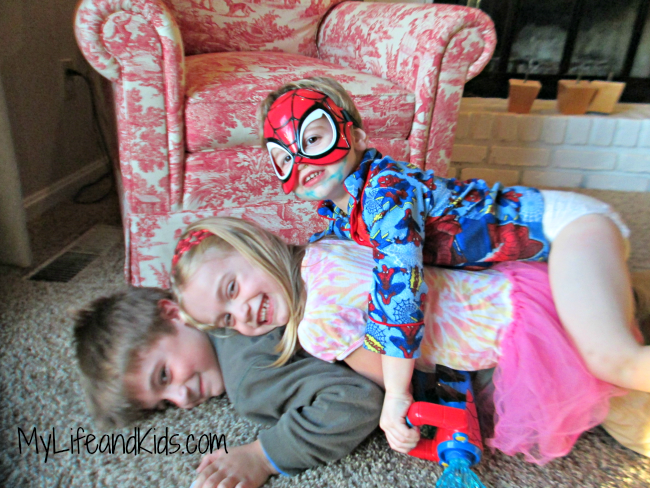 Without an obvious choice on the horizon, Even Steven and I decided to go old school. A beautiful, old-fashioned handwritten Christmas card – from our family to yours.
Perfect.
No pictures.
Just personal notes to our friends and family – getting back to the true spirit of Christmas.
But when I asked Even Steven if he would in fact help me WRITE those awesome, old fashioned Christmas cards – this is the face he made.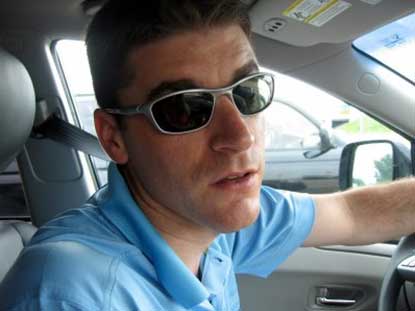 With no help in sight, I decided to skip out on Christmas cards altogether this year.
And then I came across Postable.
Postable is a really easy new way to send out lots of holiday cards. You just choose from their gorgeous designs, type in your message and they do the rest – from gathering your friends' mailing addresses to licking the stamps and putting them in the mail.
It really is that simple.
Yesterday I sat down at my computer, uploaded my address book, chose my card design, wrote my letter, chose my handwriting font and clicked a button to send my cards.
Here's what I didn't have to do:
I didn't have to try to coordinate outfits or find someone to take a picture of our family that would ultimately be terrible. I didn't have to spend a fortune on photo cards, have them mailed to my house, write a personal greeting on all of them, address the envelopes, stuff the envelopes, seal the envelopes, wait in line at the post office for stamps, put a stamp on every envelope and then mail them.
In fact, I was even able to individually edit each card – so I could congratulate my friend Jessica on being pregnant with Baby #4 and tell my cousin that he has an ugly dog.
And, I was able to send a very sweet card to most of our family and friends – and an R-rated card to a select group of friends. (I'll let you click here and see if you can find the R-rated card we're sending.)
Here's a quick video that pretty much sums everything up.
And here's a nice little bonus. Now that I have my address book loaded in Postable, anytime I need to send a card – like a thank you card, or congratulations or happy birthday. It takes about three minutes to choose a card, write my message and have Postable do the rest for me.
Simplify your life!
Click here to check out Postable and get your holiday cards sent in about 30 minutes or less.
You won't be disappointed!
This is a sponsored post. All opinions are my own.
A few of my favorite things for kids that I'm loving this summer!
Popsicle Molds
My kids love popsicles. And I LOVE making popsicles with these silicone molds. The Silicone Ice Pop Maker Set
is fabulous.
Some days I fill them with unsweetened applesauce. Sometimes it's straight up yogurt. A lot of times we'll whip up some peanut butter smoothies to fill them.
And they're dishwasher safe – and have great little lids to keep them from spilling before they're frozen (and to hold leftovers).
Puzzle Sandwich Cutter
We're having a lot of picnics at the park and at the pool this summer. Which means we're eating a lot of sandwiches! Every now and then I like to use this Puzzle Bites Sandwich Cutter
for a fun picnic surprise.
The kids love it! And I love that I'm not wasting any bread by using it.
Puddle Jumper Life Jackets
My kids can't swim yet. They're taking swim lessons, but I'm still pretty nervous when they're around pools and lakes.
These Puddle Jumper Basic Life Jackets
are the perfect combination of a life jacket and swimmies.
They can easily swim with them on, and float – and they could save their lives if necessary. Miles and Alice wear them anytime we're going to a pool without a separate baby pool. It helps me be a lot less anxious around bodies of water
Sili Squeeze
Leave it to my sister-in-law to find the best kids' stuff out there!
Do your kids like to eat the squeezable applesauce? Now you can use the Sili Squeeze to pack along your own squeezable snacks.
Simon absolutely loves it! And it has a special spout on it that makes it spill free – so Simon can get the food out, but it never spills when he squeezes it.
Usually I fill it with applesauce or yogurt, but every now and then I surprise him with a smoothie – his favorite.
You can click here for more information: http://thesilico.com/
Click here to see more of my favorite things.
*This post contains affiliate links.
Ever since Miles moved into a big-boy bed, we've struggled on and off with him getting out of bed too early in the morning or getting up too early from naps.
For a kid that can't tell time yet, it's tough for him to wait in his bed for us to come and get him after naps or in the morning. (Or at least for him not to get up until after 6 am in the morning.)
Enter one of our new favorite things:
Kid Sleep Alarm Clock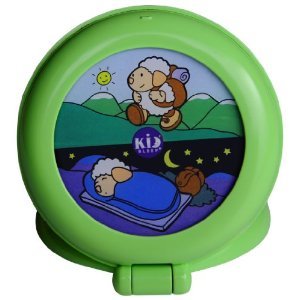 We set a timer on this "clock" and when the sheep is sleeping, then Miles knows that he's supposed to be in his bed. When the sheep has his backpack on, then Miles knows that he can get up.
It also has a nice glow to it, so it serves as a nightlight too. We set it for naps and for overnight. And – I can decide if I want to set it for a certain amount of time (3 hour naps anyone?) or for a specific time of day (like 7 am).
It works like a charm!
Click here to see more of my favorite things.
Every now and then I share a few of my favorite things. These posts contain affiliate links.