Category Archives:
My Mom
When I was 10 years old, my mom and I went to the local craft fair.
My mom loved craft fairs. The smell of cinnamon and potpourri. The handcrafted goodies. The popcorn…
I, on the otherhand, had a love-hate relationship with them. I loved the people and the smells and the popcorn too. But I always felt desperately sorry for people that didn't appear to be selling much. I would leave the craft fair with my heart aching for the people that were selling ugly things – or that seemed to be disappointed with how much they weren't selling.
At this particular craft fair – my mom gave me $10 to go out and do a little Christmas shopping on my own.
I was pretty excited to be set loose in the high school gymnasium on my own. And I walked up and down the rows of tables looking for the perfect gift for my mom.
It didn't take me long to find exactly what I was looking for.
I bought the ugliest snowman in the entire room. Sitting on a table that was overflowing with equally ugly snowmen. The lady selling them was so excited that I made the purchase – probably the only one that she'd sell all day long. I mean – this guy was ugly.
When we got home, I ran upstairs and wrapped up the ugly snowman, and then I ran downstairs and gave it to my mom.
Mom: Are you sure you don't want to wait for Christmas?
Me: No. Open it now!
She paused for a few seconds when she opened the world's ugliest snowman, but she recovered quickly and told me how great it was. And then she proceeded to put him on the back of a high shelf in the dining room – so that neither of us would have to look at him anymore.
About a week later, I was sitting in the living room when one of my mom's friends stopped by for coffee. I could hear them talking in the kitchen, but I wasn't really listening, until I heard my mom start talking VERY loudly. Like – so loudly that I almost had to turn up the television to hear my show.
And then I heard what she was saying / yelling:
"Oh my gosh – you're never going to believe what Anna gave me for Christmas. She picked it out all on her own. Isn't this the greatest snowman you've ever seen? She has such great taste – and she did it all by herself. She's really growing up, and I'm so proud of her. But isn't she just a great shopper? I mean – she could be a personal shopper when she grows up – what great taste."
I couldn't hear what my mom's friend said in response – probably because she wasn't yelling. But I was very confused by what my mom said.
We both knew that it was the ugliest snowman in the world. And while she didn't know that I only bought him because I felt sorry for the woman that made him – my mom must have known that it wasn't a good gift. Was she really "proud" of me for picking that out for her?
While I was thinking this over, I went to the bathroom. And there – on the bathroom counter – was one of my mom's magazines open to an article about how to boost your child's confidence.
Compliment them to a friend when they can overhear your conversation.
Don't tell your child how proud you are – let them overhear you gushing about how great they are to a friend or a family member. An overheard compliment goes much further than one said directly.
I stormed out of the bathroom waving the magazine in my mom's face.
"Do you think I can't read, Mom? We all know that the snowman I picked out is ugly. I already know you're proud of me. You don't have to fake a conversation to build my confidence!"
She tried to deny it for about all of two seconds, and then she just laughed and laughed and laughed.
My advice to parents:
When you find some parenting advice that you think is awesome – and decide to try it out on your kids – don't leave the magazine / computer / blog out in the open where your kids (that are clearly old enough to read) will be able to find it.
PS – Anyone selling something ugly in an online shop? I'm a sucker for ugly handcrafted things that no one wants to buy. Feel free to post your link in the comments.
When we bought our house three years ago, Miles was 2, Alice was 1, and I immediately became pregnant with Simon.
The house that we bought had been vacant for two years. Prior to that, a woman had smoked in it for 20 years.
There was wallpaper everywhere. In the kitchen, in the dining room, in the bedrooms, in the bathrooms – and even on a few ceilings.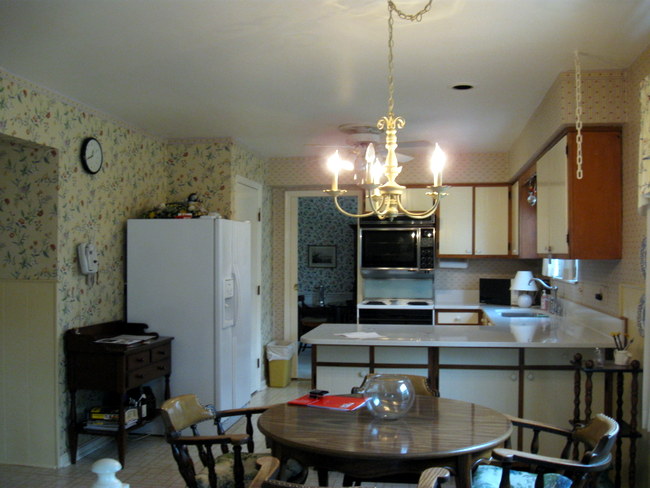 We saw this total wreck of a house, and decided that it just had to be ours.
Shortly after moving in, I quite my job to become a stay-at-home mom. So there I was with a 1-year-old, a 2-year-old and wildly pregnant – spending all of my naptimes peeling wallpaper and painting rooms – trying to get our house in order before the baby was born.
Was my mom there to help?
Did she move in with me for a month or two to help with the kids or with the house?
No.
No, she did not.
I tell you this because as I write this post, my mom is in Florida living with my brother and his family.
And if you read her comment on yesterday's post – then you know that she's in Florida to help them paint.

My brother and his wife just purchased a house that needs to be painted from top to bottom. The floors need to be replaced. It needs a good scrubbing – not unlike the state of our house when we bought it.
While we had to move into our house immediately – and paint/peel wallpaper/replace carpeting around our furniture and our children – my brother has the luxury of waiting an entire month before they need to move in.
So what did my mom do for her favorite child?
Well – she's been there for more than three weeks now. She's learning to paint. She's preparing meals. She's running pick up and drop off for the kids. She's picking up supplies. She's doing their laundry. So that my brother and his wife can spend every minute they're not at work at the new house getting it ready for move-in day.
Am I complaining? No.
Am I whining? A little.
Do I need to remind my mother that I was pregnant with two toddlers running around and trying to do all of this? YES.
Does my mom clearly love my brother more than me? Yes.
Am I jealous? You betcha! My mom can scrub a toilet like no other – I could really use her help up here.
Does my mom owe me? I think so…
---
PS – The ladies at Prescribe Nutrition are sharing my all-time favorite breakfast recipe right here – maybe you should give it a try this weekend!
It's often the case that my mom and my daughter FaceTime eachother in the mornings before Alice goes to preschool.
It's also often the case that my mom is still in bed during their morning conversation.
Sometimes I listen in, but most of the time I'm busy getting the 2-year-old dressed or the 6-year-old on the bus. Or eating breakfast. Or checking in on Facebook. Or just sitting there staring into space…
But I just happened to be part of the conversation one day last week, when I saw the strangest thing happen.
There was my mom, sitting in bed talking on her iPad to us – and in walked my dad – delivering my mom's morning cup of coffee.
"Mom," I said. "What exactly just happened there?"
Oh – your dad knows how much I like to have my coffee first thing in the morning, so he delivers it to me in bed.
Every morning.
Apparently this has been going on for the last five years. My mom stays in bed until her coffee is delivered.
And – only after she drinks that first cup – does she get up and start her day.
I pushed her to please share her little secret with me on how I could receive some similar treatment at my house.
And she finally admitted that when she first retired, she wasn't always the fastest to hop out of bed in the morning. And eventually – after many mornings passing her by – this became their new routine.
My dad gets ready for work, brews a pot of coffee, delivers my mom's first cup to her in bed and heads off to work. After she's finished the last drop, she starts her day.
I was shocked.
Me: So let me get this straight. You stopped getting out of bed, and so my dad started bringing you coffee?
My Mom: Yup. Pretty much.
Using my mom's advice, I decided to give it a try. When Even Steven got up for work and woke up every single person in the house, with his ridiculously loud everything, I told him I would be staying in bed until he delivered my morning coffee.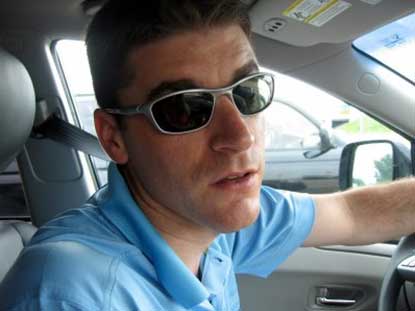 I woke up 90 minutes later.
I raced downstairs in a panic to find that Even Steven had left for work.
The television was blaring.
Alice and Simon were playing on the iPad.
Big Hairy Dog was drinking out of the toilet.
And Miles had eaten four containers of applesauce and was busy gluing them together to make a rocket ship.
Which I'm pretty sure means that I'm a terrible mom.
And I made a poor choice in husbands.
If only he weren't so cute…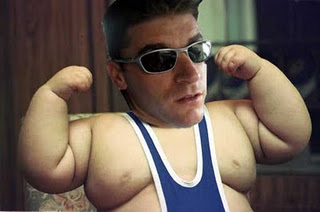 PS – When I asked my mom to please send me a picture of herself drinking coffee in bed – so that I could include it in my blog post – this is what she sent me.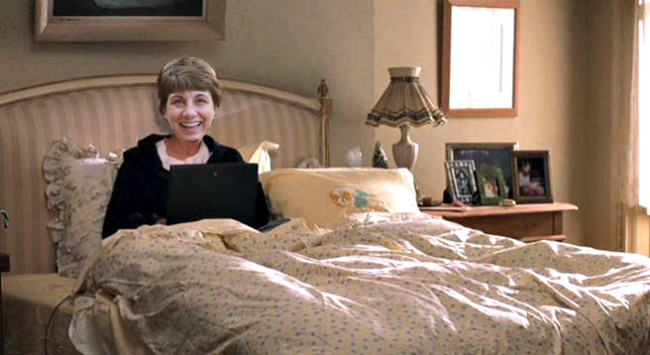 Bonus points if you can name that movie.