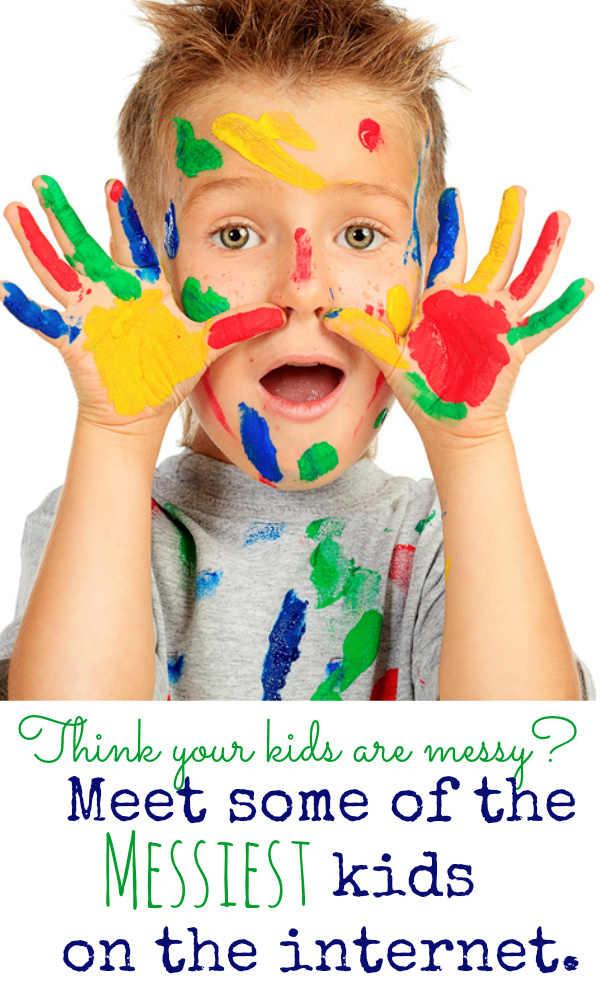 Sometimes I can remember the days before kids – when my house was clean(er).
When I could put a pillow on the couch and find it there, in the exact same spot, 8 days later.
When I didn't have to navigate piles of toys or legos any time I wanted to walk through the house.
Welcome to the Kid Edition of Messy Houses – where we remind you that kids everywhere are messy – not just yours!
MOM – I Clogged the Toilet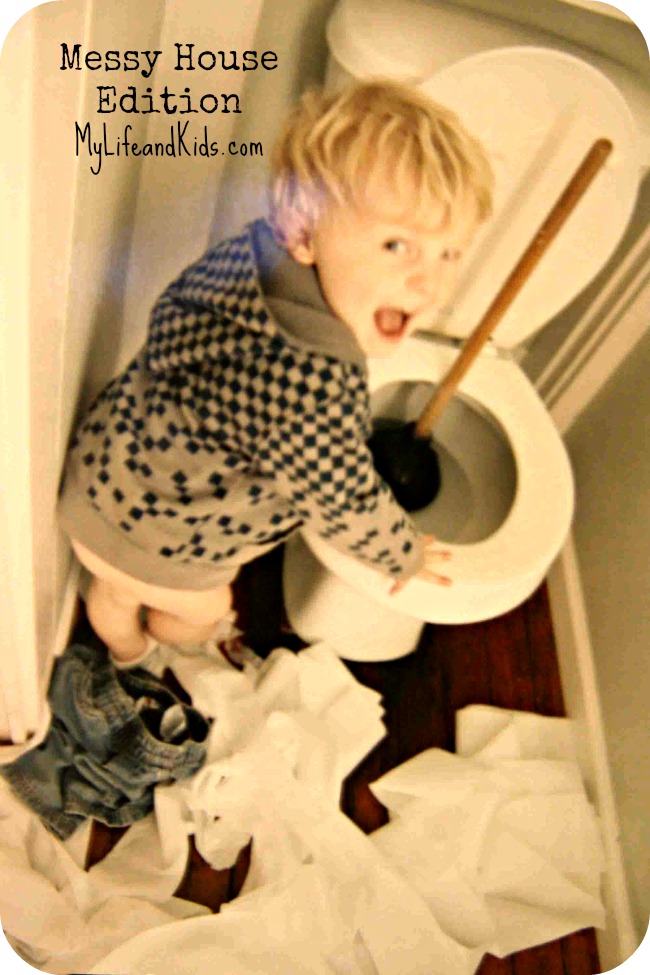 House Owner: A Fly on our (Chicken Coop) Wall
She Says: We live in an old house with old plumbing. The toilet frequently needs plunged. I guess the newly potty-trained child thought he could handle it. I was talking to my mom on the phone, not paying attention to the fact that he was being too quiet
Isn't it adorable when it's someone else's child?
Legos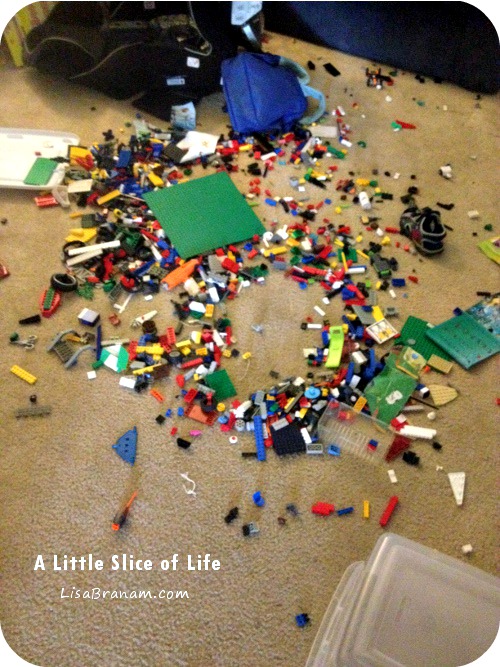 House Owner: A Little Slice of Life
She says: I bought Little Man a big box of Legos at a garage sale for $20. When we got home I went to make lunch. Can you tell where he was sitting?
Trashed Toy Room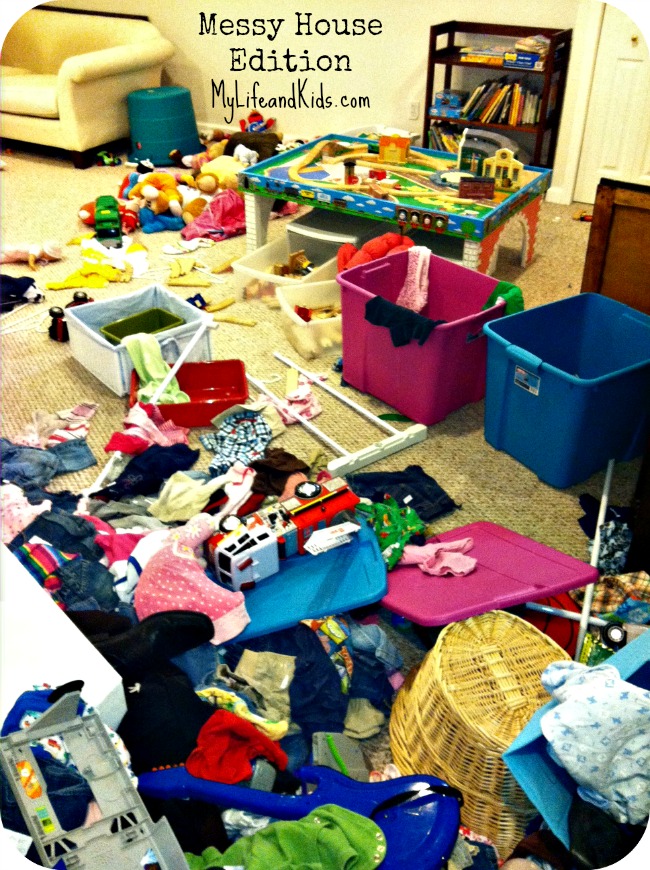 House Owner: Jessica at Four Plus an Angel
She Says: My first week trying to be a work-at-home mom, and I thought I had the whole thing under control.
The kids were playing nicely during "quiet time", I was typing away on the laptop and then I heard a crash…
They launched a huge pile of bins down the stairs that I had just filled with clothes I had sorted and put away for storage.
You know there's going to be trouble when the kids are quiet!
Another Trashed Toy Room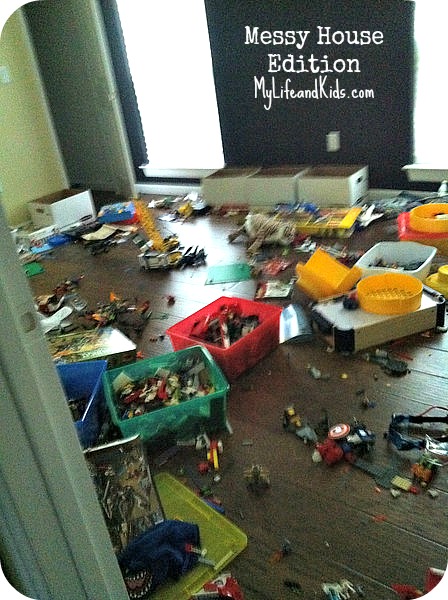 House Owner: Anonymous
I've Declared a Ban on Chocolate Syrup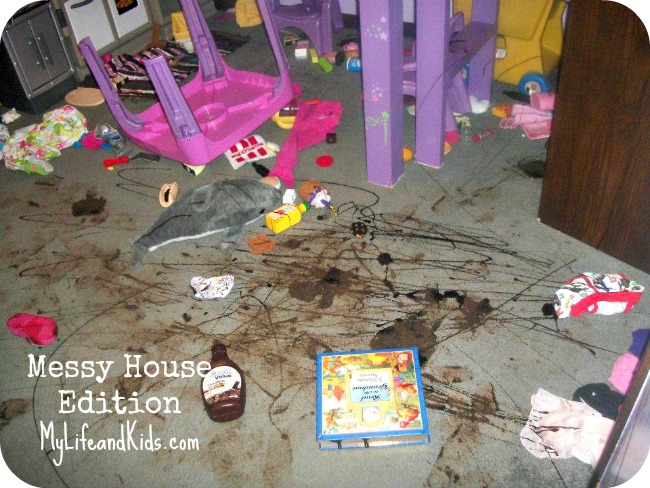 House Owner: Brandy
She Says: So, I was organizing my coupons and the kids were playing in their room. They weren't being any louder or quieter than normal so I didn't think anything of it.
I was probably at the table for 20 minutes and then went to go and check on them.
I found this and couldn't do anything but take a picture! They were both covered in chocolate syrup too! This happened about a year ago and I'm still occasionally seeing spots that I missed.
Mommy is Busy Decluttering…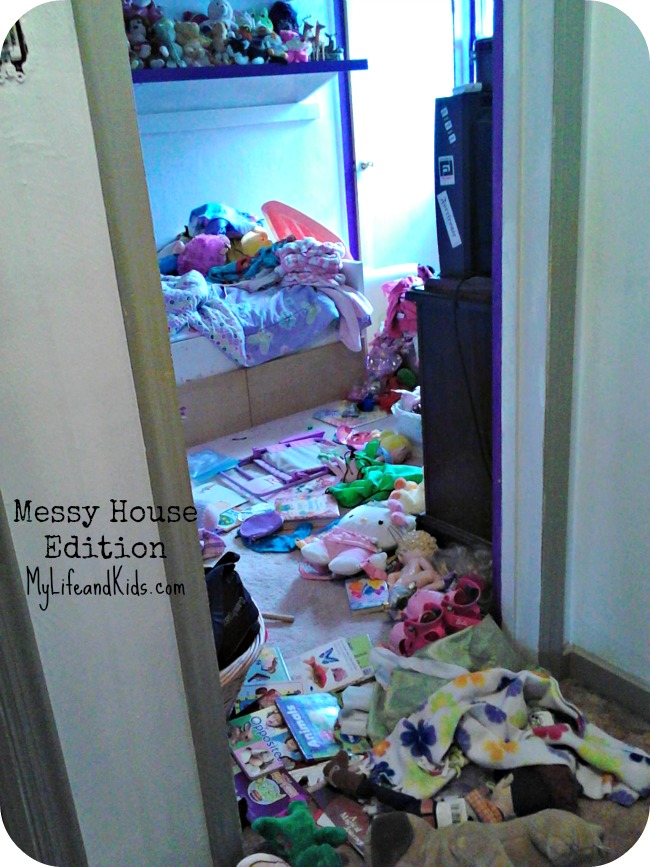 House Owner: Lindsy
She Says: My day was spent cleaning and decluttering the living room/dining room and kitchen… while my daughter (3) kept herself busy….
Helping Mommy in the Kitchen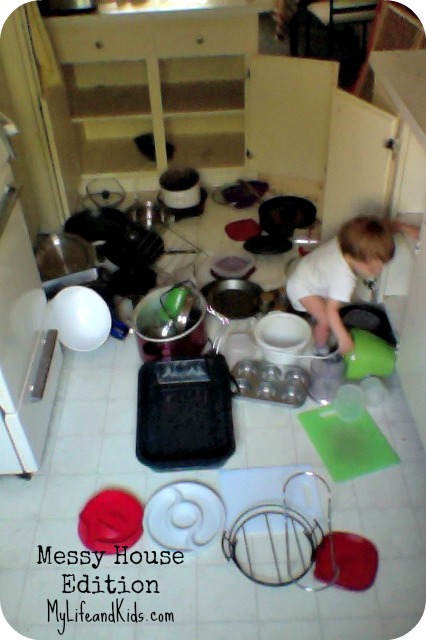 House Owner: Emma
She Says: I heard some clanging in the kitchen, and I went to check on my one year old. I saw that he had dragged out some pots and pans, and I figured if it's keeping him happy then hey, I'm happy too.
I sat on the couch and took a break.
When I checked on him again, he had emptied two cupboards, so I opened up the last one for him. He was ecstatic.
I guess I needed to re-organize the kitchen cupboards anyway. The baby was just helping out.
Polly Wants a Cleaner Dresser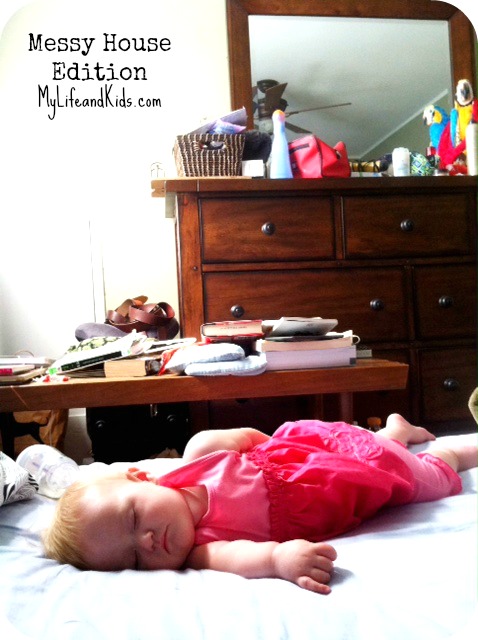 House Owner: Alli
She Says: My 8-month-old is sleeping peacefully (proud).
There are 3 overdue library books and some moldy face cream in this pic as well as a bottle that has tipped over and leaked formula on to our bed (embarrassed).
I realize that the sweet sleeping child did not make this mess, but I just had to include this – mainly because of the parrot on the dresser.
Mom Needs to Blog!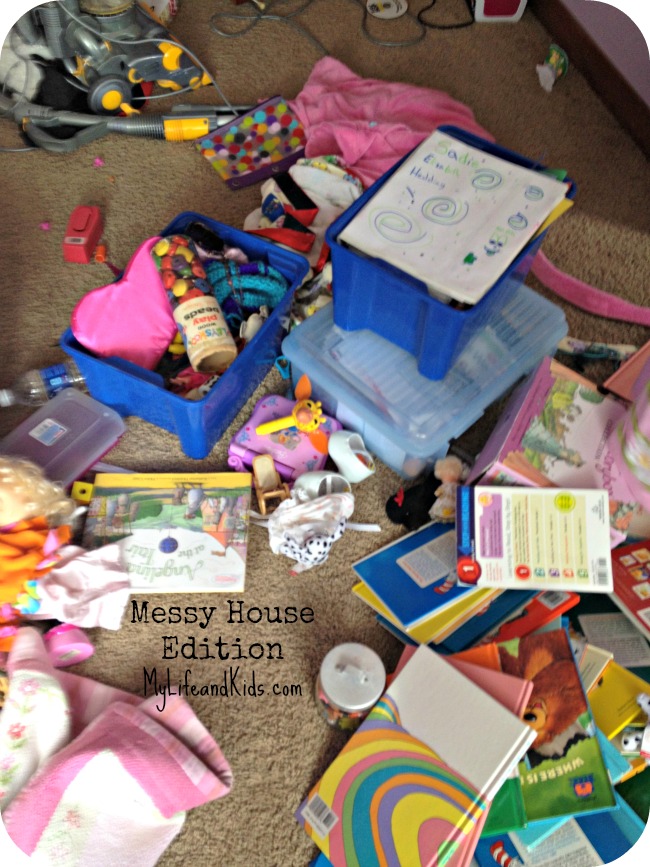 House Owner: Evil Joy Speaks
She Says: I was blogging and said go clean your closet out – they did – and trashed their room…..
Want More Pictures
Here are a few more posts that will make you feel better about your messy kids:
Pottery Barn Perfect? Not so much.
Why you should probably fire your cleaning lady…
Does your child's closet smell like a maxi pad?
Kids really do keep you from exercising!
When was the last time you checked out your son's room?
A "happy house" is a messy house – so says Magda.
Yet another reason why I'm banning chocolate syrup.
Teenage boy's room – need I say more?
The Messy House Edition is back! Send me your messy houses (cars and garages are welcome too!) Click here to submit yours today.
It's been a long week of messy houses, but we have come to the end.
The Winner of the Messiest House on the Internet is…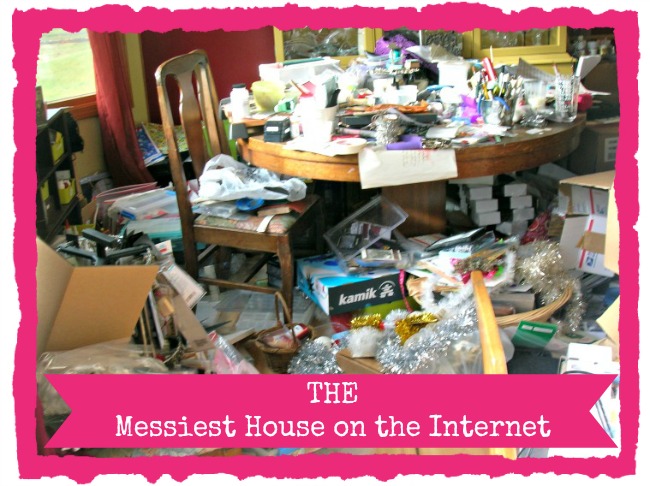 Dining Room Disaster by It's Raining Jellybeans.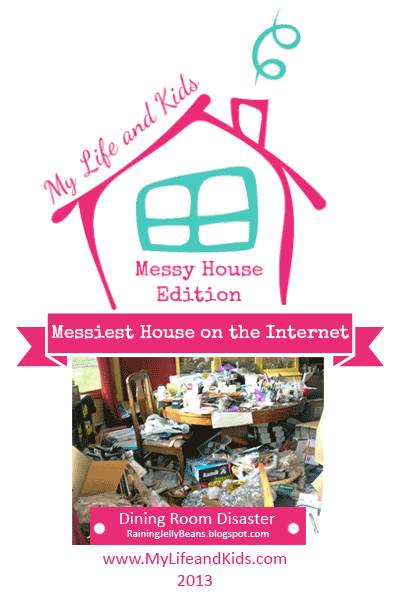 Congratulations Danee! You have just won a $500 Oreck Magnesium vacuum cleaner!
We started with 32 contestants on Monday. You can click here for the full recap of the week.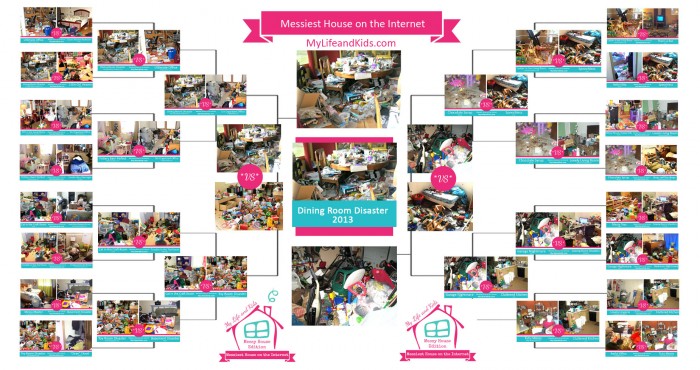 You can click here to grab your great discounts from Method and Clean Mama. And to enter to win great prizes from Oreck and Clean Mama – the giveaway closes on Sunday evening.
Thanks to everyone for visiting and voting throughout the week!
Welcome to the Finals of the Messiest House on the Internet Competition!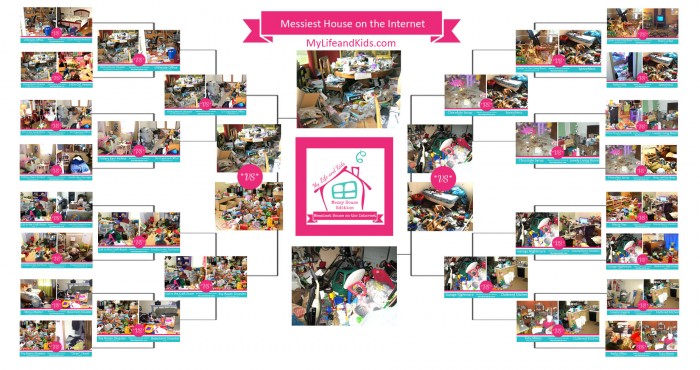 If you'd like a quick recap, we started with 32 messy houses on Monday, and we're now down to just TWO! You can click here for all of the details from the past week.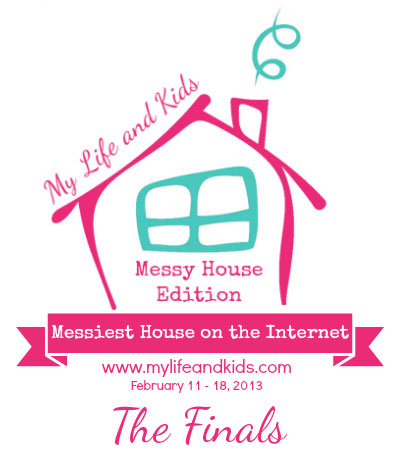 The winner of this round will receive the title of the Messiest House on the Internet(!) take home an Oreck Magesium RS vacuum cleaner – valued at nearly $500! (Click here to read my review of this awesome vacuum.)

Meet the Finalists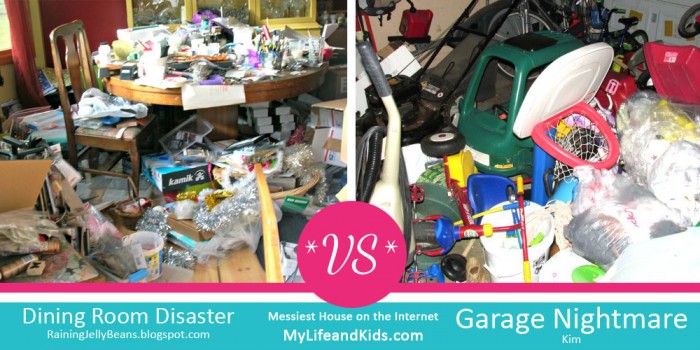 Dining Room Disaster
Danee at It's Raining Jelly Beans has this to say about her Dining Room Disaster: Imagine… It is Christmas 2010…there is a beautiful Christmas Tree sparkling with dainty lights in my living room; the trees outside my Michigan home are heavy with new fallen snow, fragrant mulled apple cider simmers on the stove and my gorgeous dining room looks like this…
Yes, this was my dining room table after a major pre-Christmas craft explosion that just got WAYYYYYY out of hand.
Garage Nightmare
Kim has this to say about her Garage Nightmare: This mess has been a work in progress for several years. Don't think you're going to accomplish this level of messy overnight. It takes years of having better things to do than clean out the garage.
We actually got it (relatively) cleaned up a few years ago, but then filled it right back up with clutter. Also, as you can see, the garage has become a dumping ground for stuff the kids have outgrown/no longer play with.
One of these days, I'm going to clean it out, maybe in time for the church garage sale . . . that is the church garage sale of 2028.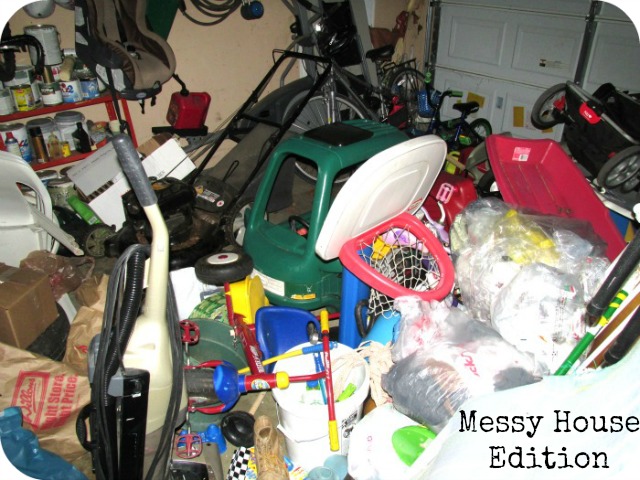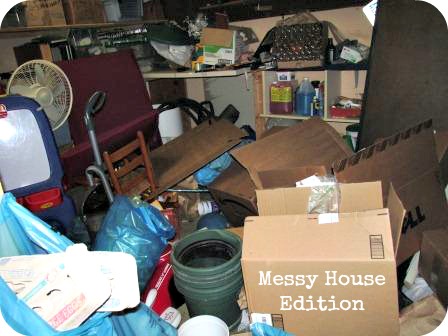 Vote Now
This one is for the vacuum cleaner! Voting will be open until 10 pm ET on Friday, February 15. The original plan was to keep the voting open through the weekend, but I'm just as excited as you are to see who wins. I couldn't possibly wait until Monday!
Be Sure to Enter the Giveaway
My great friends at Oreck and Clean Mama are giving away some great prizes. There are a few new ways to enter today, so be sure to toss your name in the hat a few more times if you haven't already.
Click here to read about the competition rules and prizes – and to grab some great discounts from Method and Clean Mama.
Disclosure: I was provided the Magnesium RS and Ultimate Handheld vacuum cleaners from Oreck. The opinions in this post are my own. Oreck Corporation provided the prize for the Messiest House on the Internet Competition but is not the sponsor of the competition or the sweepstakes.