For the past six years, I've been absolutely terrified of having family pictures taken professionally.
Seriously – terrified.
I would watch all of my friends hiring photographers and coming home with the most amazing pictures of their family. I would feel envious. I would think about having pictures taken. And then I would chicken out every single time.
Because I knew my kids would be wild.
I knew they'd get hyper and not settle down and refuse to smile like normal human beings.
I knew I would feel stressed.
And I knew that we'd walk away without a single decent family picture.
So Even Steven and I decided we'd just make strong efforts to take family pictures on our own. Which is how we ended up with this beauty (taken by my talented sister-in-law.)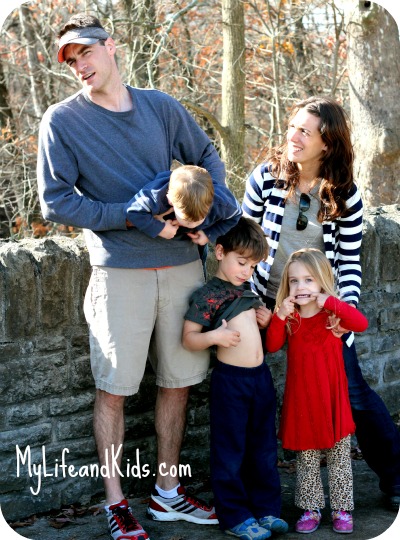 But when my other sister-in-law (the trashy one) and I were debating about what to get my mom for Christmas this year, we kept coming back to a professional family picture. Of all of us.
We were all going to be together for a week in Florida, so what better time to hire a photographer and take some family pictures?
My kids behaved just as I expected them to.
They were wild.
They were hyper and would not settle down and refused to smile like normal human beings.
I felt stressed.
So you can imagine my surprise when we got the pictures a week later.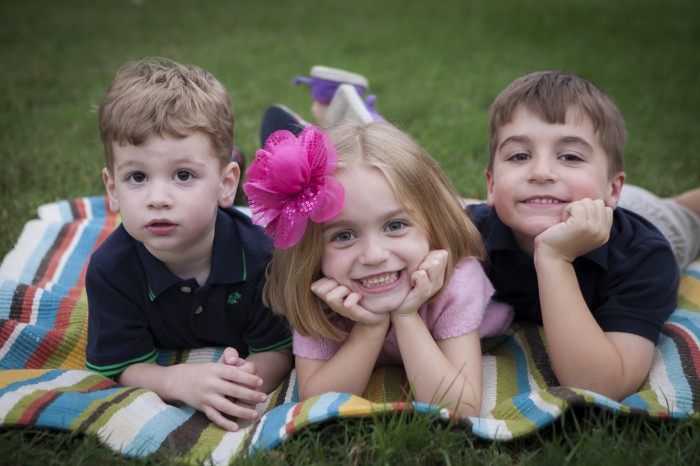 The photographer captured my wild, crazy kids perfectly.
And this one? It kills me…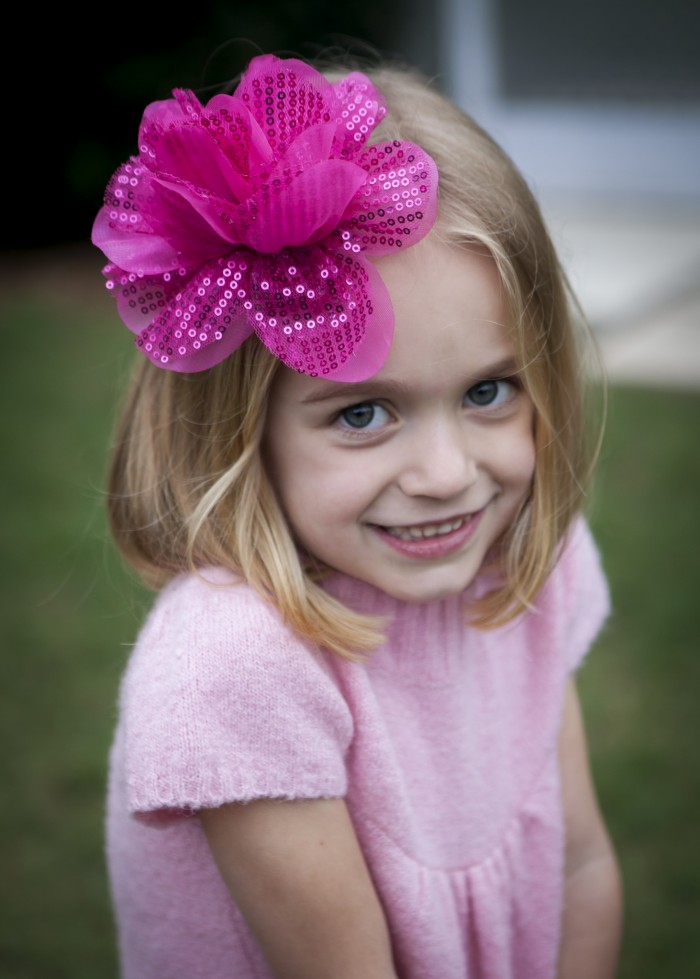 You can't even tell that we were glaring at our kids and threatening to throw away all of their toys, can you?
Just kidding.
Sort of.
I especially think the magic of our family comes through in these pictures. Don't you think?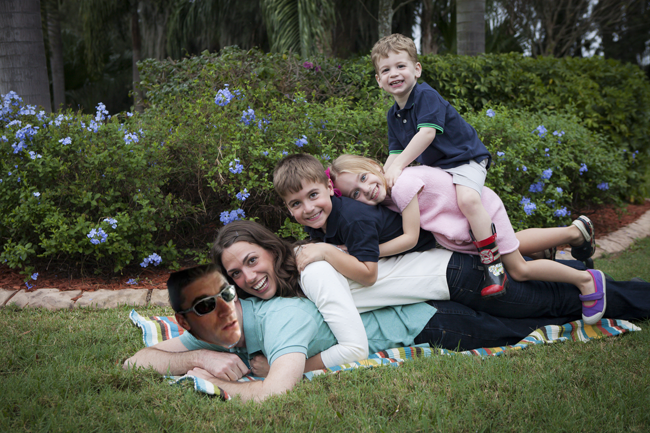 And who knew that Even Steven was so darn photogenic? Whew – I know how to pick 'em!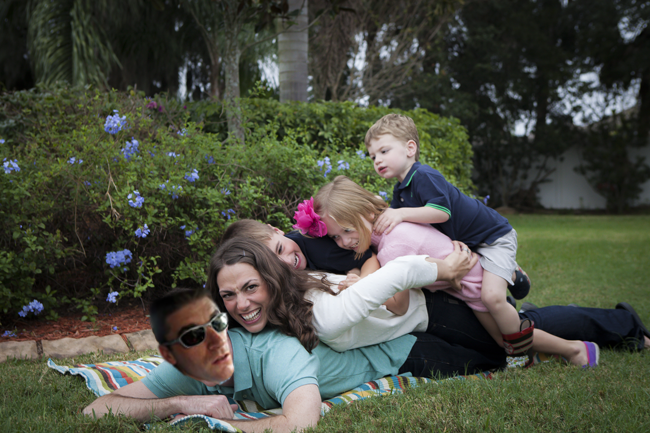 So – I think I'm officially over my fear. If my kids can behave as terribly as they did for this photo shoot, and we can get pictures like this? Then sign me up every single year!
Although I do think a lot of it has to do with the talent of our photographer. She didn't ask me to do this, but if you're ever in the Sarasota area, call Kerri Gagne Photography (you can follow her on Facebook here.)
Are you as afraid of family pictures as I used to be? Do you think you look better than your husband in all of your pictures too? Any family picture horror stories to share with me?
At around this time each year, I create a picture book and look at the past year of pictures. And then I go back and look at all of the books from the previous years.
And then I cry. Our kids are growing up. I'm getting wrinkles. Big Hairy Dog probably only has a few years left.
Luckily Even Steven is as hot as ever.
I've created a little slideshow to give you a glimpse of our lives through the years – starting when Even Steven and I were married in 2002. You'll be able to see us when we were young and didn't have kids yet. (And when my hair was blonde.) Oh – and that time we ran a marathon… Enjoy!
If you don't see little arrows at the top or bottom of this post, click here to load the slideshow.
[tps_header][/tps_header]
[tps_title][/tps_title]
2002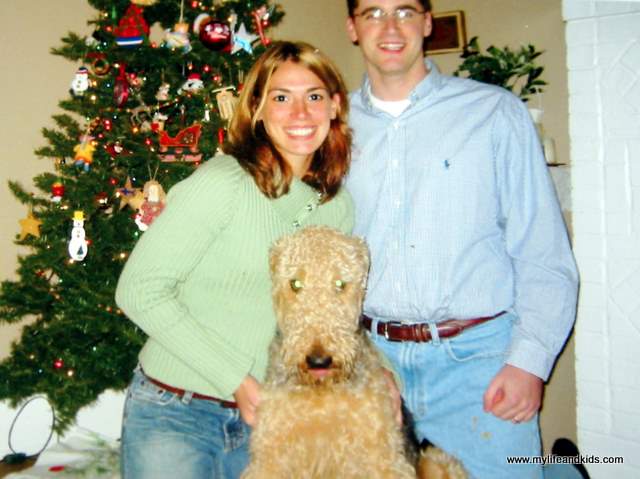 It's that magical time of year, where Santa is watching every single move my kids make.
He sees them when they're sleeping. He knows when they're awake.
He knows when Miles is wiping boogers on his wall and when Alice doesn't change her underwear for days at a time. He sees them when they tackle Simon and when Miles is peeing in random places around the house.
And how does he see all of this?
Through his Santa Cams of course.
Not only does it detect smoke and fire – it also serves as Santa's Camera to see if you're being naughty or nice.
There's one on every floor of our house. There's one at every house we go to. They even have them at the mall, at restaurants, at school…
Santa is truly everywhere – and he's always watching!
And – sometimes – if something really naughty happens – the Santa Cam starts to beep and flash. This is way worse than time out!
The months of November and December are full of magic – none of which is greater than the power of the Santa Cam.