Category Archives:
Giveaways
When I was pregnant for the first time, I found myself addicted to labor and delivery shows on television. I couldn't make myself stop watching the terrifying horror of babies being born. I would watch and cry. Watch and cry.
I just couldn't stop.
After my first child was born, I found myself addicted to shows about the baby coming home from the hospital. I would see the little welcome home party, the sweet walks to the park, the sleepless nights… I would watch and cry and breastfeed. Watch and cry and breastfeed.
I just couldn't stop.
When I was pregnant for child #3, I found myself addicted to shows about women killing their husbands. I would watch and eat ice cream and terrify my husband. Watch and eat ice cream and terrify my husband.
I just couldn't stop.
Now that my kids are growing up, and I'm chasing after them for most of the day, I don't have a whole lot of time for television.
But there is one show that I DVR and watch religiously. I just can't stop.
I watch and cry and watch and cry. And then I watch some more.
Please tell me that I am not the only one addicted to I'm Having Their Baby on Oxygen!
From teen moms to single moms to moms that may be pregnant because of an affair – the show creators do an amazing job of taking situations that could be turned into trashy television and portray them in a documentary style that expresses the drama – without any extra drama (if you know what I mean).
I have never experienced adoption first hand – yet I am so drawn to hearing and watching these women as they struggle with unplanned pregnancies, move through the adoption process and ultimately decide whether or not to place their baby in the hands of another family. And don't even get me started on the adoptive parents because I will turn into a blubbering mess right this second.
Yes – I am addicted. And I'm gearing up for Season Two – which starts on Wednesday, June 12 at 10pm (in just a few weeks!)
If you missed Season One, you can catch up by watching every single episode right here. (You're welcome.)
And if you've been addicted like me, you're going to love this. Here's a short web-isode where we get to catch up with Mercedes to see how she and her boyfriend (and the baby they put up for adoption) are doing after Season 1. Watch "I'm Having Their Baby; Raising Vivienne" here:
Watch the web-isode and comment below to let me know your favorite part.
Or what you're most looking forward to in Season 2.
Or what you LOVE the most about I'm Having Their Baby.
One commenter will receive a $50 Visa gift card! Winner will be announced the week of June 10th.
This is a sponsored post. All opinions (and addictions) are mine.
UPDATE: The giveaway is over. Congratulations to Mami2jcn for winning the $50 gift card!
I teamed up with OshKosh B'gosh to bring you today's sponsored post. One of my readers is going to take home a $50 gift card to OshKosh B'gosh, and everyone will have the chance to enter a huge giveaway – where the winner takes home a $5,000 gift card!
When my friends at OshKosh B'gosh reached out to me to help them promote two giveaways, I was thrilled. Because my kids pretty much LIVE in OshKosh B'gosh clothing.
Seriously.
Just last week we went to a family wedding in North Carolina. It came at the tail end of our beach vacation, and the day before the wedding I realized that I hadn't packed any wedding clothes for my kids.
Yes – leave it to me to plan an entire family vacation around going to a wedding in North Carolina and then forget to pack clothes to wear to the wedding. I'm awesome like that.
Alice doesn't travel anywhere without a skirt and her sparkly shoes, so she was all set. But the boys were another story. We were at the beach. I didn't bring polo shirts or button downs. And khaki pants were the nicest thing we had.
But luckily I had packed their all-time favorite t-shirts.

Pssst… they're on sale for just $6.95 right now! Click here.
My boys wore their ties to the wedding – and they were adorable in their OshKosh B'gosh t-shirts!
Okay – enough about me and my love for OshKosh B'gosh – I know you just want to know how you can walk away with up to a $5,000 gift card.
Huge Giveaway #1 – Say OshKosh B'gosh
Submit a video entry of your B'gosh kid saying "OshKosh B'gosh" for a chance to win the grand prize – a $5,000 OshKosh B'gosh gift card.
Entering is quick and easy. You can take a video (30 seconds or less) with your mobile phone and upload it directly here: https://oshkosh.prizelogic.com/.
This is the video Simon and I made together. (See how easy it is?)
There's nothing OshKosh B'gosh loves more than the sight (and sound) of real kids saying "OshKosh B'gosh!" Say it six times fast, say it with a silly dance, say it slow or fast…. Have fun with it!
Once you enter, you're eligible for a chance to win!
One Grand Prize Winner: $5,000 OKBG gift card
Four Runner's up: $500 OKBG gift cards (total $2,000)
Fifty Random Winners: $50 OKBG gift cards (total $2,500)
Click here to upload your video and enter this huge giveaway!
One My Life and Kids Reader Will Win a $50 Gift Card
OshKosh B'gosh knows how much I love my readers, so they're letting me give one of you a $50 gift card!
It's easy to enter, simply leave a comment below telling me your favorite style on OshKoshBgosh.com
A winner from My Life and Kids will be drawn on Friday, May 10.
Good luck!
NO PURCHASE NECESSARY. The Say "Oshkosh B'Gosh!" Video Contest and Sweepstakes ends 5/7/13. 18+, 50 U.S./D.C./P.R. only. Go to www.facebook.com/oshkoshbgosh for Official Rules and complete details.
OshKosh B'gosh partnered with bloggers such as me to help promote the Say "OshKosh B'gosh" Video Contest and Sweepstakes. As part of the program, I received product or gift cards. OshKosh B'gosh believes that consumers and bloggers are free to form their own opinions and share them in their own words, and therefore did not tell me what to purchase or what to say about the products I used. OshKosh B'gosh policies align with WOMMA Ethics Code, FTC guidelines and social media engagement recommendations. The winner of any prize in this program will be chosen in accordance with the program's Official Rules and gift card fulfillment will be handled by a third party.
UPDATE: The giveaway is now closed. Congratulations to Suzanne for winning a $75 gift card to a-thread!
Today, I'm partnering with a-thread to bring you a chance to win a Mother's Day Makeover!
I know – I'm excited too!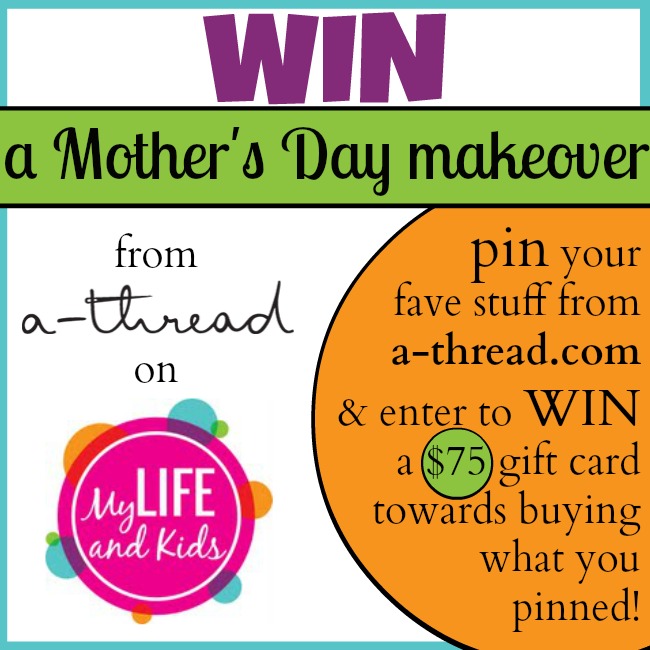 a-thread is one of my favorite online boutiques (remember when they dressed me for a blog conference last year?)
Their clothing is fabulous, and don't even get me started on their jewelry. LOVE!
And this Mother's Day (which is May 12th, by the way), they want to give one of my readers a $75 gift card to purchase some of their favorite a-thread items.
All you have to do is follow a-thread on Pinterest, pin a few of your favorite a-thread items and leave a comment on this post with a link to the Pinterest board you pinned to. One winner will win a gift card to purchase what they pinned!
Since I'm not eligible to win, I went ahead and sent my Pinterest board to Even Steven so he'll know the perfect gifts to get me for Mother's Day. (Or so he'll know what I ordered myself for Mother's Day.)
You can see my Mother's Day LOVE board here:

Win a Mother's Day Makeover from a-thread
Here's how to enter:
1. Follow a-thread on Pinterest (you can click here to do that).
3. Visit a-thread.com and pin what you'd like to win.
4. Leave a comment with a link to your Pinterest account, so that we can see what you pinned.
One lucky winner will win a $75 gift card to a-thread to purchase some (or all) of the items they've pinned.
And once I have your Pinterest link, I'll follow you there too. I'm always looking for now people to follow!
One winner will be drawn on Wednesday, May 8.