This amazing caramel apple snackle crackle recipe is like candy, cake and a cookie all rolled into one. You're going to LOVE it – and your kids are too!
And – because there's no oven involved – it's a great way to get your kids involved in the kitchen!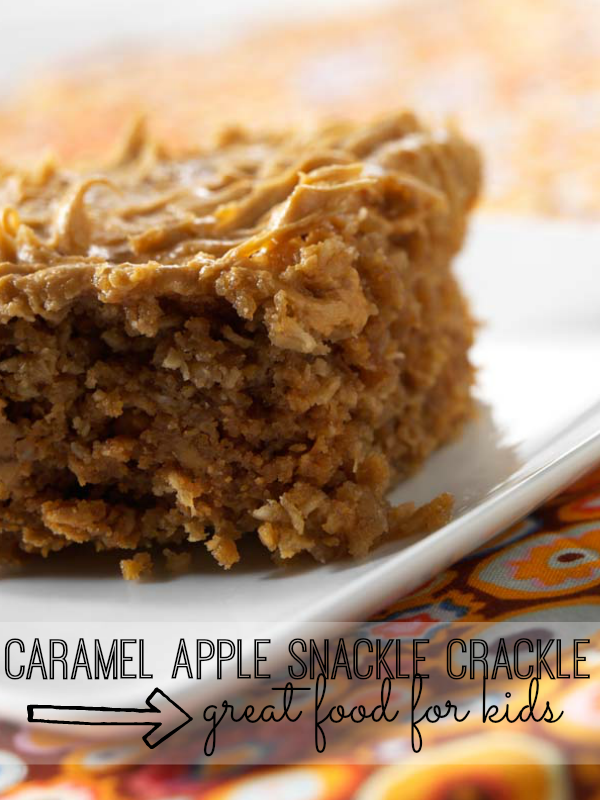 Caramel Apple Snackle Crackle Recipe
Ingredients
¾ cup butter or margarine
¼ cup natural applesauce
1½ cups quick oats
3 cups apple cinnamon oat cereal
½ cup brown sugar
2 eggs
1 tsp vanilla
12 oz butterscotch chips
Instructions
In large mixer bowl, mix butter, applesauce, oats, crushed cereal, brown sugar, eggs and vanilla.
Beat 3 minutes at medium speed or until mixture is light and fluffy.
Stir in 1 cup butterscotch chips.
Spread batter into 8-inch square microwave-safe baking dish. Cover with wax paper.
Cook on high power (in the microwave) for 4 minutes.
Rotate dish ¼ turn.
Cook on high power for 4 - 6 minutes longer or until top of cake appears dry and bottom is an even color.
Sprinkle remaining 1 cup butterscotch chips over top of warm cake.
Let stand 10 minutes and then spread ships evenly over cake.
Let cool directly on counter top. Cut into serving pieces.

This is just one of dozens of recipes created by kids for kids in the Small Fries Cookbook.
Learn more about this inspiring kids cookbook and grab a copy of your own right here. (All proceeds benefit Cincinnati Children's Hospital Medical Center.)
Food photography courtesy of Teri Campbell, Teri Studios / terishootsfood.com
Looking For More Great Recipes?
Follow the My Life & Recipes board on Pinterest to find more amazing recipes!
Follow My Life and Kids's board My Life & Recipes on Pinterest.