School has started, and I am in full back-to-school mode. Miles and Alice love seeing their friends every day. And Simon is BEYOND excited to be riding the bus to Kindergarten this year.
I'm already stocking up on apology notes to send to his teacher.
In order to prepare for back-to-school, we're slowly getting back into a routine (no more late nights and late mornings for these kiddos). I'm getting Simon used to wearing underwear EVERY SINGLE DAY (Did I mention that Kindergarten is a big adjustment for him?), and I'm making a dent in our back-to-school supply list.
I'm used to buying school supplies that the teacher and school require, but with three kids in school, I also have my own list of items that I need to survive the school year. So I'm teaming up with my friends at Pfizer Consumer Healthcare to share the things that moms need to add to their school supply lists.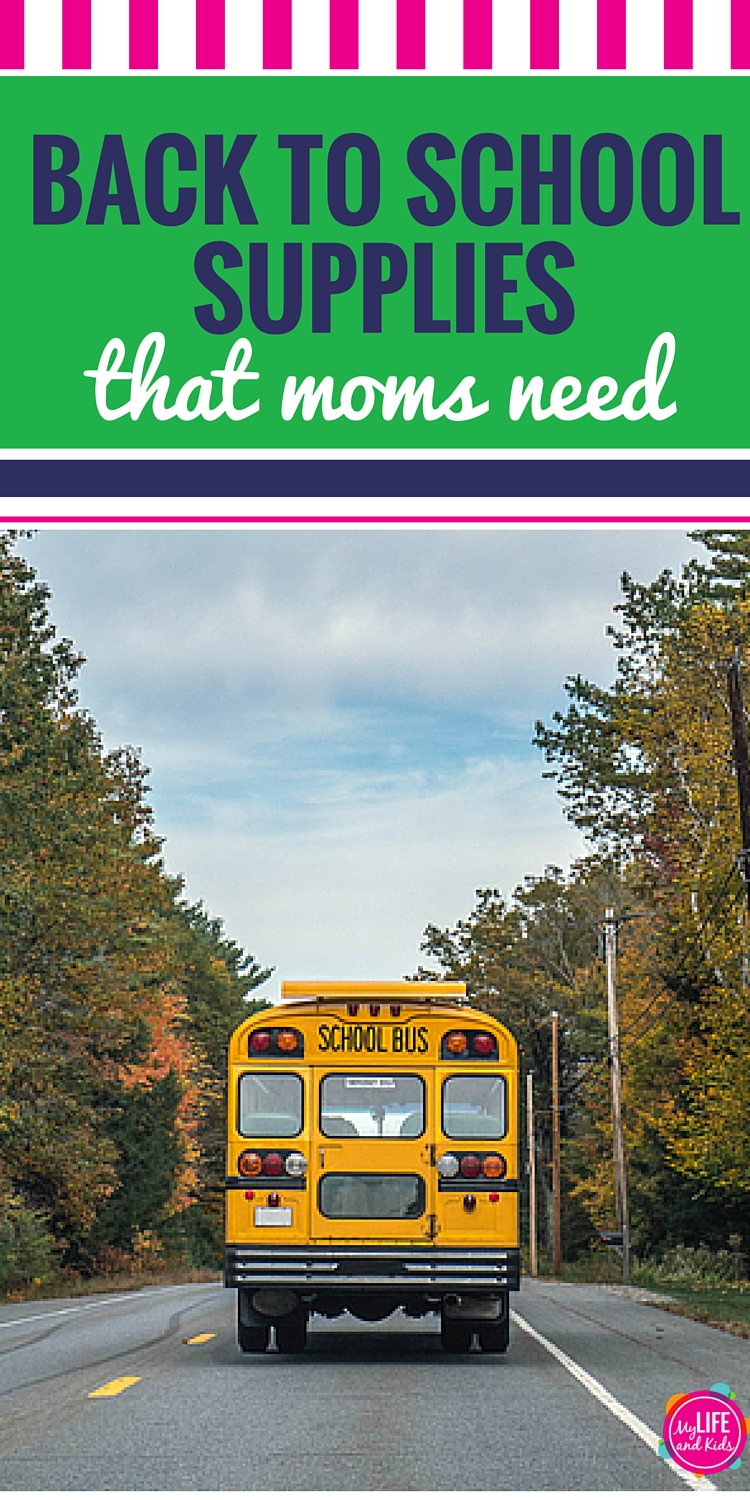 School Supplies Moms Need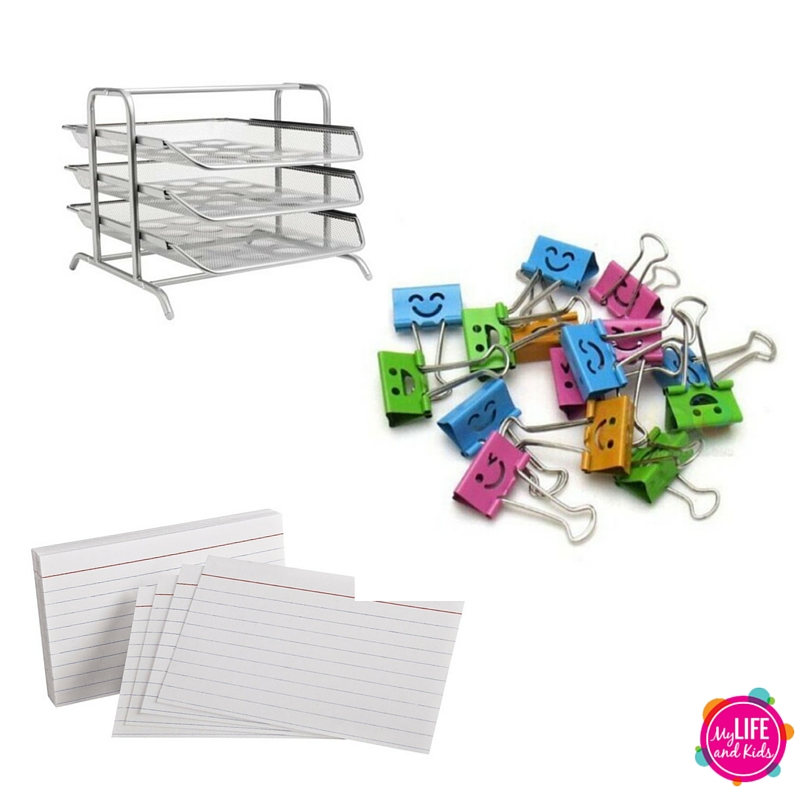 In/Out Box
The papers, oh my goodness, THE PAPERS! How does this happen? Every year I say that it won't happen, and every year it happens. There are forms to be signed, and more forms to be signed. Plus, FYI information, menus, and even more things to be signed and returned ASAP.
It's downright overwhelming.
I've found the easiest way to keep track of the never-ending papers is a simple in/out box. One slot for items that come home from school and need to be looked over by me. One slot for items that need to go back to school (after I've signed them). And one slot for items that I know I'll need to reference later.
Binder Clips
I use binder clips to help me organize the papers. Did I mention THE PAPERS? It's also handy to store each child's completed schoolwork in a binder clip. At the end of the school year, we sit down together, and they get to decide what we save "forever" and what gets recycled.
It's possible that I make some of these decisions on my own before the end of the year, but let's keep that between us.
Notecards
How do I use these? Let me count the ways! I keep a notecard on our bulletin board with all of the various school login and password information. I use them to send notes to the teachers. I use them to track who has gym on which days and who has to remember their library books on other days. I used to try to find cute notebooks to do all of this, but over the years I've found that notecards do the job better.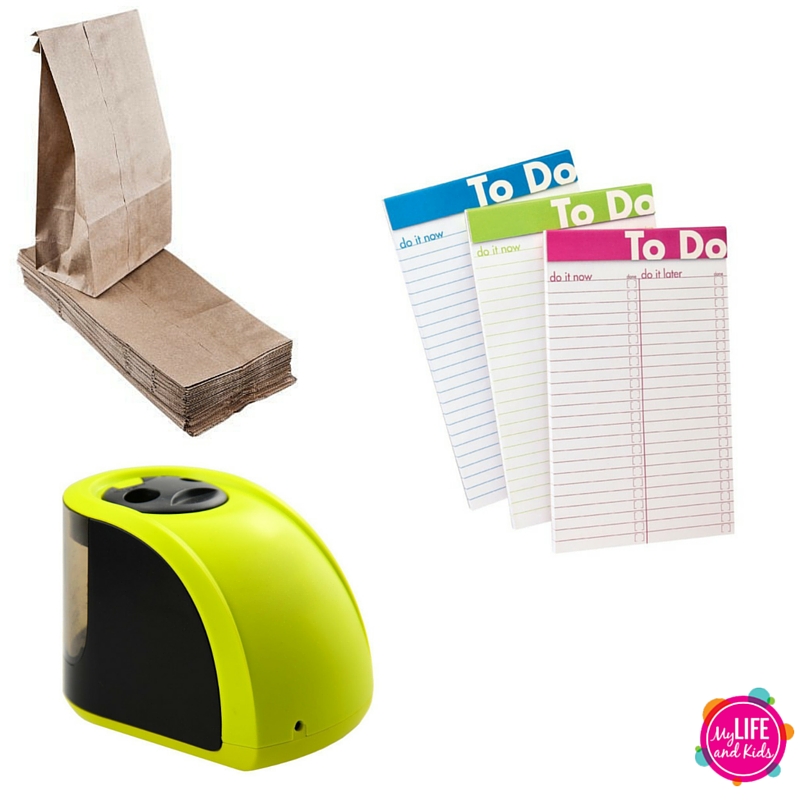 Paper Lunch Bags
My kids don't use these on a daily basis, but there are a few field trips each year where they're required to bring lunches that are 100% disposable. I seriously had to send my kids to the zoo with paper wine bags last year.
I was both mortified by this and also somewhat impressed that I was able to come up with a solution. Now I stock up on paper lunch bags in advance.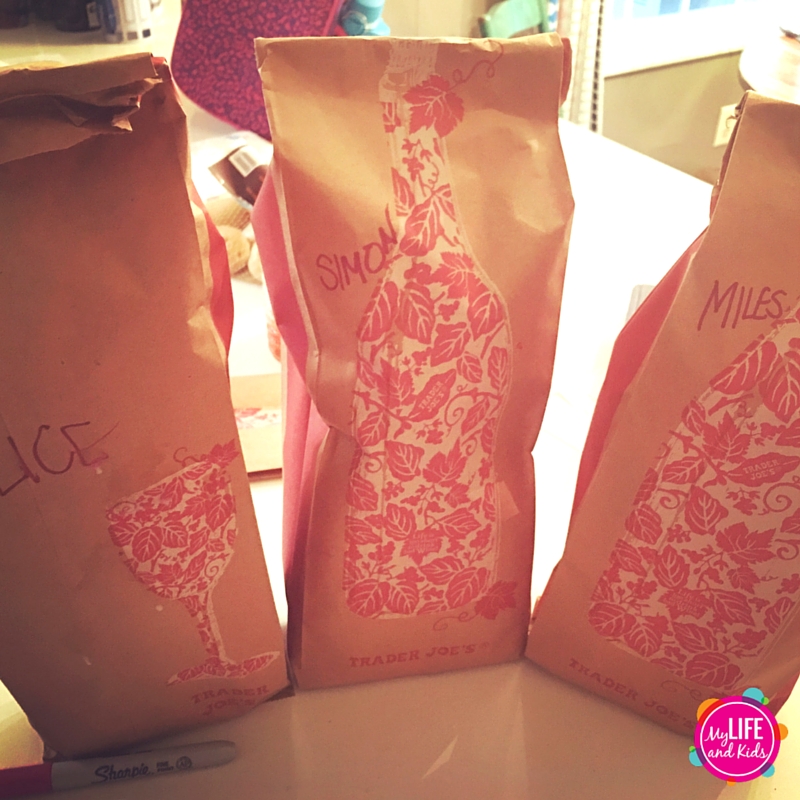 To Do List
I learned several years ago that after the first week of school (when it feels like the kids are gone forever), the days start to fly by! I require a daily to-do list or else I get nothing accomplished before they're walking back in the door again.
"Oh – hi kids! Gosh – you're home so early! Why am I still in my pajamas eating breakfast? I have no idea…"
Electric Pencil Sharpener
When my oldest started kindergarten, I bought an old-school, wall-mounted, manual pencil sharpener. It was adorable for about two weeks until I realized just how many pencils we were going through (and how long it took my kids to sharpen those pencils).
Now we have an electric pencil sharpener, and there are no longer any homework delays (caused by unsharpened pencils).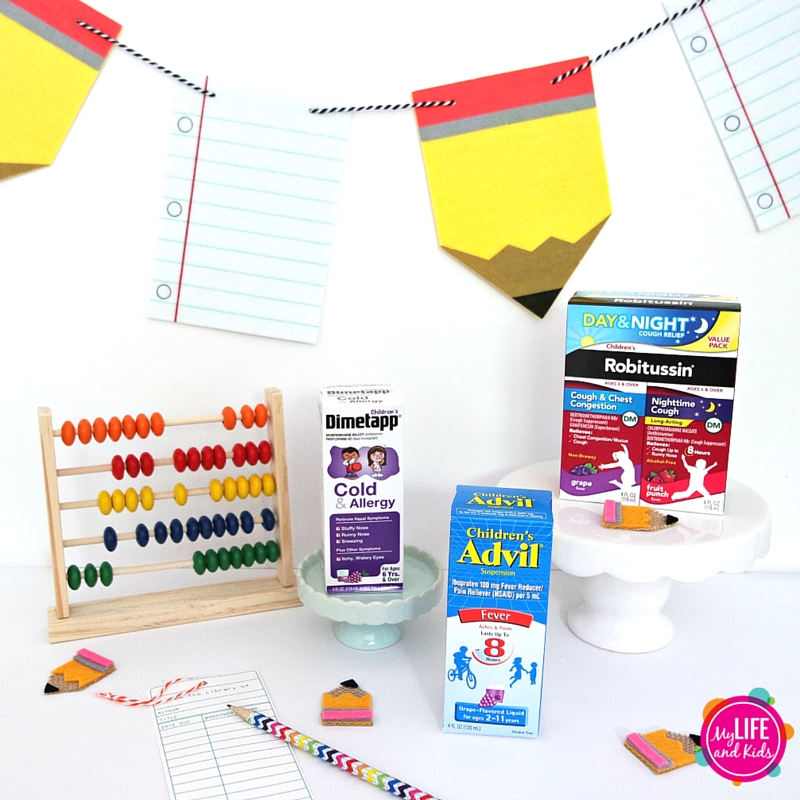 Medication for Kids
I'll never forget the year that Alice missed almost two entire weeks of school because she was so sick. Or the year that Miles's teacher had to send an email begging everyone to bring in more tissues and disinfecting wipes because so many kids were sick, just a few weeks into the school year.
With a new year of school comes a ton of new germs that will "test" my family's immune system. As much as I love all of the fun and excitement that back-to-school brings, I don't love the germs that come with it.
In my house, we trust the Pfizer Consumer Healthcare pediatric platform products Children's Dimetapp®, Children's Advil®, and Children's Robitussin® – to help tackle the ickiest symptoms. They come in handy during those Sick just got real™ moments, and I know they'll help relieve my little ones' symptoms and discomfort.
Just like you, the Pfizer Consumer Healthcare pediatric platform team is always ready to help relieve the symptoms of fevers, coughs, and colds that keep your kids from being kids, so your lives can get back to normal and your kids can get back to school. Visit Sick just got real™ to learn more.
This content has been sponsored by Pfizer Consumer Healthcare. Product samples were provided by Pfizer Consumer Healthcare. Opinions are my own.