I don't know about you, but I feel like I am on a constant quest for more energy. There are days when my to-do list could fill three pages. There are days when everyone in my house is up at the crack of dawn for no apparent reason. There are days when I have 40 gazillion work deadlines and everyone is out of clean underwear and one of my kids needs to be picked up from school to go to the doctor.
I NEED ENERGY!
Short of drinking 18 pots of coffee every single morning, my preference is to get my energy from food. I eat what is going to fill me up, taste good and GIVE ME ENERGY!
And today I would like to introduce you to my new favorite recipe ever:
Introducing Apple Pie Smoothie Bowls…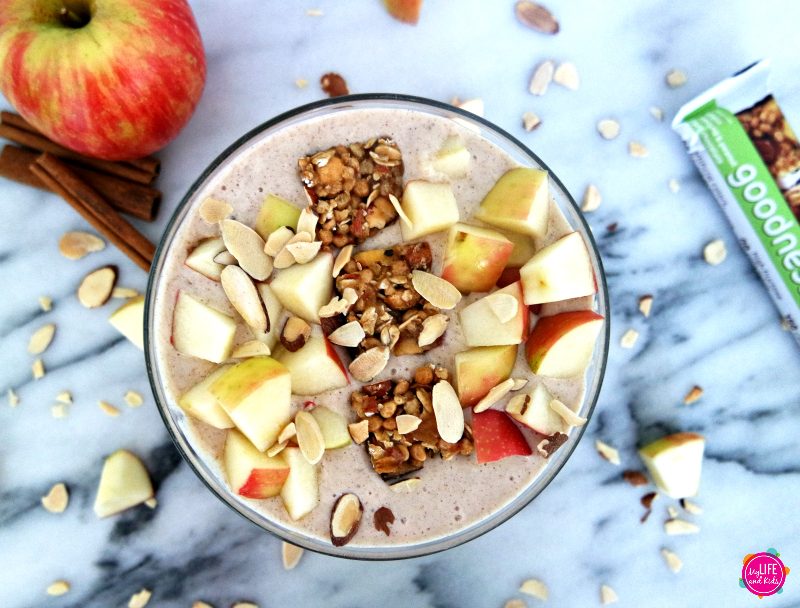 Let me tell you all the reasons why I love them:
1. They taste like apple pie.
2. They are a lot healthier than apple pie.
3. They give me SO MUCH energy.
4. You can put all sorts of toppings on them (and it's all about the toppings!)
5. They are crazy simple to make.
6. They fill me up for hours.
7. Did I already mention that they taste like apple pie?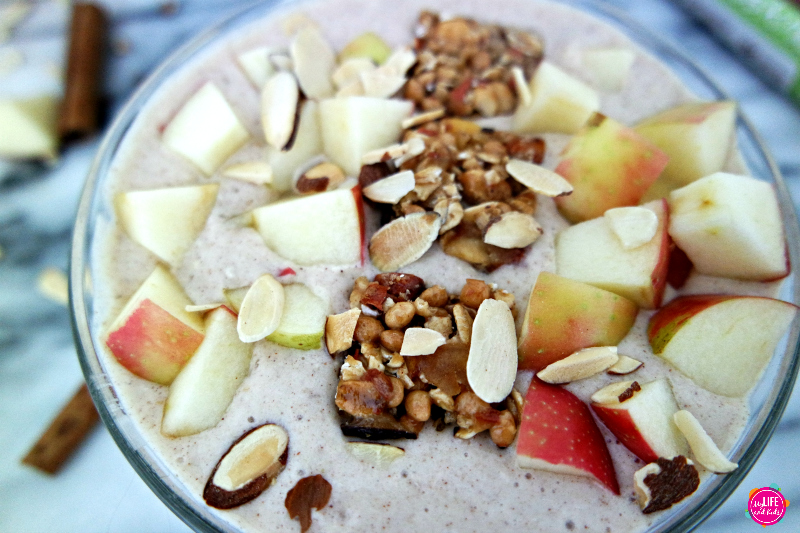 I know. You're dying to try one.
I don't blame you!
Apple Pie Smoothie Bowl Recipe
Ingredients
1/2 cup greek yogurt
1 frozen banana
1/2 cup applesauce (unsweetened)
1/4 cup raw oats
1/2 cup milk (or almond or coconut milk, unsweetened)
1 T cinnamon
1 T vanilla
Toss all of these in your blender and mix them up until smooth. Add in some honey if you really need some more sweetness.
Now comes the fun part – add your toppings!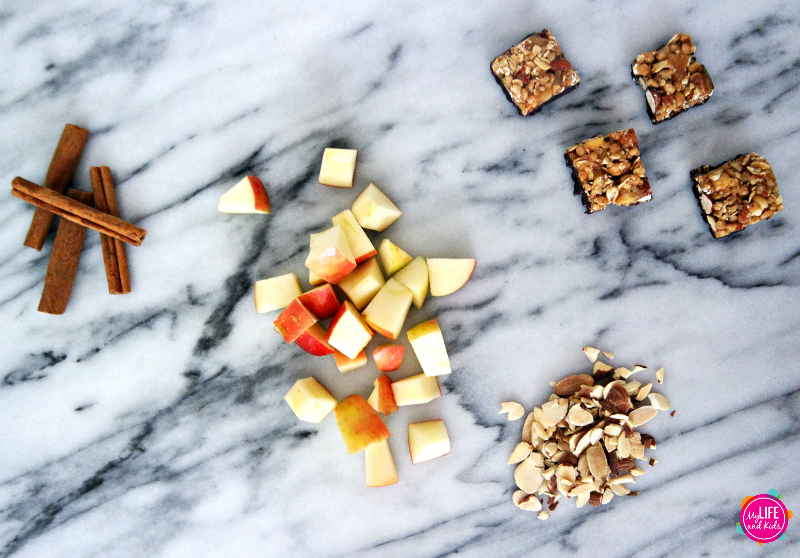 Personally, I like to add the following:
Diced apples (red or green, totally up to you)
Shaved almonds
Cinnamon
goodnessknows apple almond & peanut dark chocolate snack squares
If you've been reading for awhile, then you already know that I've been reaching for goodnessknows snack squares after my workouts.
And I cannot even begin to tell you how excited I am that I've found a way to incorporate them into my breakfast.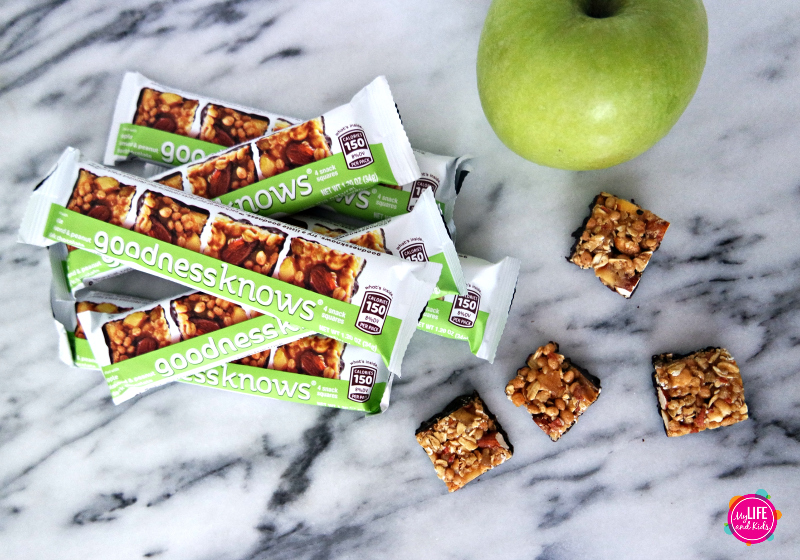 With whole nuts, real fruits, toasted oats and dark chocolate – goodnessknows snack squares have no artificial colors, flavors or sweeteners.
And – my favorite part?
Each serving contains 100 milligrams of naturally-occurring cocoa flavanols – the good stuff found inside cocoa beans – and each snack square is just 40 calories. Because of their unique size and delicious ingredients, they're the perfect topping for your smoothie bowl!
Back to your toppings…
Toss your toppings on top of your smoothie bowl and enjoy!
How simple is that!?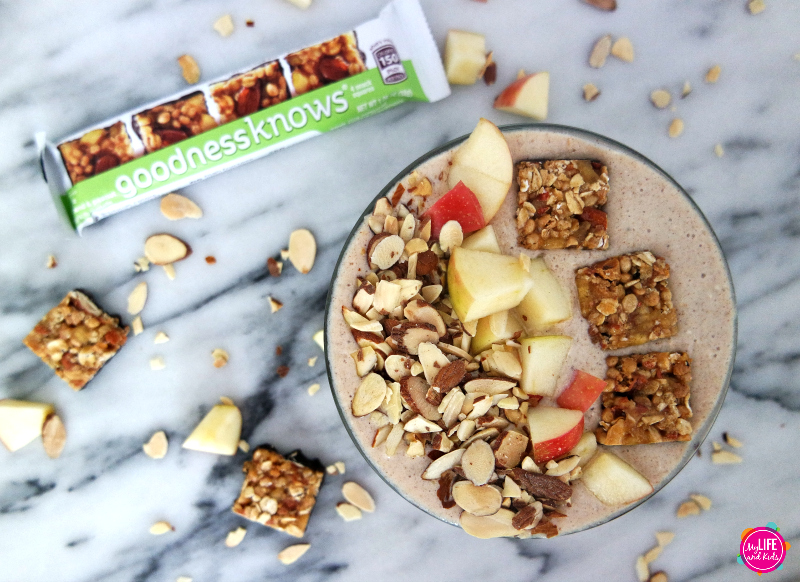 Don't be surprised if you want to eat an apple pie smoothie bowl for breakfast and lunch every single day.
Don't be surprised if your kids also want to eat an apple pie smoothie bowl for breakfast and lunch every single day.
Don't be surprised if you feel a burst of energy that lasts for hours after eating. (I'm serious.)
ENJOY!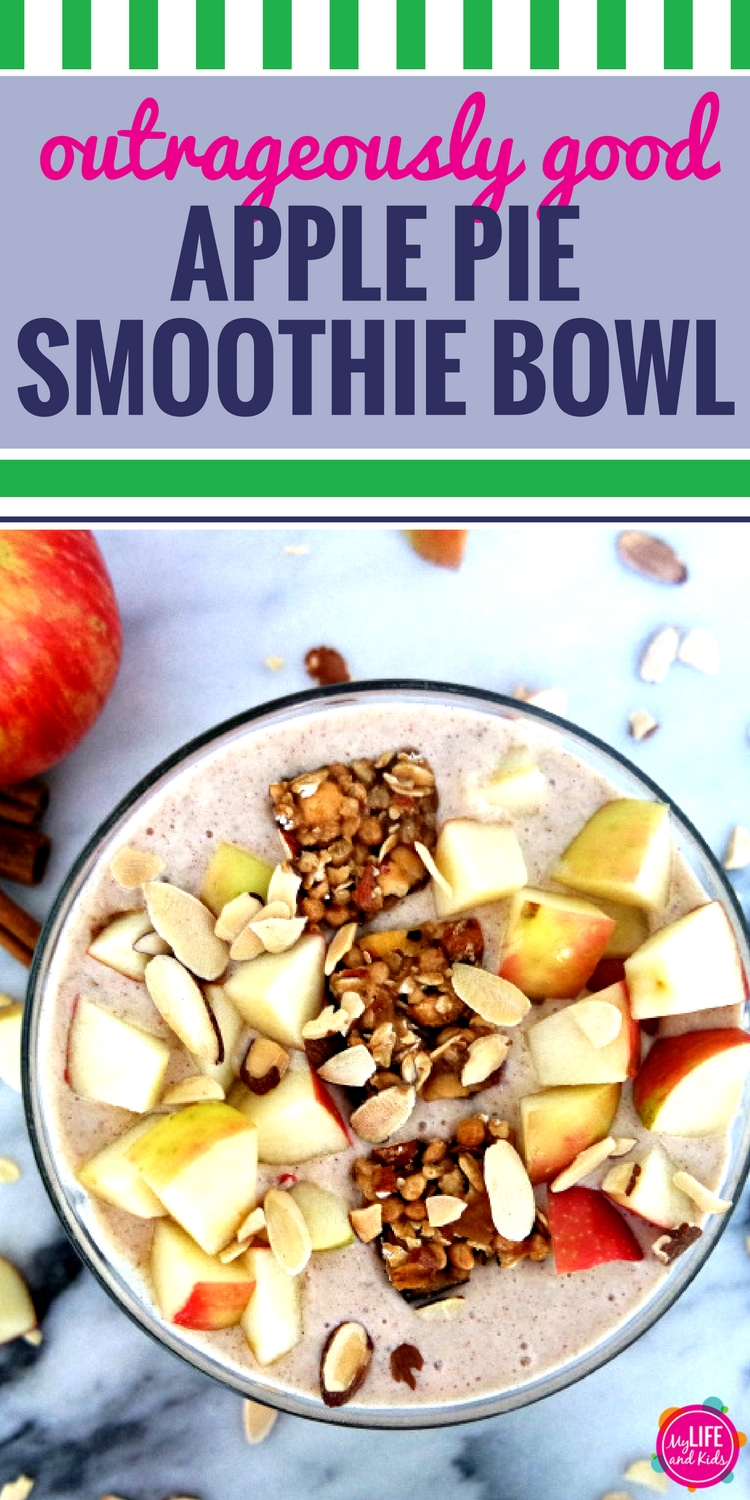 This is a sponsored conversation written by me on behalf of goodnessknows. The opinions and text are all mine.