We're home, and Miles did great!
He had his bear and his Superman blanket. He didn't smile, but he didn't cry either.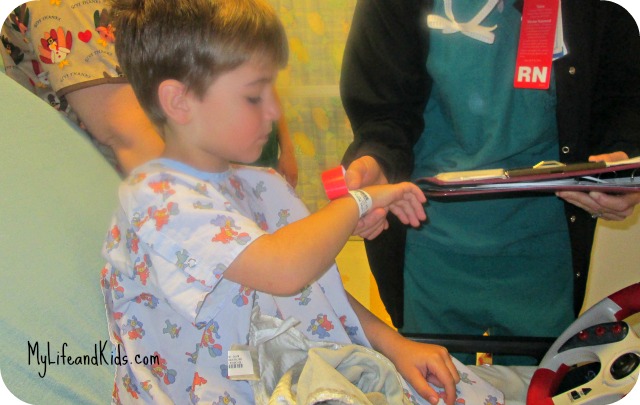 The surgery was over and we were home much earlier than I ever imagined. I was nervous. And then I was grateful. And now I'm relieved (and grateful).
He's resting on the couch next to me, and everything appears to be just as it should be.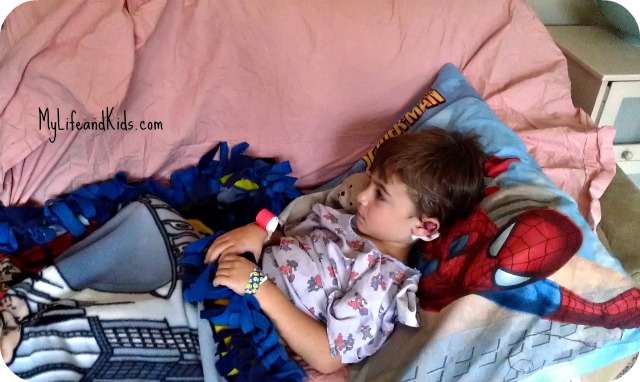 THANK YOU for all of your comments on today's post. I read them as they were coming in this morning, and it kept me busy while we were in the waiting room. Every single comment, story and prayer helped to ease my mind. Thank you!
And of course – this entire experience reminded me of a time in my childhood.
I was 15 years old, and I was a tennis fanatic.
I wore tennis clothes to school every single day. I took private lessons several times a week.
I even cut my hair short so that I wouldn't have to deal with it while I was playing tennis. (Yes, that is me. Yes, those are french fries in my noes.)
I really thought that I could do something big with tennis – like go pro – or at least play in college (both of which are stories for another day).
One morning I woke up very sick. My mom took me to the emergency room, where they determined that I might have meningitis.
They recommended a spinal tap, and my mom was hoping my dad could come to the hospital before the procedure.
I vividly remember being in a dark room (the light hurt my eyes), wearing a hospital gown and thinking that I overheard this conversation between my mom and the doctor.
Doctor: Your daughter needs a spinal tap. But it's up to you whether she has one or not.
My Mom: What are the risks either way?
Doctor: If she has the spinal tap, there's a good chance that she'll become paralyzed from the waist down.
My Mom: And if she doesn't have it?
Doctor: Well, then there's a good chance that she will lose brain function.
After hearing this, I was understandably freaked out.
But it didn't take me long to make a decision.
"I'm not having the spinal tap," I told my mom. "Who cares if I'm not all mentally there? I need to play tennis."
Turns out, I was hallucinating the entire conversation between my mom and the doctor, and it never really happened.
I had the spinal tap.
I survived the meningitis.
I continued playing tennis.
And while I didn't "officially" lose any brain function after the spinal tap, it's definitely possible that it had something to do with me thinking there were 52 states until I was married.
Right?