We have a bit of a shoe situation around here…
Let's Start with Alice.
I got her these most adorable boots from Zulily, and she has been super adorable wearing them all winter.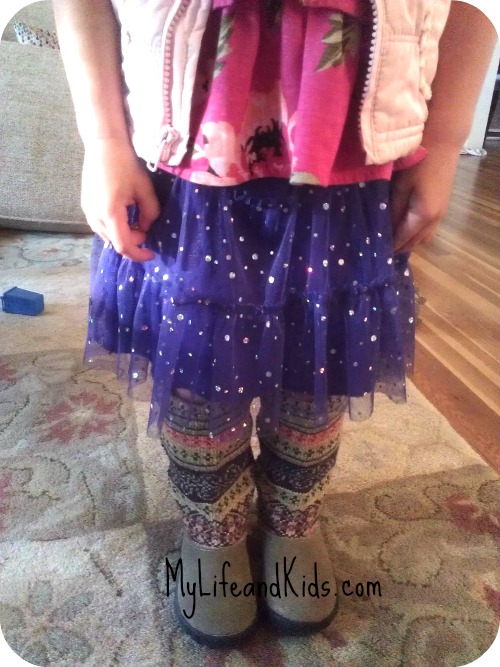 She loved them.
Until I accidentally ran over one of them with the minivan.
In my defense, she wasn't wearing the boot at the time, but I ran over it nonetheless.
And it appears that the minivan permanently dented the heel part of the boot. And it hurts her SO MUCH when she wears them. Trust me – you can probably hear her crying from your house.
I tried to drive over it in the other direction to see if I could pop the dent out, but that didn't even work a little bit. In fact, I think it made it worse.
Her boots are now retired.
Moving onto Miles…
I bought him these shoes in the fall, and we both loved them. They're comfortable and "cool" and they were on crazy sale. Perfect.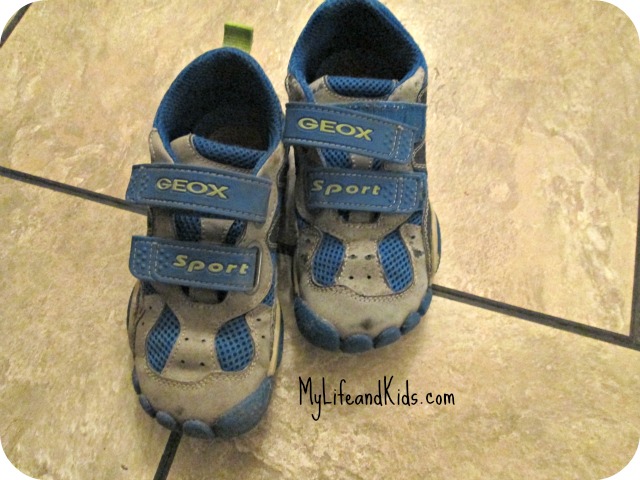 Until Miles stepped in dog poop way back in October.
I cannot stand cleaning dog poop off of shoes. I can handle human poop on just about anything (and I have), but dog poop on shoes?
I would rather deliver another baby out my vasshole.
So I followed my instinct on this and left the shoe out on the patio for, oh… I'd say about four months.
Four months of rain, snow – and even a little sleet. Maybe some hail…
And would you believe that even rain, snow and sleet did nothing to get that dog poop off of that shoe?
Believe me – I was just as surprised as you are.
Two weeks ago, Miles begged me to please help him clean off his shoe. So I went outside with a big stick and Big Hairy Dog.
Between Big Hairy Dog eating what he could, and me digging the rest out with a stick, it wasn't half bad.
Then I sprayed it with the hose.
And then I washed it in my washing machine. Which I don't really want to talk about because I'm pretty sure that this means that I have dog feces on all of my clothes now and that's too disgusting to even think about.
And then I tossed the shoe in the dryer, because I'm such a genius.
Now, I honestly am shocked that these shoes don't fit him anymore.
And believe me, we have had several disagreements about whether or not they fit. I guess it's possible that his feet have grown since September. I guess it's also possible that four months outside during the winter followed by a spin in the washer and the dryer may have taken its toll on the shoes.
But – bottom line – Miles can't wear them anymore. And so they are retired…
And now on to Simon.
There's not a whole lot to say here, except that the only shoes Simon likes to wear are Alice's princess heels.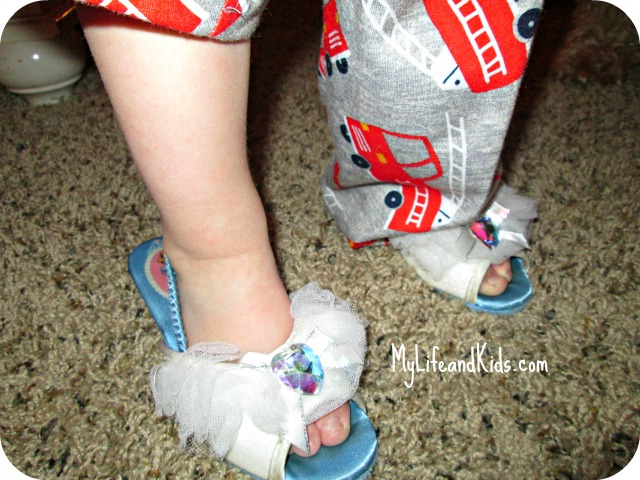 Which is all fine for around the house, but it doesn't work so well in public.
They slow him down at the playground, which is nice, but it's also super hard to climb to the top of the slide with these things on.
But – hey – he's the baby. And what the baby wants, the baby gets!
What about you – have you run over any of your kids' shoes lately? Or shrunk them in the dryer? Do you have a little cross-dresser living in your house?
PS – My good friend Holly is an amazing photographer, and she's taking new headshots of me for the new blog design (launching soon!) The photo shoot is this weekend, and Holly is so sweet to do this for me. Between my funky eye, (and my man hands), she has her work cut out for her.
I'd love to surprise her and get her some more likes on her Facebook page before Saturday. Will you help me? You can click here to see her on Facebook (or just click on the button below.) Thank you so much!