For the first time in the history of my blogging career, Even Steven was somewhat impressed by what I was doing yesterday.
And that is a pretty big deal.
If you've been reading my blog for awhile, then you know that Even Steven is… EVEN. No great highs. No great lows. No big shows of enthusiasm. No being impressed by most things.
When I was supposed to go on that trip to Mexico? He was like, ehh – that's cool.
When I received a super, amazing, cool thing to try out (that I'll tell you more about on Friday), he was like, ehh – that's cool.
When I'm on television twice a month, he's like, ehhh – that's cool. And is that what you're wearing?
But yesterday?
Yesterday, he was practically ecstatic.
Translation: He said, "Wow! That's really cool!"
You see yesterday, as part of OfficeMax's A Day Made Better Program, I got to surprise a teacher with $1,000 worth of classroom supplies.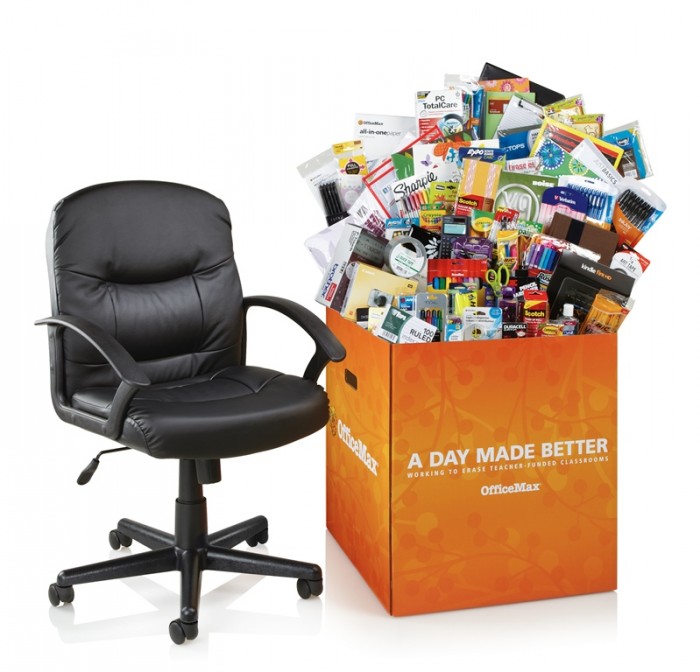 Yes – you read that correctly.
$1,000 of office supplies for the classroom.
I felt like Santa Claus – or a fairy godmother. It was amazing!
Each year on October 1st, OfficeMax associates across the country surprise 1,000 teachers with $1,000 worth of school supplies (that's one million dollars, ya'll!) And I got to help coordinate one of the surprises.
To the average American teacher, "back to school" means spending approximately $1,000 out of their own pocket for essential classroom supplies. So OfficeMax founded A Day Made Better to help ease the financial burden on teachers and recognize their extraordinary efforts in the classroom.
Very cool, right?
For my teacher surprise, there were flowers and balloons and a brand new leather office chair (that goes up and down) and a box BURSTING with supplies. From binders to notebooks and fun erasers and highlighters and markers – and even a Kindle Fire, a new digital camera and a label maker.
After more than 20 years of service and dedication as a teacher, Mrs. S. was shocked to learn that she wasn't attending a meeting at 10 am yesterday morning. Instead, she was brought into a room where all of her students cheered for her, and she was presented with flowers, a new chair and $1,000 worth of supplies.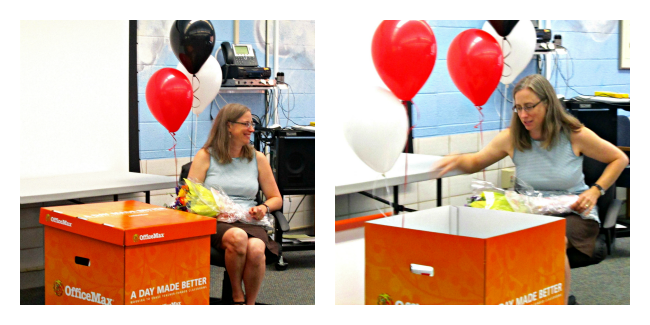 Note: Sorry for the crappy pictures. I was so focused on being excited that I forgot to take any pictures. And most of the pictures I did take have other peoples' kids in them. Lesson learned.
But I have to tell you – there is just nothing that feels as good as coordinating a surprise for someone – and seeing their true joy and appreciation. I can see why Oprah kept giving away cars.
I just wanted to stand up there and say, And YOU get a highlighter. And YOU get some paperclips. And YOU get a new office chair.
And YOU get $1,000! worth of school supplies!"
You Can Surprise a Teacher Too!
OfficeMax knows how important it is to thank our teachers – and let them know how much we appreciate what they do for our kids, our schools and our communities.
And they know how good it feels to give a teacher something they really need.
So OfficeMax is giving away a $100 gift card to one of you – so that you can pass it along to a deserving teacher in your community.
Just leave a comment, sharing what teacher you think deserves a $100 gift card – and why – and a winner will be chosen on Friday, October 11th.

OfficeMax donated the classroom supplies that I received and donated to the teacher. The gift card featured in this giveaway is also provided by OfficeMax and will be sent to the winner directly. Opinions expressed in this post are 100% my own. I have not been compensated for this post in any other way.